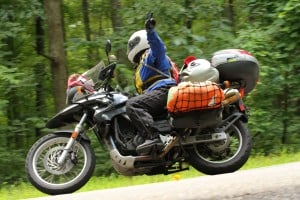 I'm looking forward to facilitating a thoughtful conversation about the "stuff" we think we "need" to lead meaningful lives.
Luna Rising is an annual gathering for women and girls aged seven and older at the Unitarian Universalist Church of Charlotte.  Participants will feed their creative spirits, minds and bodies through a potpourri of workshops including dancing, drumming, reflecting, and thinking.
My session will be somewhere between the "reflecting" and "thinking" categories. Here's the pitch.
Mindful Minimalism: If you can't pack it on a motorcycle, you can probably live without it.
The "need for stuff" drives all kinds of life decisions, no matter which phase of life we find ourselves in.  After I unpack my motorcycle's duffle with the group, and participants see how little I carry for six weeks on the road, we will discuss how our needs for stuff, status and a host of other things drive us all to make educational, job, career and family choices in support  of those needs.
The group will reflect on how the choices we've made so far in life are feeding our souls and communities, and we'll explore ways to support each other as we strive for more vital lives.
"Mindful Minimalism" is one of my favorite keynote presentations, and is a wonderful workshop.  I look forward to being a fellow learner in this conversation with the girls and women at Luna Rising.
Thinking, reflecting, dancing and drumming take place Saturday, January 26, 2013 at 9:30am. Here's a map if you're interested in joining us (sorry, no boys allowed).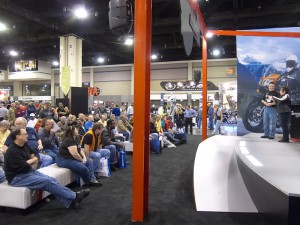 If you're in charge of hiring the right keynote speaker or workshop facilitator, your task is more art than science, which makes it tricky. Whether your organization wants to be inspired, challenged or entertained, I have plenty of material for keynotes, workshops, luncheons, and after-dinner speeches.
Let's see if what I have to offer is a fit.
Here are three keynote presentations easily customized for your professional, business or community group. These other keynote talks that are inspired by my work as a cancer advocate might also resonate with your needs.
1. Explore the wobbles, switchbacks, detours and blind corners of life
This is the most flexible topic in my lineup; customized for luncheons, dinners, keynotes and workshops.
I enjoy exploring with groups the peaks and valleys of life (personal and professional) from a long-distance motorcyclist's vantage point.
Teams getting together to review results or chart a new direction will frame the wobbles, detours and blind corners of the past while mapping a series of switchbacks to the top.
Groups concerned with personal growth will glean takeaways for how to better lean in or out as they navigate through detours, blind corners and switchbacks.
Organizations kicking off a new initiative will accept that wobbles, detours and blind corners are an inevitable part of the journey and that there is no straight path to the pinnacle — only switchbacks.
2. Mindful minimalism
Designed as a 60-minute interactive experience, this keynote presentation is easily condensed for a luncheon or dinner talk.
Every time I pack my duffel for a road trip,  I'm grateful to have so little to carry and keep track of, and that's a big change from the person I was for most of my life. You may not want to pare down as much as I do, but I bet you, your co-workers, and your family have at times yearned to lead a simpler, more meaningful life. Let's talk about that.
I relish working with a group that asks members to bring something to the talk (for donation) that someone else can use — or get more use out of — than the donor. This might be a garment, a book, a piece of kitchenware or an automobile, I don't care. At the end of the talk, the group drops these items off at a local charity, and new spirit is infused in all.
3. Let me entertain you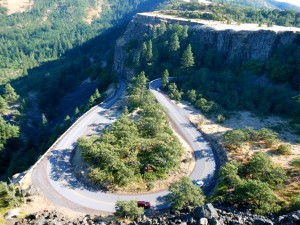 Perfect or a luncheon or dinner talk at a venue with screens large enough to afford everyone a great view.
Prefer just to be dazzled by gorgeous photography and a tour of the US and Canada? I can do that too, and throw in an occasional stranded traveler tale to boot.
Customized for each group
Luncheons begin at 20 minutes and continue through Q&A.
For planning purposes, keynote experiences begin at 60 minutes.
Workshops begin at 60 minutes.
Speaker fees
Engagements outside Charlotte, North Carolina will include transportation, per diem and a one-day minimum fee of $1000.
Workshops, by their nature, require a great deal of customization after consulting with the organizers, therefore fees are difficult to estimate here. That said, $3750 is a starting point plus expenses.
Occasionally I can speak to a community group like Rotary, Lions, Altrusa, and cancer support groups at no charge when I'm in the area for other (paid) business. Let's see if our schedules align; I'd love to make it happen.
Contact me to discuss your specific needs.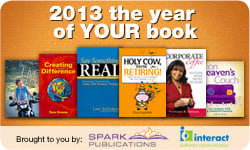 I field nearly 100 inquiries a year about writing a book. People want to know predictable things, like whether they're ready, how much it costs to self publish, how to market the book and how to get started.
I can speak from my experience, but here's your chance to hear from a panel of experts on the subject, including Fabi Preslar, whose firm, SPARK Publications designed my award-winning book, Live Full Throttle.  
 Join me at this workshop
The Year of YOUR Book is a real world conversation about professionally custom-publishing your book. SPARK Publications will share the basic steps and processes toward becoming a self-published author.
This 90-minute session, held in Charlotte, NC, will include an interactive panel discussion with successful self-publishers (including yours truly) who will share their experiences with you and answer your questions. After the formal presentation, we'll sign books and mix-and-mingle.
We'll address these and other questions and concerns:
What are the steps and costs involved in custom-publishing your own book?
Fears of publishing a book on your own, without a "publishing house."
How to make a custom-published book succeed.
Confusion with the differences between P.O.D (online) publishing, digital printing, traditional publishing  and eBooks, (and choosing what's best for you).
Using a book as a business builder: best practices.
How a book will help you land more and better speaking and media opportunities.
Choosing between hiring a ghostwriter, writing coach, editor, copy editor, proofreader… and determining which one your book needs.
Design, production, distribution, marketing, promotions, PR – how do you get your book "out there?"
 Get answers to these questions and more during this 90-minute presentation. Cost is just $65 per person, plus the chance to win an autographed book from one of the panelists. I am not being compensated for participating, in case you're wondering.
Meet the panelists
Chuck Inglefield: Author of the National award-winning book: Holy Cow, You're Retiring! and President of Inglefield Retirement Solutions.
Tamela Rich: Author and recipient of two National publishing awards for Live Full Throttle: Life Lessons from Friends Who Faced Cancer. Tamela is also a financial ghostwriter.
Peg Robarchek: Ghostwriter, professional book editor, writing coach, and novelist.
Lou Solomon: Authentic Communication Coach, Founder of Interact and Author of Say Something Real.
 Host: Fabi Preslar, President of SPARK Publications and author of On Heaven's Couch, My Journey with a Masterful Mentor (Excellence in Publishing award recipient).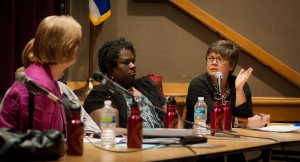 Need a speaker or panelist for your next conference, workshop or consortium? I offer a refreshing layperson's perspective that's rooted in my experience and uses the stories in my book, Live Full Throttle: Life Lessons From Friends Who Faced Cancer.
Here are three standard presentations, all of which can be tailored to the size and psychographics of the group.
1. The Accidental Breast Cancer Advocate 
This talk is the ideal length for a luncheon or to close a conference (20-30 minutes).
In 2010 I joined a group of American and Canadian women motorcyclists who decorated their bikes in pink swag and raised money for breast cancer, because I was looking for a good cause. Little did I know that driving a pink-decorated motorcycle would encourage those touched by cancer to share their experiences as I stopped for fuel, food and scenery, changing my life forever. I share the story of Dusty, illustrating the healing power of joy.
2. Eight Lessons From Friends Who Faced Cancer 
This keynote presentation or workshop requires at least 90 minutes.
Taken from Live Full Throttle: Life Lessons From Friends Who Faced Cancer, I share the book's eight stories, and as I do, engage the audience in applying the lessons to their own lives and professions:
The Healing Power of Joy
Gratitude Eases Pain
Laughter Lightens Tragedy
You're Terminal Too, Embrace It
When to Fight, When to Flow
Art Restores
Relationships are Fluid
Channel Sorrow Into Service
The topics of this keynote are idea for groups whose members want to stay emotionally connected to their clients without feeling overwhelmed and tapped out for their other relationships. Workshops are always highly customized. Here's a quote from a client:
One of (my staff) told me she was emotionally wiped out after the meeting and had to step back and look at how she was treating her spouse—not too good she said.  I think that is very positive and one of the results I was hoping for… Another is going over the relationship chapter with their husband.
3. Cancer and the Kindness of Strangers 
This keynote address can run from 45-60 minutes.
I tell the story behind a motorcycle movement known as "Conga for the Cure" and some of my more poignant experiences as I've traveled 35 states and four Canadian provinces with a pink bra strapped across the windshield of her motorcycle. I will include between two or three of the stories Live Full Throttle, selected to resonate with the psychographics of the group.
Speaker fees
Engagements outside Charlotte, North Carolina will include transportation, per diem and a one-day minimum fee of $1000.
Workshops, by their nature, require a great deal of customization after consulting with the organizers, therefore fees are difficult to estimate here. That said, $3750 is a starting point plus expenses.
Occasionally I can speak to a community group like Rotary, Lions, Altrusa, and cancer support groups at no charge when I'm in the area for other (paid) business. Let's see if our schedules align; I'd love to make it happen.
Contact me to discuss your specific needs.
I love my life. I get to travel, ride motorcycles and meet great people for a living! If you're in the Seattle area the first week of April, please get in touch. I'd love to grab a cuppa and hear YOUR story.
Signing books and riding motorcycles
On Friday, March 30 I'll hit Seattle at 11am and be signing books at South Sound BMW by noon!
The South Sound team has asked me to stay until 2pm or until the throngs (ha!) disperse.
You know how much I love the Roundel, right? Well, I'll be riding a F650GS around Seattle for five days thanks to TourUSA Motorcycle Rentals. I've ridden the F650GS before and look forward to its responsiveness in metro traffic. The only version of the GS line I absolutely cannot ride is the F800–I can't even get my leg high enough to swing it over the seat!
East Coasters, if you want to ride the Pacific Northwest but don't have time to ride all the way out there, consider renting from TourUSA and tell them I sent ya.
Saturday, March 31
I'll be learning how to "ride like a cop" on a big CHiPs bike at Northwest Motorcycle School. I've never had a desire to OWN a big honking bike, but I'm looking forward to learning how to operate one (in a bucket-list kind of way).
I'll be joined by two or three of my fellow Conga riders — that alone will make it fun for the spectators! I'll bring the helmet cam. This school runs rain or shine, and as I've learned before, rain adds a layer of complexity to the learning experience; but I agree with the old saw that smooth seas do not make skillful sailors.
Tuesday, April 3 at Seattle Cancer Care Alliance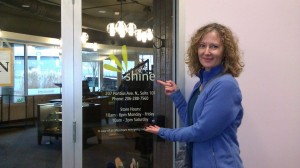 When I visited Seattle a couple of months ago, the managers of Seattle Cancer Care Alliance's cancer speciality store, Shine, fell in love with Live Full Throttle. They asked me to come back to sign books and speak to the patients staying in the SCCA House and the SCCA patient education department asked my Conga sis, Karen (pictured left), to team up with me for a evening presentation open to the entire community.
We have plans to razzle dazzle 'em when we're there April 3. We'll start with a book signing/mix-&-mingle from 4-6pm and continue upstairs for the "formal" presentation from 6:30-8pm. Both events are free and we'd be delighted to speak to a full house! SCCA is at 207 Pontius Ave. North, Suite 101, Seattle.

Karen's story
Karen's got such a great story to tell–if you have a copy of Live Full Throttle, her story is in Lesson Four: You're Terminal Too, Embrace It. Here's an excerpt:
Given an eight-year prognosis, Karen says that while you can rail against it, pout, whine, deny, and try every new treatment, the real choice is whether you face cancer as a victim or a survivor. In the words of a true Pacific Northwesterner she resolved, "I'm not dead yet; I'm going to pilot this." She doesn't tell people she's sick, "I'm no different than anyone else, I just have cancer."

Karen had always wanted to learn how to drive a motorcycle but put it off because she was afraid she'd really love it and would therefore have to "do something about it." She was right. I met her during our 2010 Conga, when she had been riding just a little over a year. By the time we met again in 2011 she was one of very few to pass a grueling motorcycle course designed by law enforcement officers to help civilians drive like cops.
If you've ever wanted to learn how to live life with a gift you never wanted, Karen's got an inspirational message for you!
I'm hoping to get time with the good folks at Gilda's Club, Cancer Lifeline, American Cancer Society Breast Cancer Resource Center, and a couple of Meetup groups while I'm in Seattle. Please let me know if there's someone else in the area I need to know, ok?
After a great book debut at Dilworth Billiards in North Carolina 12/8, I jumped on a flight the next morning for the West Coast to promote "Live Full Throttle" in cities where the International Motorcycle Show is touring.
Long Beach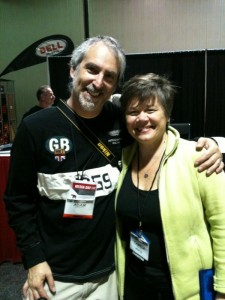 Southern California was my first stop, and the show in Long Beach is one of the largest on the tour because so many companies have a presence in SoCal.
In addition to signing books and finding distributors for it, I met social media friends for the first time in real life (including moto-journalist Adam Mercado, aka @LeanAngles) shown here.
I saw several marvelous bikes in the "Dream Pavilion"including the Moto Guzzi v7 Racer, which made me swoon a little. I love the looks of a classic bike and of course the Italians are wonderful designers. My friend Neale Bayly, a moto-journalist, tells me it's a sweet ride too.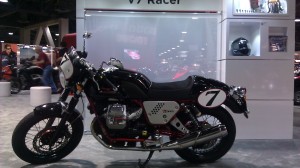 Friday night I signed books at Yellow Devil Gear Exchange just a mile from the show. Yellow Devil has a terrific concept–a motorcycle swap and consignment shop with some brand new merchandise sprinkled in for good measure. You can find everything from helmets to racing suits and vintage "motorabelia" like  posters and key chains.
San Francisco
After a quick flight up the coast Sunday night, I spent Monday with photographer Christina Shook, who collaborated with me on Live Full Throttle. We brainstormed book marketing while getting pedicures in Orinda (eat your heart out corporate marketing drones in your gopher cubes!).  Later that night, over bowls of chili with friends, I rehearsed my book tour presentation. Thanks to their feedback and suggestions, the reception it got in Portland and Seattle at the end of the week was unanimously positive.
Motorcycle Gear Shopping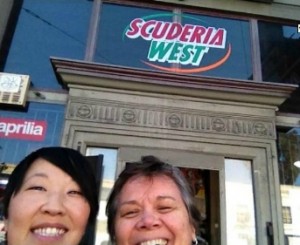 In an effort to improve my "big city" commuter skills I took BART (the train) from Christina's to San Francisco's Mission District, where I ate breakfast at the terribly-named but deliciously-stocked Pork Store with my friend Joanne Donn (aka @GearChic). Fortunately I didn't have to make any transfers in my commutes. A lesson for another day.
Joanne then helped me find new Rev'It motorcycle pants at Scuderia West, also in the Mission District. What a treat, having a personal shopper! She knew which brands offer the functionality I need in cuts for my "American" proportions and emphasized the importance of proper fit. It  hadn't really occurred to me how dangerous my now-baggy gear had become (I've lost weight since I bought the gear in 2010), but skid pads slide away from the areas you want to protect when baggy gear meets the pavement. Ouch.
Marin County Cancer Institute
The next day was spent with friends across the bay in Novato, who took me to the Marin County Cancer Insitute, where one of them is being treated for breast cancer. I learned that Marin County is a breast cancer "hot spot,"  which means the incidence of breast cancer per capita is extremely high.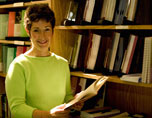 After touring the Institute, I met Cancer Resource Specialist Diane Brandon (pictured right), who enthusiastically placed a copy of "Live Full Throttle" in the resource center and introduced me to the gift shop team, recommending the book for sale there.   I fully expect to see the book in the gift shop soon!
Portland
Another quick flight brought me to Portland, where I signed books at Latus Motors, a Harley-Davidson dealership.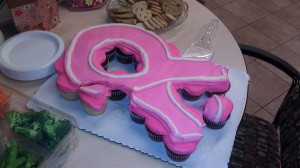 My dear friend Nadine, who put me up at her farm and arranged the signing with Latus, ordered cupcakes with pink frosting ribbons from Safeway and we were both surprised when she picked up this cupcake cake instead. I've never seen so much frosting in my life!
Latus has a strong community of riders and in spite of rain and cold the week before Christmas, about 20 of them turned out to hear me talk about the Conga rides I've taken over the last two summers and the story behind "Live Full Throttle." As with Long Beach, many of them were social media friends that I was happy to hug in the flesh.
New Friends Facing Cancer
In the middle of my talk, one woman dashed in with fresh news that a neighbor had just that day been diagnosed with cancer and asked me to quickly sign a book so that she could take it to him.
As often happens, one woman bought two books, one for herself and another for her sister.  She had breast cancer a few years ago and her sister has a recent diagnosis.
An oncology nurse, whose father has cancer, surprised herself by crying during my talk. She thanked me for putting her in touch with feelings that her profession has caused her to sometimes repress.
On an upbeat note, I also met a wish grantor for "Make A Wish"  and learned about the training and screening processes she went through to make wishes come true for children with life-threatening illnesses.
I'm grateful for the people and stories that keep coming into and blessing my life. As I've said before, motorcycling brought me to the cancer community quite unexpectedly.  I'm here for a reason that is not clear to me just yet, and trust that I can be a channel for good as I continue walking this path.
Seattle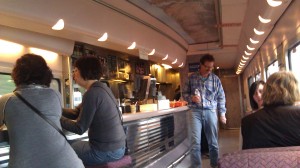 I love traveling by train, so I was delighted to learn that for $51 I could travel from Portland to Seattle on Amtrak's Cascades line. Here's a picture from the dining car.
Continuing my big-city commuter education, I jumped on a city bus instead of renting a car or hiring a cab to get to the apartment I had rented in the Lakeside area of Seattle. I find mass transportation to be sooooo convenient (and cheap). I wish my city, Charlotte, had a more complete system. We have a meager bus service and a tiny line of light rail. That's it. I digress.
Speaking at the International Motorcycle Show
Saturday morning I opened the show with a talk on recommendations  for newbie riders. After all, three months after I passed my licensing course last year I set off on a coast-to-coast journey, and repeated it this year, returning unschathed both times.
Since these trips involved fundraising with my Conga friends, I talked about traveling with a pink bra strapped across my bike's windshield and gave some of the back story of "Live Full Throttle." One of the women in the audience burst into tears when I told this story, then returned several minutes later to finish hearing what I had to say. Since she didn't approach me, I am unsure what provoked her tears, but I bet was related to cancer.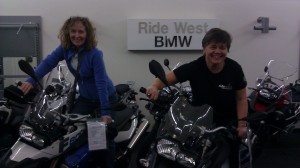 Later that day I signed books at Ride West, a top-drawer BMW Dealership in Seattle. My Conga sis, Karen, joined me there and we horsed around on the bikes and talked to riders about don't-miss routes in the NorthWest. Honestly, if you can't be ON your motorcycle, the next best thing is to be at a motorcycle shop mixing it up with fellow riders!
Touring Seattle
Karen stayed with me through Monday, and as a Seattle native, took me to all the great spots in the city, including Pike Street Market. Note the two passing ferries in Elliott Bay, which I shot from Queen Anne's Hill.
Seattle is a vibrant city and I have a little list of things to do next time I return, but I couldn't live anywhere with so little direct sunlight. I had formed the idea that it rains a lot there, but was mistaken. However, the topography snags clouds, which both blocks sunlight and traps moisture. Karen tells me that the locals call it a "sunbreak" when the sun breaks through the clouds. No wonder they like strong coffee.
Seattle Cancer Care Alliance
Monday we toured the Seattle Cancer Care Alliance (SCCA), where Karen is a patient (and whose doctor LOVES "Live Full Throttle").
The SCCA's patient areas are situated with lovely views of Elliott Bay through floor-to-ceiling windows. Eclectic art adorns the walls and corridors.  I particularly enjoyed stepping into the little sanctuary, where visitors can sit on meditation cushions or chairs as they contemplate books and mementos from the world's religions. Here's a snapshot of the focal point. Note the kid-sized table and chairs below the adult-sized versions. After all, cancer affects people of all ages.
SCCA is a beautiful place and serves the only hospital food that I've ever truly enjoyed. Why do hospitals serve gray, greasy, over-processed and otherwise unhealth food, anyway? Another digression.
After speaking with the managers of the book and gift stores at SCCA, it looks like I'll be back in Seattle in March for a book signing event. I may try to combine it with a visit to the EuroMoto show in nearby Lynnwood.
So this is how I combine motorcycling, writing, and humanitarianism. I am a truly fortunate woman.
Please tell me if you would like to host a speaking and signing event or if you know someone else who would. The rest of the IMS tour cities are listed here but I'm not limited to signing only in those cities.
Thanks to everyone who came out to Live Full Throttle's debut at Dilworth Billiards. Great pictures here by my friend Terry Pittman.
The next morning I jumped on a plane for my West Coast tour. Please find me and introduce yourself!
Friday, December 9, Yellow Devil Gear Exchange signing books from 6-8

Saturday and Sunday, December 10-11 International Motorcycle Show (IMS), Long Beach with the WRAPTER booth

Thursday, December 15, Latus Motors  4:00-6:00 pm (870 E. Berkeley St., Gladson, OR) (Portland area)

Saturday, December 17, IMS Seattle 10:30 am  (Convention Center)

Saturday, December 17 at Ride West BMW 2:00-4:00pm  (8100 Lake City Way NE, Seattle, WA)
So far we've talked about the need to hire a book designer and editor. I took the step of developing a prototype for Live Full Throttle: Life Lessons From Friends Who Faced Cancer.  Mine is in a PDF and included the cover, introduction and first chapter, but you could include less. You'll see that I used the Flash capabilities of Scribd to embed it here.
Intro and First Chapter of Live Full Throttle: Life Lessons From Friends Who Faced Cancer
Nine ways to use your book prototype
Send it to possible reviewers to see if they'd like to provide a blurb
Include a link to it in your social-media and traditional press releases
Query with it for interviews with podcasters, bloggers, radio, TV and other media
Post it on your social media outlets to build buzz (including LinkedIn). While we're talking about social media, listing it on Scribd will help it gain a wider audience and Scribd provides great statistics on readcasts.
Get your book listed in catalogs by the time it's in print. For example, there are motorcycle accessories companies that carry books and I'm using prototype to go through their screening process before they'll  include it in their inventories
Want to speak at a conference?  Most will ask if you've published a book. Send a link to the prototype with your speaker/panelist proposal
Going on tour? Send it to interested groups to get on their calendar by the time the book is back from the printer
Send it to professional magazines/journals for possible syndication
Use it to generate advance sales (speaking of which, you can do that today!)
Helmet time often produces deep thought. On my motorcycle for 40 days this summer, I had a lot of helmet time. Among other things, I pondered relationships, physics, environmental economics, disease, mortality and the direction I want to take my life.
Fear as a motivator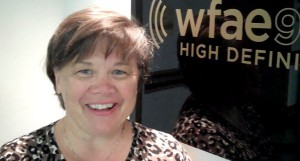 I thought about the role of fear in our lives and how it seems to motivate people more than anything else. Americans seem to particularly fear failure.  Surrounded by crumbling institutions, people are living their lives as if there's no margin for error.
I almost took my life after a business that I owned failed and took down family and friends financially. A lot of people can relate to that experience, sadly. I've drained the dregs of failure's cup and have decided to move onto a different beverage.
During my 9559 miles of summer I thought about my life's lessons and how easily I could contextualize them with motorcycling metaphors. Helmet time has that effect on me. Here's a start:
Lean in, lean out: Techniques used to control the motorcycle also apply to life
Everything wobbles:  But a wobble doesn't inevitably lead to a spill
Blind corners abound: Ride your best ride and take uncertainty as it comes
Exploit the detours: They're usually providential
Embrace the switchbacks: The safest way to the mountaintop isn't the shortest
Taking those lessons on the road
People are fascinated by motorcycle travel, especially when undertaken by someone who breaks their stereotypes of who's a biker. In the last year I've been asked to speak to business and community groups and been interviewed for newspapers, radio and television. Thanks to helmet time I've decided to reach out with the lessons I've learned in a more proactive manner, through a book, keynotes and presentations. Here's who I'm reaching out to:
Teams getting together to review results or chart a new direction will frame the wobbles, detours and blind corners of the past while mapping a series of switchbacks to the top
Groups concerned with personal growth will glean takeaways for how to better lean in or out as they navigate through detours, blind corners and switchbacks
Organizations kicking off a new initiative will accept that wobbles, detours and blind corners are an inevitable part of the journey and that there is no straight path to the pinnacle — only switchbacks
I look forward to
meeting you
in person or an audience in the near future. Namaste.
When I talk to prospective authors about their publishing plans very few know what they're up against trying to get a traditional publisher to fund their project. That's how you should think of it — funding the project.
Before an aspiring author settles into a daydream of how to spend all that advance money and how lavish her book launch party will be, she needs a dose of reality on the  economics of publishing from the publisher's perspective.
A Fantasy Scenario

A publisher takes care of several things, pre-press activities, printing and distribution. Promoting the book is almost always the author's responsibility.
Pre-press costs
Let's engage in fantasy and say the book is so well written it only needs copy editing before it's ready to be designed and sent off to the printer — that's a quantum leap but we'll take it.
A quick search through self-publishing price charts gives you a sense of cost to get the book to the printer, including covers, page setup, copy editing ISBN number, bar code, etc.  Let's pretend $4000 is a reasonable estimate to get the book ready to go to the printer.
Printing costs
The cost to print each book is a volume game. Createspace has a handy calculator that shows your cost at about $2200 for a run of 1000 softcover copies of your 100-page book.  Sure, you can get printing at better prices, but this is close enough for Fantasy Land.
So far, without your publisher paying you anything for the time and effort to write the book (much less the cost to pay someone to write it for you), you're looking at $6200 to produce 1000 books including pre-press and printing.
Distribution costs
Distribution is a hefty expense.  The distributor will charge $500 to establish an account for your book, plus a monthly fee and storage charge for warehousing your book. Then, they'll take a chunk out of the retail price of each book to handle shipping, selling it to retailers, collecting money, etc.
When you add distribution charges, you've got an $8000 project for sure WITHOUT paying anything to promote it. Can you move 1000 books to your network without a promotions budget?
An easier way to make a living

Selling 1000 books means your publisher will have to price the book at $20 to make $12,000 gross. Because this is a fantasy, let's say you took no advance to write the book and negotiated 30% royalty on sales. Congratulations, you and your publisher just scored $6000 each.
Let's be honest, there's an easier way to make a living.
You say you want an advance to write your book?  Even just a trifle? Let's do the math with a $10,000 advance and the same 1000 book run.  Do you know 1000 people who are going to pay $30 for your book?  Hold on before you answer. Mark Twain's 760-page autobiography was priced at $34.95 retail.  Oh well, since we're in fantasy land let's say you sell all 1000 copies at $30.  Your lucky publisher can hope to make $12,000 and you're not going to make any royalties on top of the advance.
Yep, there are lots of easier ways to make a living for both you AND the publisher.
Are you writing a book to make a profit or to meet some other goal(s)?
Skinny profits mean the publisher's' most important concern is the author's ability to SELL the book. The business professionals I work with can usually sell 1000 books to their built-in audience, more if they can sell them at speaking engagements, but even small publishers will need to sell more than 1000 books to make it worth their while.
Of course profiting on the sale of your books isn't the only reason to write them. This post will help you think through your goals.
Bottom line for aspiring business authors:  self-publishing is probably going to be more profitable, provided you can FUND THE PROJECT. If you need help with funding, you could always sell "shares" in the book or sell advertising or licensing rights. There are several creative ways to fund it without involving a publisher.