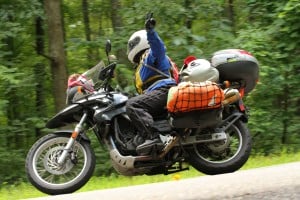 I'm looking forward to facilitating a thoughtful conversation about the "stuff" we think we "need" to lead meaningful lives.
Luna Rising is an annual gathering for women and girls aged seven and older at the Unitarian Universalist Church of Charlotte.  Participants will feed their creative spirits, minds and bodies through a potpourri of workshops including dancing, drumming, reflecting, and thinking.
My session will be somewhere between the "reflecting" and "thinking" categories. Here's the pitch.
Mindful Minimalism: If you can't pack it on a motorcycle, you can probably live without it.
The "need for stuff" drives all kinds of life decisions, no matter which phase of life we find ourselves in.  After I unpack my motorcycle's duffle with the group, and participants see how little I carry for six weeks on the road, we will discuss how our needs for stuff, status and a host of other things drive us all to make educational, job, career and family choices in support  of those needs.
The group will reflect on how the choices we've made so far in life are feeding our souls and communities, and we'll explore ways to support each other as we strive for more vital lives.
"Mindful Minimalism" is one of my favorite keynote presentations, and is a wonderful workshop.  I look forward to being a fellow learner in this conversation with the girls and women at Luna Rising.
Thinking, reflecting, dancing and drumming take place Saturday, January 26, 2013 at 9:30am. Here's a map if you're interested in joining us (sorry, no boys allowed).