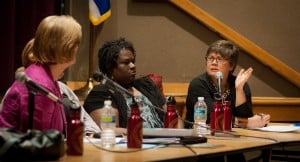 Need a speaker or panelist for your next conference, workshop or consortium? I offer a refreshing layperson's perspective that's rooted in my experience and uses the stories in my book, Live Full Throttle: Life Lessons From Friends Who Faced Cancer.
Here are three standard presentations, all of which can be tailored to the size and psychographics of the group.
1. The Accidental Breast Cancer Advocate 
This talk is the ideal length for a luncheon or to close a conference (20-30 minutes).
In 2010 I joined a group of American and Canadian women motorcyclists who decorated their bikes in pink swag and raised money for breast cancer, because I was looking for a good cause. Little did I know that driving a pink-decorated motorcycle would encourage those touched by cancer to share their experiences as I stopped for fuel, food and scenery, changing my life forever. I share the story of Dusty, illustrating the healing power of joy.
2. Eight Lessons From Friends Who Faced Cancer 
This keynote presentation or workshop requires at least 90 minutes.
Taken from Live Full Throttle: Life Lessons From Friends Who Faced Cancer, I share the book's eight stories, and as I do, engage the audience in applying the lessons to their own lives and professions:
The Healing Power of Joy
Gratitude Eases Pain
Laughter Lightens Tragedy
You're Terminal Too, Embrace It
When to Fight, When to Flow
Art Restores
Relationships are Fluid
Channel Sorrow Into Service
The topics of this keynote are idea for groups whose members want to stay emotionally connected to their clients without feeling overwhelmed and tapped out for their other relationships. Workshops are always highly customized. Here's a quote from a client:
One of (my staff) told me she was emotionally wiped out after the meeting and had to step back and look at how she was treating her spouse—not too good she said.  I think that is very positive and one of the results I was hoping for… Another is going over the relationship chapter with their husband.
3. Cancer and the Kindness of Strangers 
This keynote address can run from 45-60 minutes.
I tell the story behind a motorcycle movement known as "Conga for the Cure" and some of my more poignant experiences as I've traveled 35 states and four Canadian provinces with a pink bra strapped across the windshield of her motorcycle. I will include between two or three of the stories Live Full Throttle, selected to resonate with the psychographics of the group.
Speaker fees
Engagements outside Charlotte, North Carolina will include transportation, per diem and a one-day minimum fee of $3000.
Workshops, by their nature, require a great deal of customization after consulting with the organizers, therefore fees are difficult to estimate here. That said, $3750 is a starting point plus expenses.
Occasionally I can speak to a community group like Rotary, Lions, Altrusa, and cancer support groups at no charge when I'm in the area for other (paid) business. Let's see if our schedules align; I'd love to make it happen.
Contact me to discuss your specific needs.