When you're in charge of hiring the right keynote speaker or workshop facilitator, your task is more art than science, which makes it a delicate assignment. Rest assured, whether your audience wants to be inspired, challenged or entertained, I have plenty of material for a customized keynote, workshop, luncheon, or after-dinner speech.
My keynotes, after-dinner speeches and workshops feature life lessons I've acquired via the highways and byways as a long-distance motorcyclist.
I'll choose stories that resonate with the objectives of your gathering. Here are a few:
The kindness of strangers who've bailed me out of jams and what this taught me about human nature.
How living out of a duffle bag has revolutionized my thinking about life's wants and needs.
My adventure alone in Wyoming's Tetons after dark—when the road ended—taught me about staying focused and positive self-talk; messages appropriate for all audiences.
The man I met in Kansas who was walking across America before he went blind is a story that always inspires.
Lunch with a homeless Vietnam Veteran makes us think twice about our treatment of the homeless and American service personnel.
Inspiring life lessons from friends who faced cancer as a patient, loved one or caregiver always helps audiences think about their lives in different ways.
Healthcare professionals resonate with the observations I share in "Self-Care, Burnout and Compassion Fatigue," which is based on stories from my book and my own life.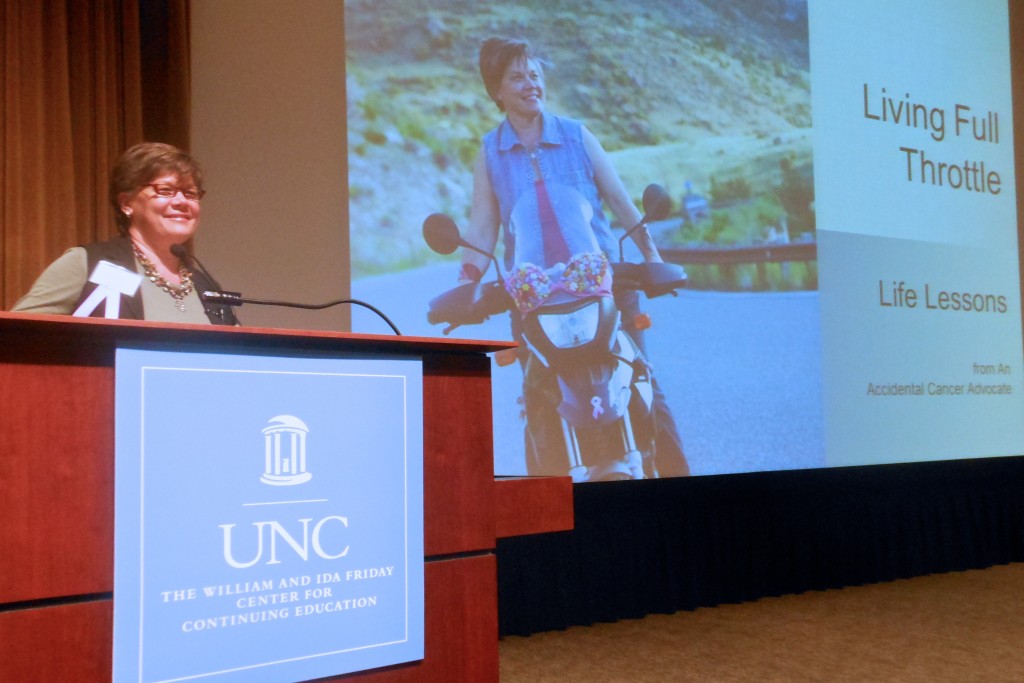 Sample speaking engagements
TEDx Charlotte talk, "Chance Encounters"
Healthcare conferences. Largest audience: 850.
Cancer patient centers and cancer support groups. Audiences ranged from a dozen to a hundred.
The International Motorcycle Show (in four different cities). Thousands attended.
Pecha Kucha talk in Charlotte for 400 people.
Headlined Women on Wheels' Annual International Ride-In, delivering a keynote and four workshops for 300 attendees.
Charlotte Small Business Week workshop on risk taking and recovery from a long-distance motorcyclists's perspective. 500 attended this conference.
Occasionally I can speak to a community group like Rotary, Lions, Altrusa, and cancer support groups at no charge when I'm in the area for other (paid) business. Let's see if our schedules align; I'd love to make it happen.
Speaker fees
Engagements outside Charlotte, North Carolina will include transportation, per diem and a one-day minimum fee. Contact me to discuss your specific needs.
I am delighted to speak to nonprofit groups in the Charlotte area free of charge.