My Books
Personal & Collaborative Endeavors
Hit The Road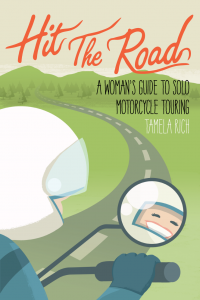 Hit the Road: A Woman's Guide to Solo Motorcycle Touring (released January 2018)  
Whether you are a new solo rider or wish you had more confidence hitting the road on your own, I wrote this book for you. Hit The Road includes stories from my travels, plus checklists, tips, and resources for anyone who wants to get the best out of a two-wheeled adventure.
The book helps readers:
1. Identify their Traveler Type
2. Learn to plan the perfect itinerary for their Traveler Type
3. Understand their fears and how to overcome them
4. Choose personal safety devices and strategies best suited to them
5. Learn money-saving tips that will let them spend more time on the road
6. Prepare for travel by downloading checklists for packing, mechanical inspections, tools, and emergencies
7. Understand what to do if something unwelcomed happens on a trip
8. Experience the joy of traveling solo without feeling lonely
And much more…
Come for the Tips, Stay for the Stories.
Live Full Throttle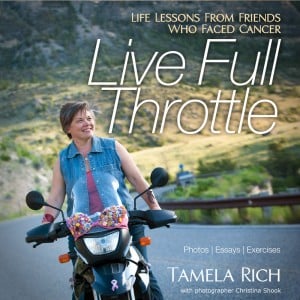 Live Full Throttle: Life Lessons From Friends Who Faced Cancer is my own work, based on the stories I heard over two years of riding my motorcycle across the US and Canada for breast cancer causes. Part memoir, part self-help and another part photo essay, this book includes exercises and writing prompts designed to help you apply the eight lessons I learned to your own life:
The Healing Power of Joy
Gratitude Eases Pain
Laughter Lightens Tragedy
You're Terminal Too, Embrace It
When to Fight, When to Flow
Art Restores
Relationships Are Fluid
Channel Sorrow Into Service
The Companion Guide to Live Full Throttle includes all the exercises in the book itself, with bonus material and plenty of journaling pages.
Client Books
I have an MBA from Duke University and a corporate background that uniquely positions me to ghostwrite and edit business books. Here are three such engagements.
How to Win at B2B Email Marketing
How to Win at B2B Email Marketing: A Guide to Achieving Success is a pioneering work in the field of email marketing. While a great deal has been written about business-to-consumer email practices, author Adam Holden-Bache  broke new ground when he rounded up best practices for business-to-business email marketers.
Adam is a shining example of the rewards of persistent and incremental pursuit of a big goal like a book. How to Win at B2B Email Marketing is the result of Adam consistently blogging about best practices in email marketing.
We began working together when he attended one of my Mastermind Groups for nonfiction writers, and I continued working with his manuscript through the final draft before it went for copy edits.
Adam had these kind words for our working relationship:
"If you're looking to write a book and don't know where to start, Tamela is your answer. Tamela provides a wide range of services to budding authors including a book writing masterclass, manuscript consultant services and providing developmental edits. In short, she can help you take your book concept from idea to a finished product."
The book is beautifully illustrated and designed, earning Adam a 2015 MarCom Gold award!
The Collaborative Sale
The Collaborative Sale: Solution Selling in a Buyer-Driven World guides sales professionals toward alignment with buyers. After all, the roles of buyers, sellers, and technology have changed, and collaboration is now the key to success on all sides.
I started my career in sales and sales management, which made working with co-authors Keith Eades and Tim Sullivan more than an intellectual exercise. I was fascinated to learn about the role that technology now plays in every phase of selling—even before a seller knows a buyer is in the market for their product or service.
For my part in the project, I interviewed experts,  wrote what's called "the story," which threads throughout the chapters to illustrate the tactics and techniques of the collaborative sale, and edited the book before it was submitted to the publisher, John Wiley & Sons.
Co-author Timothy Sullivan had this to say about our work together:
"Tamela was instrumental in the successful development of our book…She recommended creative ideas that made the book much more readable and accessible. She is also very good at getting the most out of authors—her coaching and expert advice helped us to write a much better book.
The results have been demonstrable: the reviews for our book have been very positive, from clients and critics alike. I can recommend Tamela highly to anyone who is looking for a capable partner on a writing project."
Retirement GPS
Retirement GPS: How to Navigate Your Way to Way to a Secure Financial Future with International Investing was a pleasure to write with expert Aaron Katsman. Aaron has a strong voice that really shines throughout the book, especially in the humorous anecdotes. I provided manuscript development and editing services to Aaron on this project.
Here's what Aaron said of my work:
"It was a pleasure working with Tamela on my book. She knows business and finance well, so I didn't have to waste time bringing her up to speed AND she definitely provided value by making suggestions that helped strengthen my manuscript.
Even though we were working on our project internationally—very different time zones—it was easy to work with her.
As an accomplished writer/ghostwriter she did a great job of helping capture my voice in my material."