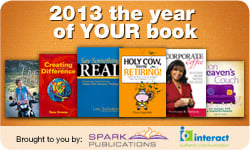 I field nearly 100 inquiries a year about writing a book. People want to know predictable things, like whether they're ready, how much it costs to self publish, how to market the book and how to get started.
I can speak from my experience, but here's your chance to hear from a panel of experts on the subject, including Fabi Preslar, whose firm, SPARK Publications designed my award-winning book, Live Full Throttle.  
 Join me at this workshop
The Year of YOUR Book is a real world conversation about professionally custom-publishing your book. SPARK Publications will share the basic steps and processes toward becoming a self-published author.
This 90-minute session, held in Charlotte, NC, will include an interactive panel discussion with successful self-publishers (including yours truly) who will share their experiences with you and answer your questions. After the formal presentation, we'll sign books and mix-and-mingle.
We'll address these and other questions and concerns:
What are the steps and costs involved in custom-publishing your own book?
Fears of publishing a book on your own, without a "publishing house."
How to make a custom-published book succeed.
Confusion with the differences between P.O.D (online) publishing, digital printing, traditional publishing  and eBooks, (and choosing what's best for you).
Using a book as a business builder: best practices.
How a book will help you land more and better speaking and media opportunities.
Choosing between hiring a ghostwriter, writing coach, editor, copy editor, proofreader… and determining which one your book needs.
Design, production, distribution, marketing, promotions, PR – how do you get your book "out there?"
 Get answers to these questions and more during this 90-minute presentation. Cost is just $65 per person, plus the chance to win an autographed book from one of the panelists. I am not being compensated for participating, in case you're wondering.
REGISTER HERE, NOW 
Meet the panelists
Chuck Inglefield: Author of the National award-winning book: Holy Cow, You're Retiring! and President of Inglefield Retirement Solutions.
Tamela Rich: Author and recipient of two National publishing awards for Live Full Throttle: Life Lessons from Friends Who Faced Cancer. Tamela is also a financial ghostwriter.
Peg Robarchek: Ghostwriter, professional book editor, writing coach, and novelist.
Lou Solomon: Authentic Communication Coach, Founder of Interact and Author of Say Something Real.
 Host: Fabi Preslar, President of SPARK Publications and author of On Heaven's Couch, My Journey with a Masterful Mentor (Excellence in Publishing award recipient).
REGISTER HERE, NOW