Thanksgiving week is the busiest time for American travelers. In an attempt to maximize profits, airlines have made it more difficult for your bags to qualify as a free carry-on while simultaneously raising baggage fees.
Here's the good news: you don't have to blow your travel budget on baggage fees.
The tips I shared with WCCB News Rising will help you avoid airline baggage fees
Step One: Decide on a basic color palette. This will help you minimize what you pack. Every top should go with every bottom and everything should match one pair of boots/shoes. If you're taking boots, wear them and pack your other shoes in the carry-on since they take less space.
Choose accessories that are easy to pack, like scarves. And instead of packing every bulky sweater you own, take one and pack a base layer to keep warm under your other clothes.
For the four-day Thanksgiving holiday, I travel in a pair of jeans, a long-sleeve shirt with scarf and vest, and wear my boots. I pack a second pair of jeans, three long-sleeve shirts, another vest and three scarves. In addition, I pack yoga pants and a T-shirt, a pair of pajamas, underwear, a base layer, socks and walking sneakers. Add my personal care products and I'm done.
Step Two: Rethink those appliances. Don't pack a hair dryer because hotels, motels and even some KOA campgrounds already have them. A razor is smaller than an electric shaver, so go with that. If you have a specialty appliance (like a flat iron for your hair) pack it if you must—you'll have more room since you've left the hair dryer at home.
Step Three: Ship ahead / buy when you arrive.
Families with small children: there are diapers in every town and village across the country. Buy them when you arrive. If you're headed to a hotel, or won't have your own transportation when you arrive, ship them ahead (easy with Amazon Prime's free shipping). One mom I interviewed for my story suggested packing a diaper for every two hours of travel. Another mom said not to pack a toy your child hasn't played with in the last three days.
If you're traveling from temperate zones to somewhere much colder, go ahead and ship your parkas, snow boots and other hefty gear. While you're at it, include the larger size liquids and Swiss Army knives that you can't carry on the airplane in that box.
Step Four: Hand-wash while you're gone. The guys at News Rising had fun with this one. I use shampoo for my hand washing and body wash. Hotels always have shampoo so I use their cheap stuff on my hand washables and save my own brand for my hair and body. And be sure to watch the video above for how to mash the water out of your clothing to ensure it's dry in the morning. The entire process only takes three minutes.
Step Five: Roll your clothes. That's right, instead of folding them, roll your clothes. Even if you compress them in a roll sack like I do, they will travel better and suffer fewer wrinkles rolled. For "finery" and fabrics that easily wrinkle, roll those pieces between layers of tissue paper.
Step Six: Use roll sacks and compression packs within your suitcase/carry-on. I show how to do that in the second video with WCCB News Rising below.
These six tips will help you in the minivan too—who doesn't need more room?
Where to buy roll-top and compression sacks
I bought my roll sacks at Dick's Sporting Goods several years ago and my compression sack at a local outdoor provisions company. They are easily found at this search link from the Sea to Summit brand, but other companies make them, too.
You don't have to buy the more expensive waterproof versions when you're only going to use them inside luggage—the siliconized Cordura® will do very nicely!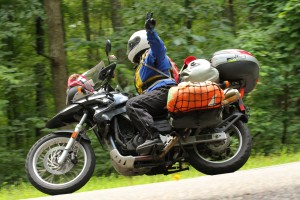 I've extensively traveled the U.S. and five Canadian provinces on a motorcycle as pictured here. I'm often gone for weeks at a time and, in addition to my clothing, motorcycle gear and tools, I also pack camping gear.
If I can do it, you can too!