Sure,  management consultant and avid motorcyclist Dwain DeVille could have delivered a book with lots of worksheets and case studies to walk a business owner through the difficult process of strategic planning. Thankfully he approached the subject from his own hard-won experience with entrepreneurial road rash and used motorcycling metaphors to keep our right brains engaged in the process.  He uses the straight talk and occasional cuss words that people seem to expect from bikers, too.
Hell, ask me where my company needs to be in five years, and I'll answer without a moment's hesitation. However, ask me where I want my life to be in five years and I couldn't begin to tell you. And after all these years in business, that's a pretty crappy place to be. I'd allowed the needs of the company to drive my personal life for too long. It was high time to anwer the question "What's Next" and redefine my dreams. It was time to focus on my lifestyle.
Written for the business owner, not a cog in a big corporate wheel, The Biker's Guide to Business: When Business and Life Meet at the Crossroads, DeVille's philosophy sounds familiar to those of us who've read one of the eMyth books, but DeVille has his own spin on how to steer a company to serve its owner instead of the other way around.
DeVille is quick to point out his disdain for traditional business plans that end up collecting dust on the shelf. He insists that business owners who follow his process will walk away with a plan that can/will be executed. He provides these tools and instructions on his Bikers Guide to Business web site as well.
Beginning with failure
DeVille pulls no punches in describing a business venture he took on for all the wrong reasons and the financial and emotional aftermath. That experience taught him that "the key to success isn't recognizing opportunity, but instead recognizing the opportunities you should not chase."
No sooner had he straightened things out on the business front, Deville faced a cancer diagnosis and the loss of a kidney. Wham-Bam.
He decided it was time for a road trip through the American west on a rented Road King, a move I totally understand! The fruit of his trip was a strategy for his own management consulting firm and the outline for this book, which is also available on Audible, narrated by the author in his delightful Louisiana accent.
Now DeVille leads three-day motorcycle retreats for business owners to help them achieve the same degree of clarity that his seminal trip provided to him.
The book is written not written exclusively for bikers; indeed DeVille does an excellent job explaining the motorcycling metaphors to the uninitiated. That said, I think bikers like me are bound to enjoy it on a deeper level.
Note to aspiring business authors
If you're thinking of writing a book on a dry subject, like business planning, consider DeVille's approach of filtering it through a metaphor or a simple tale (ex: The Monk Who Sold His Ferrari).
A couple of weeks after downloading a Kindle version of The Biker's Guide to Business: When Business and Life Meet at the Crossroads, I received a personalized copy from its author, whom I "know" through Twitter. This is the first book that I have in both formats and it helped me see exactly how books differ between print and digital.  With that homework done, I recommend that business authors distribute their books in all three formats: print, digital and audio.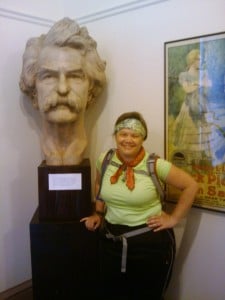 Can't wait to sink my teeth into the new Autobiography of Mark Twain. I went to his birthplace, Hannibal, MO this summer on my road trip.
Reading reviews of this great work, which Twain wouldn't allow to be published until 100 years after his death, I found this in a CBS News story about Twain's decision to dictate, rather than write, the book.
The autobiography is highly unconventional, in many ways ultra-modern – not telling one straight story from birth until death, but skipping around.

"Mark Twain wants this autobiography to be random," Hirst* said. "You know, he's going to talk about what he wants to talk about on this day, change his mind and move onto the next thing."

You heard that right . . . talk. One of the greatest writers in American history decided the best way to tell his own story was NOT to write it, but SPEAK it.

Daily dictations over four years, about whatever he found interesting that day.

So was Mark Twain the first BLOGGER?

"I would say that is exactly right," Hirst said. "Partly a journal, partly a diary, and partly recollection. So yeah, I think of it as a kind of blog, a blog without a web!"

*Quoting Robert Hirst, curator of the Mark Twain Papers at UC Berkeley, where a small army of editors has been laboring for six years to reconstruct the autobiography just as Twain wished it to be.
Speaking as a ghostwriter
I totally understand Twain's decision to dictate his story, mostly from his bed in the four years before his death at age 74. He argued that speaking his recollections and opinions, rather than writing them down, allowed him to adopt a more natural, colloquial and frank tone, and Twain scholars who have seen the manuscript agree.
Working with clients on newsletters, blog posts, white papers and the like has taught me the benefit of unconstrained speech. I talk about it here.
Big news: I'm writing a book with Matt Davio called Tradeoffs: Leveraging the Longs & Shorts of Life. We'll use the language and practices of those who trade for a living to frame life's tradeoffs: time for money,  freedom for convention,  risk for reward, and money for goods and services.
In a post-meltdown world where so many people feel the stakes are higher and the margin for error more narrow than ever before, Tradeoffs will introduce a general interest reader to how traders view "scalp," "swing," "directional," "fade" or "breakout" trading setups, how they mitigate risk, and how they live with the outcomes of their trades.
We have a book agent who's excited about the project and will help us get the proposal in tip-top shape by the end of April so he can hit the road with it.  Stay tuned!
Trading From Your Gut: How To Use Right Brain Instinct & Left Brain Smarts To Become a Master Trader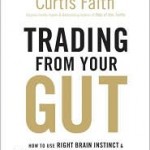 by Curtis Faith
Reviewed by Dasan: Legendary trader Richard Dennis believed that trading was so simple that anyone with the right training and psychology could do it successfully. After making millions for himself in the commodity, stock, and FOREX markets, he trained complete novices how to trade in 2 weeks. He called them the "turtles." He was right – a large number of the "turtles" went on to become very successful traders in their own right. Curtis Faith, the author of this book, was one of best of the turtles.
In "Trading From Your Gut" Curtis Faith's discusses a central aspect of trading success: Intuition. While most mediocre traders let emotions drive their trading, better traders use primarily rational thought. The best traders of all, the master traders, use a balance of intuition and rational thought. Like the experienced poker player that just knows what the other player has, these master traders can identify trend reversals simply by "gut feel" which comes from a combination of experience and underlying rational thought.
This is an excellent book for the intermediate level investor. The author does give a basic explanation of a rudimentary swing trade system, but it is just enough knowledge to be dangerous. I would not recommend this book for a rank novice. However, if you have some experience trading stocks or commodities already, this book is extremely valuable. For me as an experienced hedge fund investor, I found his concepts mainly affirmed in a concise way what has taken me years to learn. In this way, this book could make a moderately experienced trader more successful very quickly.
The main thesis of the book is the importance of intuition in trading, especially by experienced traders who already have mastered their emotions. He says it like this: "A balance between left-brain analysis and right-brain intuition is critical for optimal trading." He quotes many experts in this book, which adds a lot of value; for example, he quotes Barry Ritholz's idea that "wisdom is the capability to have `strong opinions, weakly held.'" Faith emphasizes the importance for a master trader to think independently. He writes "If you want to be a master trader, you need to develop your own reasons for making trades." He illustrates the concept of waiting for the right trade by comparing it to surfing at the beach, waiting for the right wave. The book is full of detailed examples like this, which illustrate his trading concepts. Faith wraps up the book with a discussion on ways to limit risk by being flexible, having a plan "B" and sizing positions properly to avoid overcommitment of your capital.
This book is valuable to any serious trader or investor looking to raise the level of their game. Novice investors have other volumes to read first.
Here's my co-author Matt  interviewing author Curtis Faith:
The Back Channel: How Audiences are Using Twitter and Social Media and Changing Presentations Forever
by Cliff Atkinson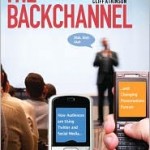 Reviewed by yours truly:  This book caught my eye because it grasped a phenomenon I've observed at events where the audience gives more eyeball time to their netbooks and smart phones than to the presenter. I figured someday I'd figure out how to harness the power of this behavior, and author Cliff Atkinson beat me to it. Mr Atkinson is THE authority to write on the matter. In addition to writing Beyond Bullet Points,  he designed the presentations that helped persuade a jury to award a $253 million verdict in the nation's first Vioxx trial in 2005. Fortune magazine called the presentations "frighteningly powerful."
For those new to the back channel and the ways of Twitter, never fear. The book starts there, not with boring  exposition, but with a real-life event where panelist Guy Kawasaki noticed a critical tweet (Twitter update) about him and asked the tweep (person who tweeted) to step up and explain the remark.  After setting the context for Twitter and the back channel with this case study, Mr Atkinson goes into the mechanics of Twitter and other technological means for sustaining an official back channel.
The part of the book that everyone presenting can use (with or without a back channel) describes how to be an editor, curator and taste-maker to your audience. Thinking of yourself in these ways makes it 100% easier to craft a presentation.
Mr Atkinson outlines a strategy for JOINING the back channel's conversation, including how to manage a "conversational presentation."  Presenters with and without a back channel should follow this advice
You can no longer get away with putting up a slide that lists Agenda or Introduction at the start of your presentation. Nor can you get away with kicking off your presentation with too many details or a list of your accomplishments. In a world in which your audience is accustomed to high-quality media at their fingertips, you need to capture their attention out of the gate. You must engage your audience within the first five slides or at least the first five minutes of your presentation.
The book offers a chapter on how to handle the positive and negative feedback from the back channel.  Particularly helpful is the advice that speakers should practice scenarios that put them in a range of difficult situations.  He gives five scenarios to practice: "You're not listening to us;" Your Facts are wrong or misleading;" "Your material is a mismatch for us;" "Your material is boring;" and "You made me mad."
Finally, relying on an excellent case study from a conference gone snarky via the backchannel, Mr Atkinson shows how Chris Brogan (author of Trust Agents) turned the situation around. Here's the 10-point checklist for managing an unruly back channel:
Establish a reputation
Listen and collect stories
Dispense with pretense
Talk to the elephant in the room (if there is one)
Make it you, you, you instead of me, me, me
Check in with the audience early and often
Improvise
Stay grounded
Ignore the small stuff
Keep things in perspective
This slim volume is worth the $34.99 list price and includes a free 45-day searchable online edition. Both of my thumbs are way up.
Why We Make Mistakes: How we look without seeing, forget things in seconds, and are all pretty sure we are way above average
by Joseph T. Hallinan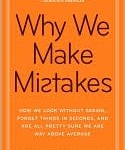 Publishers Weekly review: Pulitzer winner for his stories on Indiana's medical malpractice system, Hallinan has made himself an expert on the snafus of human psychology and perception used regularly (by politicians, marketers, and our own subconscious) to confuse, misinform, manipulate and equivocate. In breezy chapters, Hallinan examines 13 pitfalls that make us vulnerable to mistakes: "we look but don't always see," "we like things tidy" and "we don't constrain ourselves" among them. Each chapter takes on a different drawback, packing in an impressive range of intriguing and practical real-world examples; the chapter on overconfidence looks at horse-racing handicappers, Warren Buffet's worst deal and the secret weapon of credit card companies. He also looks at the serious consequences of multitasking and data overload on what is at best a two- or three-track mind, from deciding the best course of cancer treatment to ignoring the real factors of our unhappiness (often by focusing on minor but more easily understood details). Quizzes and puzzles give readers a sense of their own capacity for self-deception and/or delusion. A lesson in humility as much as human behavior, Hallinan's study should help readers understand their limitations and how to work with them.
Genius on the Edge : The Bizarre Double Life of Dr. William Stewart Halsted
by Gerald Imber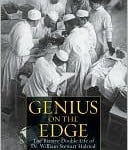 Intro to a Fresh Air interview with the author:  In the second half of the 19th century, New York City's population swelled from several hundred thousand to just over 2 million people. Conditions were not pleasant: Sewers were virtually nonexistent; piles of manure sat several inches high on sidewalks; and the city was overrun by disease.
Medical practices of the time were crude, at best: If surgical procedures were performed, they were done without sterilizing the equipment or the operating room, and typically ended with the patient losing an entire limb, if not his life.
It was in this environment that Dr. William Halsted began his surgical career. Halsted, who began the nation's first residency program, pioneered techniques ranging from blood transfusions to sterilizing operating rooms. He also developed the radical mastectomy — also known as the Halsted mastectomy — reducing the local recurrence of breast cancer in patients nearly 50 percent. When Johns Hopkins Hospital opened its Department of Surgery in 1889, Halsted was named its first supervisor.
Though his legacy suggests a medical pioneer who made surgery safer and more precise, Halsted's life was frequently messy.
That dual life is examined in Gerald Imber's new biography of the doctor, Genius on the Edge: The Bizarre Double Life of Dr. William Stewart Halsted.
Imber traces Halsted's journey from a young Columbia-trained medical student to a successful surgeon who secretly suffered from several narcotic addictions. Imber, himself a plastic surgeon, says that while Halsted was a "rigid perfectionist in some portions of his life, [he was] totally negligent and forgetful in others. He could leave a patient in a hospital bed for weeks on end and forget to operate on them."
Imber talks to Fresh Air about Halsted's dual lives and about 19th century American medicine. Imber is an internationally known plastic surgeon who specializes in facial rejuvenation and noninvasive surgical techniques.
Please tell me if you have a book to recommend or review for April's post.
No, the Birthday Fairy didn't bring me a Nook last month, but now I wonder if I should hold out for an iPad. Your suggestions?
BUT WAIT! This just in! Apparently I'm not the only one who didn't know you could download the Kindle software to a PC and start reading. Hmmm…anyone tried this? Please comment.
Speaking of reading technology, Duke Magazine featured a recap of a panel discussion on the future of reading "The End of Civilization as We Know It? The  central question was technology's impact on how, what, and why we read. I particularly enjoyed the back & forth on Google's Booksearch and this quote from Andy Berndt '89, managing director of the Creative Lab at Google, "But we're not interested at all in replacing books. A lot of people who talk about this haven't even ever used Book Search. The hope is that if you can search for something about a topic, and you can find a book, even a snippet of a book, that exists somewhere else, you might continue to pursue that interest. If you can't, you might not. And that seems hugely important."
You Are Not A Gadget: A Manifesto
by Jaron Lanier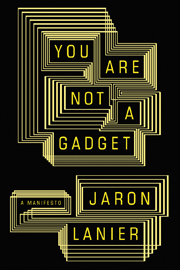 Amazon choose this as one of January's best books, saying, "For the most part, Web 2.0–Internet technologies that encourage interactivity, customization, and participation–is hailed as an emerging Golden Age of information sharing and collaborative achievement, the strength of democratized wisdom. Jaron Lanier isn't buying it. In You Are Not a Gadget, the longtime tech guru/visionary/dreadlocked genius (and progenitor of virtual reality) argues the opposite: that unfettered–and anonymous–ability to comment results in cynical mob behavior, the shouting-down of reasoned argument, and the devaluation of individual accomplishment. Lanier traces the roots of today's Web 2.0 philosophies and architectures (e.g. he posits that Web anonymity is the result of '60s paranoia), persuasively documents their shortcomings, and provides alternate paths to "locked-in" paradigms. Though its strongly-stated opinions run against the bias of popular assumptions, You Are Not a Gadget is a manifesto, not a screed; Lanier seeks a useful, respectful dialogue about how we can shape technology to fit culture's needs, rather than the way technology currently shapes us."
Here's an excerpt from an interview with the author from Publishers Weekly
Q: As one of the first visionaries in Silicon Valley, you saw the initial promise the internet held. Two decades later, how has the internet transformed our lives for the better?
A: The answer is different in different parts of the world. In the industrialized world, the rise of the Web has happily demonstrated that vast numbers of people are interested in being expressive to each other and the world at large. This is something that I and my colleagues used to boldly predict, but we were often shouted down, as the mainstream opinion during the age of television's dominance was that people were mostly passive consumers who could not be expected to express themselves. In the developing world, the Internet, along with mobile phones, has had an even more dramatic effect, empowering vast classes of people in new ways by allowing them to coordinate with each other. That has been a very good thing for the most part, though it has also enabled militants and other bad actors.
Q: Most authors have never made a living from selling their books. They've always had to teach or do something else on the side.
A: Sure, that's also been true in music. But both music and publishing have always supported the creative middle class. So we're speaking now at the Random House offices in New York. There's a floor full of people here who are earning salaries and supporting families, who are not hit authors but are editors and publicists and all sorts of things, and they're immensely valuable. This new world that many like Chris propose disenfranchises them completely.
In an earlier draft of the book I actually went through research on exactly what's happened to the middle class in music, so if you go back to the start of the Web, there were hundreds of thousands of people filing taxes as musicians, only a tiny portion of whom did so on the basis of being known. But there were so many little jobs—session musicians, sound technicians—and that just fell off a cliff. I assert, and I think with good reason, that had we not screwed up in this way, we would not have had the recession. We have to be looking at results, and if the Internet was so great for wealth, then we should be getting wealthy. It has to be stated that simply.
IOU: Why Everyone Owes Everyone and No One Can Pay
by John Lanchester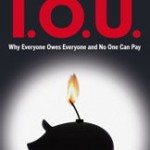 I, like many, am suffering from meltdown forensics fatigue. But this book got my attention when I heard the author interviewed on NPR's Marketplace.
Here's an excerpt from NYT Review: Mr. Lanchester, who is British, isn't an economist or a business journalist. He's a novelist (and a talented one; try "The Debt to Pleasure"), a man with no special financial expertise whatsoever. A few years ago he began following the financial meltdown for research purposes, as background for a novel he was writing. He soon realized, he says, "that I had stumbled across the most interesting story I've ever found."
Once upon a time in America and Britain, he observes, "the jet engine of capitalism was harnessed to the ox cart of social justice, to much bleating from the advocates of pure capitalism, but with the effect that the Western liberal democracies became the most admired societies that the world had ever seen."
Then the Wall crumbled, and "the jet engine was unhooked from the ox cart and allowed to roar off at its own speed. The result was an unprecedented boom, which had two big things wrong with it: It wasn't fair, and it wasn't sustainable."
"I.O.U." crosses over into black satire when Mr. Lanchester describes how bankers used their new tools to make money from poor people, the worst credit risks, by prying their cash loose through predatory lending, then pooling this money and selling it off. Who cared if these people defaulted on their mortgages? The risk had already been passed along to others, and ultimately, when banks failed, to taxpayers. Mr. Lanchester calls this "a 100 percent pure form of socialism for the rich."
With steam shooting from his ears, he summarizes: "So a huge, unregulated boom in which almost all the upside went directly into private hands, followed by a gigantic bust in which the losses were socialized. That is literally nobody's idea of how the world is supposed to work."
Mr. Lanchester's history lesson is peppered with dead-on references to everything, including "Annie Hall," "The Simpsons," "The Wire," Hemingway and Jacques Derrida. He is effortlessly epigrammatical. ("In a sense, credit isn't just an aspect of the economy, it is the economy.")
Before you begin to cry, pick up a copy of "I.O.U." Good humor and good company will be the things that'll get us through.
Exploiting Chaos: 150 Ways to Spark Innovation During Times of Change
by Jeremy Gutsche
I'm writing a business book for a general audience, and read this one because I find the visual approach so refreshing. I want to emulate the approach in my work.
This video will do a better job of explaining it than a written review:
The Relentless Revolution: A History of Capitalism
by Joyce Appleby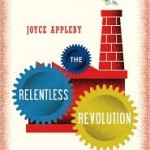 I excerpted from the NYT Sunday Book Review:
Appleby, a distinguished historian who has dedicated her career to studying the origins of capitalism in the Anglo-American world, here broadens her scope to take in the global history of capitalism in all its creative — and destructive — glory.
In viewing capitalism as an extension of a culture unique to a particular time and place, Appleby is understandably contemptuous of those who posit, in the spirit of Adam Smith, that capitalism was a natural outgrowth of human nature. She is equally scornful of those who believe that its emergence was in any way inevitable or inexorable.
Appleby believes that intimations of capitalism's rise first surfaced in the Netherlands, where an otherwise unremarkable country with few resources of its own managed to catapult itself to wealth and prominence in the space of a century. While Appleby lingers on the Dutch — and even manages to make things like the herring trade sound interesting — her principal subject is Britain, which she considers the true cradle of capitalism.
Her focus on Britain has little to do with William Blake's "dark satanic mills" and other symbols of the Industrial Revolution. Instead, Appleby sees in mundane changes in agriculture the beginnings of later, more dramatic, developments. In 16th-century Europe, she observes, about 80 percent of the population was engaged in agriculture — roughly the same proportion as at the time of the Roman Empire. By 1800, the British farming population had dropped by more than half, thanks to innovations that produced a new, commercial agriculture, like crop rotation and the private enclosure of public lands. These efficiencies created a huge pool of surplus labor, setting the stage for the more visible British capitalism in the coming centuries.
It is to Appleby's credit that she spends time on a subject like this, which is too often slighted in popular histories. In a similar spirit, she captures how a new generation of now forgotten economic writers active long before Adam Smith built a case "that the elements in any economy were negotiable and fluid, the exact opposite of the stasis so long desired." This was a revolution of the mind, not machines, and it ushered in profound changes in how people viewed everything from usury to joint stock companies. As she bluntly concludes, "there can be no capitalism . . . without a culture of capitalism."
Other books I wish I could find the time to read (but know I won't)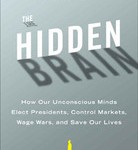 The Hidden Brain: How Our Unconscious Minds Elect Presidents, Control Markets, Wage Wars, and Save Our Lives by Shankar Vedantam, a science writer for The Washington Post and a Nieman Fellow at Harvard University.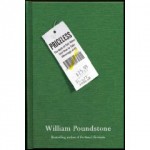 Priceless: The Myth of Fair Value (and How to Take Advantage of It) by William Poundstone dives into the latest psychological findings to investigate how and why prices are allocated.
Next month brings several reader reviews. Please let me know if you're reading anything interesting that you'd recommend or want to review for an upcoming Book Lust post.
This month we have a fiction entry in Book Lust by writer Barrie Abalard, who reviews the latest book in the series that inspired the Golden Globe winning "Dexter" TV series.
Want to review a book for February? Please let me know.
In the continuing discussion about e-readers I asked a hedge fund manager who follows technology to weigh in on the Kindle versus Nook choice for my birthday. He goes by "Dasan" online.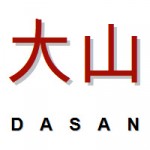 Here's what he says.
Happy Birthday, Tamela – I know you've been considering whether to buy a Nook or a Kindle. I've got some ideas for you.

First, the most important thing is your decision to buy an e-reader in the first place. In 20 years or less, printed-paper books will be as common as a scroll of wizardly runes is today. People will look back and wonder why books didn't migrate to digital delivery before music and movies did. But today the question remains – to Nook or to Kindle?

You say you're leaning toward buying the Nook because it runs on Android and you are bullish on where Android's headed. Sorry, but you're missing the whole point of e-readers. The point of the e-reader is to "disappear" in your hands and let you drift into that trance-like state of reading. When I'm reading Dune for the 5th time on my Kindle, I don't even know what an operating system is. You love libraries and bookstores; that would seem to make a Nook the obvious choice, with its physical stores. Barnes & Noble has promised to let you use your nook to read books for free in their stores. Before you get too excited about that, you better look at their financial statements. Did you know that they are in the process of closing all of their B. Dalton bookstores? I wonder how long they can keep their physical stores. I loved record stores – can you find one for me? Buy a Kindle, and you don't buy an e-reader, you buy access to the entire Amazon bookstore. But the Nook sure has a piece of hardware, with a great color second screen and that wonderful rubber backing! The decision is obvious – buy one of each!
Thanks, Dasan. Sounds like I can't lose. I'll let you know whether the Birthday Fairy brought me either of these.
Too Big to Fail: The Inside Story of How Wall Street and Washington Fought to Save the Financial System—and Themselves
by Andrew Ross-Sorkin, reviewed by Jim Gobetz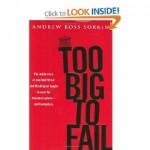 The book chronicles the events leading up to and surrounding the recent economic turmoil It is the third book on the topic I have read and by far the most exhaustive and detailed. Mr. Ross-Sorkin has unparalleled access to the key players in the events and a very flowing and easy to read writing style. He describes the characters in an unbiased manner and I came away feeling that he was quite neutral on everybody. This is a fair contrast to "The Sellout" by Charles Gasparino whose opinions of the players are obvious.
The book was good to great from cover to cover, but I am somewhat reticent to recommend it to anyone who is really not a total economy wonk like I am. The casual observer is likely to get bogged down in the details as there are literally hundreds of players and their interactions read like those of the Plantagenet's. If you are really keen to get inside the events of 2007-2009 you won't find better access, Mr. Ross-Sorkin has interviewed all of the key and nearly all of the ancillary players many times in his role with the NY Times. I follow the market and the political events that relate to it like a stalker, yet still I learned quite a few new things and gained new insight into the minds of the rainmakers that led us in and out (hopefully) of the debacle.
So for the fanatics, go for it, it's a joyride through a subject you can't get enough of. For those of a more relaxed interest, you'll have to decide if you're interested enough for 800 pages or so on this particular topic.
Bonus: my friend Matt Davio interviews Mr Sorkin.
Mobs, Messiahs, and Markets: Surviving the Public Spectacle in Finance and Politics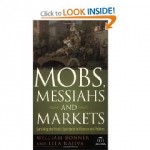 by William Bonner and Lila Rajiva, reviewed by Jim Gobetz
This book attempts to link the three title entities into a treatise on the human condition from which they sprang. Unfortunately the book is like a roller coaster, looping back and forth, and in and out of the topics in a way that was in my opinion uncoordinated. I am not a writer of books but I suspect a failure on the part of the editor is greatly responsible. Each chapter is interesting in and of itself but taken as a whole it makes no conclusions. The authors are at times strident and appear to be approaching a point which is never made, or they make a point that is unsupported in the context of the chapter but is in another chapter.
I have the feeling that if the book had been organized in a better fashion I might be writing a positive or even very positive review, but as is I cannot recommend it. Sadly, while the title elicits interest the text fails to deliver.
Think Twice: Harnessing the Power of Counterintuition

by Michael Mauboussin, reviewed by Derek Hernquist
Michael Mauboussin's previous book, More Than You Know, was a collection of essays he had written under the title "The Consilient Observer". I loved it for its discussion of the odd ways in which we process information and make decisions.  Think Twice moves his work from an investor-heavy descriptions to more general prescriptions, contributing to the recent wave of books from Gladwell, Ariely, etc. on social movements.
It's an engaging read, with countless examples of fascinating behavioral experiments.  Those familiar with studies by Kahneman, Tversky, Asch, etc. will recognize many, but he also offers examples from the real world lab.  Why do only 12% of Germans consent to organ donation, yet 100% of Austrians do?  Because in Germany, one must opt-in, while in Austria one must opt-out…a simple difference in the way choices are presented makes a world of difference.  Other examples of suboptimal decision-making abound, from Harrah's Casino thinking high rollers are their best customers(they're not) to a music lab giving listeners a chance to think independently about a selection of new songs(they couldn't).
I find Mauboussin's examples both enlightening and entertaining, but it's this "Cliffs Notes" approach to behavioral study that defines both the strengths and weaknesses of this book.  Experts in the field of psychology will already be familiar with many examples, and find the prescriptions for improving our decision-making skills too simplistic to be make a difference. For me, however, his work has been instrumental in building a constant awareness of context where snap (attribute-based) judgment had resided…a major help in accepting the potential of markets to go where the mood takes them regardless of my opinion.
Personally, I love these books and find them appropriate for 95% of the population, particularly investors, business executives, marketers, and political operatives.  Both the results and implications of dozens of studies are laid out in simple form, giving the reader a vivid memory on which to construct his or her personal decision-making process.  If Mauboussin's name is new to you and you are fascinated by how we make choices, I think you'll love Think Twice.
How God Changes Your Brain: Breakthrough Findings from a Leading Neuroscientist
b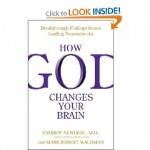 y Andrew Newberg M.D.& Mark Robert Waldman, reviewed by Wray Herbert(Washington Post's Book World)
Gus was not a "meditation type of guy." He was more of a Joe Sixpack, a Philadelphia mechanic not much interested in religion. He hauled himself into Andrew Newberg's clinic for one reason: His memory was failing. Newberg, a neuroscientist and memory expert, has a special interest in spirituality; he has scanned the brains of worshipers ranging from Franciscan nuns to Pentecostals speaking in tongues. So why was he bothering with Gus? Well, Newberg explains in "How God Changes Your Brain," his studies (with coauthor Mark Robert Waldman) had convinced him of a link between spirituality and cognitive health: The neurochemical changes that he observed during meditation and prayer appeared to improve brain function.
But Newberg had studied mostly devotees with years of spiritual training; he wanted to see whether a novice might benefit, too. So Gus learned the basics of Kirtan Kriya meditation. Rooted in 16th-century India, Kirtan Kriya involves conscious regulation of breathing as well as repetitive movements and sounds. Gus picked it up right away, practicing 12 minutes a day for eight weeks. That's a blip compared to what many students of meditation do. Even so, Newberg writes, Gus had greater clarity of mind, empathy and emotional equilibrium. What's more, his working memory improved as much as 50 percent on some tests. Gus's case may be inspiring to readers worried about the mental decline that comes with aging. But those looking for the loftier answers promised in the book's title may come away unsatisfied, and a bit confused. At times Newberg seems to be writing about a broad notion of spirituality, while at other times he focuses on rituals — the mantras and mudras and prayer beads — without any spiritual content or commitment. He doesn't want to leave anyone (even atheists) outside the tent, so his definition of God is whatever any individual's neurons are conjuring up at the moment — or the next moment or the next, because God is "constantly changing and evolving." Inclusiveness is all well and good, but loose theology doesn't necessarily make for rigorous testing. The second half of "How God Changes Your Brain" is a how-to book. There are lists upon lists here, and even lists within lists: eight best ways to maintain a healthy brain, including five essential reasons for yawning; nine steps for dealing with anger; six strategies for improving communication and six more for creative problem-solving. You get the idea. Aging baby boomers are hungering for good science writing on both brain health and spirituality. Happily, there are excellent books on this important topic, notably Sharon Begley's "Train Your Mind, Change Your Brain" and Daniel Goleman's "Social Intelligence." Start with them. Unhappily, this bloviating volume will leave most readers still seeking.
The Moral Underground: How Ordinary Americans Subvert an Unfair Economy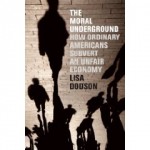 by Lisa Dodson, reviewed by Publishers Weekly
In this fascinating exploration of economic civil disobedience, Dodson (Don't Call Us Out by Name) introduces readers to teachers, supervisors, health-care professionals and managers who bend the rules—and even break the law—to support those in need. Dodson shares stories of individuals like Linda, a health-care supervisor who has, against hospital policy, "driven an employee to court on work time" and allows her low-wage employees to manipulate the schedule so they can attend to child-care needs. The author interviews Cora, a restaurant manager, who came up with a "double talk system," in which she keeps two sets of time sheets so that workers can attend to family issues and who says, "helping women meet their kids or do what they have to do is more important" than her chain restaurant's rules. Dodson's study is gripping and her argument is persuasive: we should not have to put compassionate Americans in a position where they have to choose between following rules and helping those who are trying to help themselves.
Dexter by Design (how timely, after Sunday's Golden Globe awards)
by Jeff Lindsay,  reviewed by Barrie Abalard
Summary: A good read for Dexter fans, but not Lindsay's best. If you've never read any of the "Dexter" novels, start with book one, Darkly Dreaming Dexter, in order to read this one (book four) in context. If you've only watched the Showtime TV series, be aware that the plots of the series and the plots of the books diverge greatly. Three and a half out of five stars.
I discovered Jeff Lindsay's "Dexter" novels about six months before the Showtime series began. During that six months, when most of the world didn't know the books existed, I was practically stopping strangers to rave about Lindsay's writing and characterization. My family grew thoroughly sick of my Dexter talk. And then… the series began, with the first season repeated on one of the broadcast networks (CBS, I believe), and suddenly everyone knew what, and who, I was talking about.
Thus, Dexter by Design was a book I waited for with great impatience. And it mostly satisfies. Mostly. But it doesn't get near the admittedly high bar Lindsay set for himself with books one and two (Darkly Dreaming Dexter and Dearly Devoted Dexter) and the slightly less spectacular but still excellent book three, Dexter in the Dark.
I believe a large part of the problem with the book's momentum—it takes a while to get off the ground—lies in the beginning. Dexter and Rita, his new wife, are honeymooning in Paris. While Lindsay wraps up the honeymoon intro fairly well, setting the stage for the rest of the book, the story would have been stronger if he'd opened with Dexter doing his thing in Miami, as usual, and then working in remembrances of his honeymoon. I think the horror that serves as the end to the honeymoon scenes would work better if it were teased out over the first fifth of the book or so.
I also found Lindsay's writing in the first chapter a bit irritating, before the book settles down into the sardonic commentary that is his (and Dexter's) forte. The observations about Paris and art strike me as too floridly written, and not consistent with Lindsay's usual clean style. I was annoyed, frankly, waiting for the real action to begin.
But, it's not a huge quibble if you are a "Dexter" fan, which I am. Once the story returns to Miami, where Dexter works as a blood spatter analyst for the police crime lab and moonlights by taking out evil folks with his sociopathic relish, the story regains its footing. The tale is one of viciousness as well as absurdity, with some surprise turns that keep the momentum going. Unfortunately, the ending is a bit weak, as well as completely unsurprising, which disappointed me.
Lindsay's first two books knocked my socks off. The third one, Dexter in the Dark, was only a shade less amazing. Lindsay takes chances with his main character that, in the first three books, made me gasp with surprise and pleasure as he spun plots that eventually resolved in a satisfying way. If you're a fan of the popular homicidal character and haven't read Dexter by Design, by all means do so, as long as you've read the first three books beforehand. But be prepared for that twinge of disappointment here and there.
I've written a series of stories with repeating characters myself, so I know it's difficult to tell the tales and reveal new aspects of the main characters over the course of several storylines. It takes mastery of the art of fiction and a polished, smooth style, both of which Lindsay has (and I don't, but I'm working on it). I'll wait to read book five before I throw in the towel on Lindsay and his "Dexter" series.
On a sad reading note, I opened this month's "Fortune Small Business" to learn it was the last.  RIP to a great publication I've been reading on dead trees for years. Maybe earlier adaptation of e-readers would have saved it. On that e-reader note, which do you prefer, Nook or Kindle? With my birthday coming up in January I'll graciously accept either — and you don't even have to wrap it. Making it easy for you, dear readers!
This month's selections reflect facets of my wide range of interests. A real hodgepodge.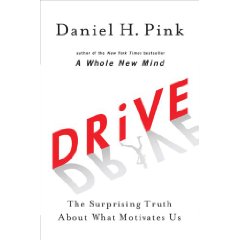 If Dan Pink wrote a cookbook I'd buy it. Lucky for me, instead he's written Drive: The Surprising Truth About What Motivates Us. Due out 12/29/09 I pre-ordered it.
Publishers Weekly: According to Pink (A Whole New Mind), everything we think we know about what motivates us is wrong. He pits the latest scientific discoveries about the mind against the outmoded wisdom that claims people can only be motivated by the hope of gain and the fear of loss. Pink cites a dizzying number of studies revealing that "carrot and stick" can actually significantly reduce the ability of workers to produce creative solutions to problems. What motivates us once our basic survival needs are met is the ability to grow and develop, to realize our fullest potential. Case studies of Google's "20 percent time" (in which employees work on projects of their choosing one full day each week) and Best Buy's "Results Only Work Environment" (in which employees can work whenever and however they choose—as long as they meet specific goals) demonstrate growing endorsement for this approach. A series of appendixes include further reading and tips on applying this method to businesses, fitness and child-rearing. Drawing on research in psychology, economics and sociology, Pink's analysis—and new model—of motivation offers tremendous insight into our deepest nature.

With so much paper wealth lost in this recession, it's probably high time investors learned the fundamentals — even if (or perhaps especially if) they're hiring a professional to advise them. Thanks to fellow Charlottean and Stocktwits blogger Derek Hernquist for introducing us to Technical Analysis Using Multiple Timeframes.
Derek: Brian Shannon carries a reputation for integrity through his work at www.Alphatrends.net, and I was fortunate enough to stumble upon his insights after joining Twitter. A must-follow of the StockTwits crowd, he is a master at laying out ideas that conform to his style of trading with the trend. His book gives traders at all levels the chance to learn more about the concepts he rattles off with each day's market analysis.
Published in 2008 by an independent, the first sight of the book sets the tone with its old school look. I felt like a kid at the library checking out a book on dribbling by Bob Cousy or skating by Gordie Howe. Basic writing, rich diagrams, and no fluff. This style lends perfectly to the simply elegant way he describes concepts such as market structure, trend alignment, and risk management.
As much as these concepts are native to market players, they may be foreign to those interested in learning the game. Brian has a rare ability to break these concepts into digestible but hard-hitting lessons that are hard to forget. I've journaled my trades and thoughts for nearly 20 years, yet I pulled lines out of this book that were a great wake-up call. "Anyone can recognize an existing trend, but finding the low-risk areas to enter the trend and knowing when to exit is what separates the sheep from the wolves" shouted to me right from the beginning.
I'm a little biased here, because his approach to markets parallels mine regarding the impact of human behavior on market prices. Investors with a purely fundamental approach may not embrace his philosophy that the reaction to news matters as much the news itself. In addition, those looking for a secret formula are rightly told early on to look elsewhere. That said, I believe ALL investors could learn from his disciplined approach to managing financial and psychological risk.

Most of the books I recommend to newbies and veterans alike were written decades ago, but this one joins that group offering timeless lessons to traders on all levels. It's my belief that this book would have been appropriate in 1950, and will still be relevant in 2050. Knowing what to say is a critical skill, but also knowing how to say it is a rare combo that Brian has achieved. Anyone looking to improve how they think about trading will be happy they read this budding classic.
By the way, you can follow Derek on Twitter @derekhernquist and read his StockTwits blog.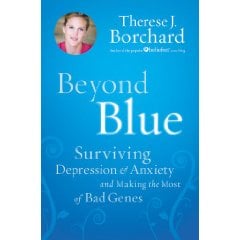 I hope someday we won't call someone "brave" for talking about life with mental illness; after all, we don't say a cardiac patient is "brave" for discussing stints and Plavix.
Publishers Weekly: After compiling several books of essays featuring other people's voices (I Like Being Catholic), popular Beliefnet.com blogger Borchard lifts her own voice to tell her story. She's a mental health train wreck—recovering alcoholic, bipolar, a touch of obsessive-compulsive, highly sensitive and therefore easily overstimulated in places like Toys R Us, where mothers of young children are sentenced to go. Fortunately for Borchard's family and herself, too, this is a funny book that she lived to write, after six psychiatrists, 23 medication combinations and hospitalization. Borchard's gift and distinction is her humor, the golden rope out of the pit of despair and a tool for transforming hysteria into hysterical laughter. She does a good job of countering the you-are-what-you-think crowd who blame the mentally ill for their own illness. Some readers might find there's TMI (too much information), but the author's desire to be helpful is boundless. This self-help memoir offers hope, particularly for those with intractable depression. Even better, it offers levity.

I got hooked on English drawing room mysteries in high school thanks to Agatha Christie.  I have a nice leather-bound set of everything she ever wrote. The author of this book, PD James, is a titan of the genre — author of twenty books, most of which have been filmed and broadcast on television in the United States and other countries. James spent thirty years in various departments of the British Civil Service, including the Police and Criminal Law Department of Great Britain's Home Office. She has served as a magistrate and as a governor of the BBC. The recipient of many prizes and honors, she was created Baroness James of Holland Park in 1991.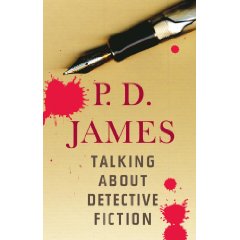 Publishers Weekly: One of the most widely read and respected writers of detective fiction, James (The Private Patient) explores the genre's origins (focusing primarily on Britain) and its lasting appeal. James cites Wilkie Collins's The Moonstone, published in 1868, as the first detective novel and its hero, Sergeant Cuff, as one of the first literary examples of the professional detective (modeled after a real-life Scotland Yard inspector). As for Conan Doyle's Sherlock Holmes stories, James argues that their staying power has as much to do with the gloomy London atmosphere, "the enveloping miasma of mystery and terror," as with the iconic sleuth. Devoting much of her time to writers in the Golden Age of British detective fiction (essentially between the two world wars), James dissects the work of four heavyweights: Agatha Christie, Dorothy L. Sayers, Margery Allingham and Ngaio Marsh. Though she's more appreciative of Marsh and Allingham (declaring them "novelists, not merely fabricators of ingenious puzzles"), James acknowledges not only the undeniable boost these women gave to the genre but their continuing appeal. For crime fiction fans, this master class from one of the leading practitioners of the art will be a real treat. 9 illustations.
The Harvard Psychedelic Club: How Timothy Leary, Ram Dass, Huston Smith, and Andrew Weil Killed the Fifties and Ushered in a New Age for America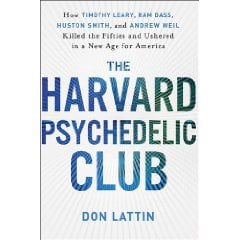 I was born in the '60′s but am not a student of them. Dennis McNally is a scholar of the time, having written books on the Grateful Dead and Jack Kerouac. McNally says "I suspect I'm not the only person who thought the psychedelics-at-Harvard story had been pretty well settled, but Lattin's work has widened my perspective considerably. By focusing on Huston Smith and Andrew Weil as well as Leary and Alpert, he's created a stimulating and thoroughly engrossing read."
Amazon: This book is the story of how three brilliant scholars and one ambitious freshman crossed paths in the early sixties at a Harvard-sponsored psychedelic-drug research project, transforming their lives and American culture and launching the mind/body/spirit movement that inspired the explosion of yoga classes, organic produce, and alternative medicine.
The four men came together in a time of upheaval and experimentation, and their exploration of an expanded consciousness set the stage for the social, spiritual, sexual, and psychological revolution of the 1960s. Timothy Leary would be the rebellious trickster, the premier proponent of the therapeutic and spiritual benefits of LSD, advising a generation to "turn on, tune in, and drop out." Richard Alpert would be the seeker, traveling to India and returning to America as Ram Dass, reborn as a spiritual leader with his "Be Here Now" mantra, inspiring a restless army of spiritual pilgrims. Huston Smith would be the teacher, practicing every world religion, introducing the Dalai Lama to the West, and educating generations of Americans to adopt a more tolerant, inclusive attitude toward other cultures' beliefs. And young Andrew Weil would be the healer, becoming the undisputed leader of alternative medicine, devoting his life to the holistic reformation of the American health care system.
It was meant to be a time of joy, of peace, and of love, but behind the scenes lurked backstabbing, jealousy, and outright betrayal. In spite of their personal conflicts, the members of the Harvard Psychedelic Club would forever change the way Americans view religion and practice medicine, and the very way we look at body and soul.
Spent some time in a REAL bookstore last week.  I'm daydreaming of a Nook…
Connected: The Surprising Power of Networks and How They Shape Our Lives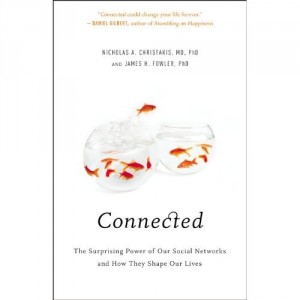 This looks particularly intelligent.  Here's a PDF excerpt.
Publishers Weekly says: Harvard professor and health care policy specialist Christakis (Death Foretold: Prophecy and Prognosis in Medical Care) became interested in social connectivity when observing that the mortality rate of spouses spike after a partner passes away. Christakis sought out a collaboration with Fowler, a health systems and political scientist, and together they compare topology (the hows of a given structure) across different social networks to better explain how participation and positioning enhances the effectiveness of an individual, and why the "whole" of a network is "greater than the sum of its parts." Five basic rules describe the relationship between individuals and their networks—including mutual adaptation, the influence of friends and friends' friends, the network's "life of its own"—but the results do more than promote the good of the group: they also spread contagions; create "epidemics" of obesity, smoking and substance abuse; disseminate fads and markets; alter voting patterns; and more. A thorough but popular take on a complex phenomenon, this volume offers an entertaining guide to the mechanics and importance of human networking. 13 b/w illustrations, 8-page color insert.
Free: The Future of a Radical Price
Malcolm Gladwell wrote aboutChris Anderson's book this past summer. Here's the Publishers Weekly take:
In the digital marketplace, the most effective price is no price at all, argues Anderson (The Long Tail). He illustrates how savvy businesses are raking it in with indirect routes from product to revenue with such models as cross-subsidies (giving away a DVR to sell cable service) and freemiums (offering Flickr for free while selling the superior FlickrPro to serious users). New media models have allowed successes like Obama's campaign billboards on Xbox Live, Webkinz dolls and Radiohead's name-your-own-price experiment with its latest album. A generational and global shift is at play—those below 30 won't pay for information, knowing it will be available somewhere for free, and in China, piracy accounts for about 95% of music consumption—to the delight of artists and labels, who profit off free publicity through concerts and merchandising. Anderson provides a thorough overview of the history of pricing and commerce, the mental transaction costs that differentiate zero and any other price into two entirely different markets, the psychology of digital piracy and the open-source war between Microsoft and Linux. As in Anderson's previous book, the thought-provoking material is matched by a delivery that is nothing short of scintillating.
Googled: The End of the World As We Know It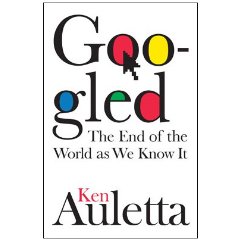 Before I went to the bookstore I heard the author of Googled interviewed by Fresh Air's Terry Gross.
From Publishers Weekly: Two Googles emerge in this savvy profile of the Internet search octopus. The first is the actual company, with its mixture of business acumen and naïve idealism (Don't Be Evil is the corporate slogan); its brilliant engineering feats and grad-students-at-play company culture; its geek founders, Sergey Brin and Larry Page, two billionaires who imbibe their anti-establishment rectitude straight from Burning Man; its pseudo-altruistic quest to offer all the world's information for free while selling all the world's advertising at a hefty profit. The second Google is a monstrous metaphor for all the creative destruction that the Internet has wrought on the crumbling titans of old media, who find themselves desperately wondering how they will make money off of news, music, video and books now that people can Google up all these things without paying a dime. The first Google makes for a standard-issue tech-industry grunge-to-riches business story, its main entertainment value being Brin's and Page's comical lack of social graces. But New Yorker columnist Auletta (World War 3.0: Microsoft and Its Enemies) makes the second Google a starting point for a sharp and probing analysis of the apocalyptic upheavals in the media and entertainment industries.
The Sellout: How Three Decades of Wall Street Greed and Government Mismanagement Destroyed the Global Financial System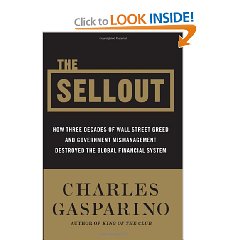 Jim Gobetz offers this review:
The book provides a very in depth history of the events and conditions that led up to the current economic situation. The profiles of the people involved are evidence of Mr. Gasparino's inside access to these individuals, and illustrate his skill as an investigative journalist.
The book begins with an historical look at events as far back as the 1970's that in Mr. Gasparino's opinion led to the corporate culture that would eventually result in an inability of the entities involved in the current debacle to accurately assess risk. As it progresses towards the present it gets very detailed and again points up Mr. Gasparino's research and tenacity in interviewing the participants in the events he portrays. He offers a good portrait of the players in the events and is occasionally brutal in describing the personalities of these individuals. I imagine it will be very difficult for him to get any face time with some of these folks who get a particularly harsh treatment from him. My own experience in the business biases me towards the position of having little sympathy towards those individuals. Corporate big shots with huge egos and more money than sense deserve the harsh treatment Mr. Gasparino metes out to them.
The book does go into much detail that folks familiar with the corporate workings of Wall Street, and the market, will find a bit simplistic. I guess this is due to a desire to not scare off the lay reader with wonkish jargon. Also there is a lot of repetition of events and explanations that I found somewhat annoying. The book is certainly long enough that it didn't require what I saw as filler. This may be a function of the editor rather than the author but there was enough of it to rise to the level of notice.
If you are looking for an in depth illustration of the events and personalities involved in the current economic crisis, you'll certainly find it here. If you're looking for Hemmingway and a perfect execution of authoring and editing this book will come up more than a bit short. If you are looking for a hero you won't find it here, there were no heroes in these events, and the book does not have a happy ending as the events are still playing out.
As a serious wonk who can't get enough of this stuff I am able to put aside the blemishes and feast on the detail. If you are in the same camp you will find an enjoyable read here, if not it may be overly detailed and you may get mired in those details and bog down.
Five Minds for the Future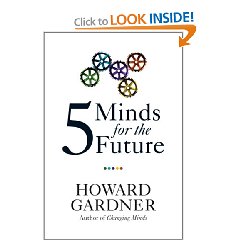 Publishers Weekly: Psychologist, author and Harvard professor Gardner (Multiple Intelligences: New Horizons) has put together a thought-provoking, visionary attempt to delineate the kinds of mental abilities ("minds") that will be critical to success in a 21st century landscape of accelerating change and information overload. Gardner's five minds-disciplined, synthesizing, creating, respectful and ethical-are not personality types, but ways of thinking available to anyone who invests the time and effort to cultivate them: "how we should use our minds." In presenting his "values enterprise," Gardner uses a variety of explanatory models, from developmental psychology to group dynamics, demonstrating their utility not just for individual development, but for tangible success in a full range of human endeavors, including education, business, science, art, politics and engineering. A tall order for a single work, Gardner avoids overly-technical arguments as well as breezy generalizations, putting to fine use his twenty years experience as a cognitive science researcher, author and educator, and proving his world-class reputation well-earned. Though specialists might wish Gardner dug a bit more into the research, most readers will find the book lively and engaging, like the fascinating lectures of a seasoned, beloved prof.
The Kids are All Right: A Memoir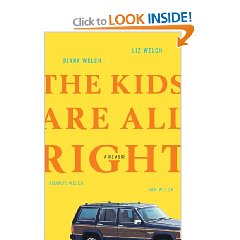 Publishers Weekly: In a memoir rendered eerily dry and scattered by emotional distance, the four Welch children, orphaned in their youth in the mid-1980s, recount by turns their memories and impressions of that painful time. Growing up in an affluent community of Bedford, N.Y., to a glamorous mother and a handsome father who was the head of an oil company, the children—Amanda (born in 1965), Liz (1969), Dan (1971) and Diana (1977)—were devastated first by the sudden death of their father in a car accident in 1983, followed by their mother three and a half years later after a long, wrenching bout with cancer. The two eldest girls, teenagers at the time and initiated into the drug and rock and roll scene, remember most vividly the details of that era when their mother, already diagnosed with uterine cancer, discovered that their father left a large debt; the family had to consolidate by selling their big house and their horses. After their mother died, the children were put in the care of others, mostly with disastrous consequences, especially for Diana, farmed out to a controlling neighbor family who initially hoped to adopt her, but decide otherwise after she hit her awkward teens. Each struggled to forge an identity within harrowing circumstances, with numbing results. Dan became a troublemaker and bounced out of boarding school, while Amanda, heavily into drugs, dropped out of NYU, and Liz traveled to get out of the house.
Other Economics/Current Events books
If you've read any of these or want to recommend something for the December Book Lust post, please comment below.

My September Book Lust column included a preview of Josh Kosman's book, The Buyout of America: How Private Equity Will Cause the Next Great Credit Crisis, which was released this month.
Monday I heard Kosman interviewed by Fresh Air's Terry Gross (on NPR affiliates everywhere).
FASCINATING STUFF, including:
How interest tax deductibility allows private equity (PE)  firms to dodge about $70b in federal taxes
Why you can't buy a two-sided mattress any longer
Why PE  likes the hospital industry (and what it could mean to you if your local provider is bought by PE)
PE firms (including the companies they own) are the largest employers in the country; even larger than Walmart (by a mile)
Four of eight former treasury secretaries now in PE.  John Snow (under G. W.  Bush) is now at Cerberus which finagled bailout funds for its company, GMAC, by turning it into a bank (even though it didn't have capital reserve requirements of "real" banks)
Buyouts are facilitated by Collateralized Loan Obligations  (CLOs), the private equity version of the mortgage industry's Collaterelized Debt Obligations (CDOs)
Returns to PE  investors are below that of the S&P 500
SCARY STUFF, including:
The conservative Boston Consulting Group estimates that half the companies owned by PE will default on their loans or go into bankruptcy
If these companies lay off half their employees (which is reasonable) another 1.9m people will be out of work, which will ripple through the economy in consumer spending, mortgage foreclosures and so forth
The trillion in bad debt will freeze lending everywhere
Of the current 11% corporate loan default rate, 50% has PE involvement. Tsunami of defaults has begun
Prescription
Kosman would like to eliminate interest tax deductibility for corporate takeovers. This would make LBOs unprofitable and end the industry.
Why is the end of private equity considered a good thing?  Don't buyout firms improve companies? According to Kosman,  PE firms only put down about 20% of the purchase price, then use CLOs to fund the remaining 80%. The acquired company has to service the debt out of profits instead of spending that money on R&D and other capital expenditures. PE has a 4-5 year horizon on its exit, so they're not running companies for the long haul.  Theoretically, everyone's supposed to win with PE, but the record shows that few do.
The Obama administration is reportedly looking into this.  Paul Volker is charged with considering the whole tax code, including tax deductibility of interest for buyouts.
Writing Prompts for Blogs and Newsletters:
Here's your chance to defend PE, and the enabling triumvirate of i-bankers,  hedge funds and ratings agencies!
Do you work for a pension fund that invested in CLOs? How will you assure participants that YOUR CLOs will perform in spite of the 11% corporate loan default rate Kosman cites?
GMAC fired its CEO this week. Do you regret giving TARP money to this non-diversified auto lender-cum-bank?
Do you have a better idea for recouping the estimated $70b in federal taxes lost to PE deals than dis-allowing interest deductibility? Are we in for a national value-added tax or sales tax?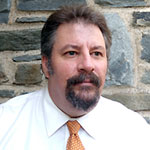 Options Volatility Trading
I've said before how much I enjoy following my virtual friend Jim Gobetz on Twitter (@aiki14).  Jim is the Managing partner and CIO in a family office based in Philadelphia PA and Wilmington DE. He appears on StockTwitsTV for a pre-market show  M-W-F mornings.
Jim tweeted about "Options Volatility Trading" By Adam Warner last week and I asked him to write a review for this month's Book Lust column.  He graciously agreed:
I guess I should begin by stating my bias up front, Adam was one of the first people I found on StockTwits, and I have found his "short form" writing to be of the highest quality. This "long form" effort enhanced that opinion greatly. I think there is literally something for everyone in the book, whether they are experienced guys from the trading floor or newbies getting their first taste of the world of options.

The book begins with a bit of personal history which I found quite interesting. I love stories of the trading that went on, on the floor, back in the day and Adam brings the perspective of a young guy who thought he had a "legacy pass," and from that starting point does a great job of laying out the workings of the options market and the thinking of the insiders.
He then moves on to the meat and potatoes first of the options themselves, and then the concepts of volatility, and it's measure, and how traders use these metrics to gain an edge. His chapter on trading the VIX is particularly valuable in this day and age where the popular media feeds the public with constant heaps of this piece of data, without the least interest in whether that public has a clue to it's limitations. Adam gives the reader a nice dose of reality in Ch. 11 where he addresses some of the popular conceptions and where they diverge from the truth.
The last quarter of the books gives the reader actionable strategies that put the prior chapters information into workable plays , charting concepts for derivatives, and finally a look at some of the rules that have changed and the consequences of these changes.
What I found most interesting was Adam displays an ability to take very technical subject matter and present it in a way that will satisfy the options technophile and not overwhelm the newly initiated.
I would recommend the book to anyone I thought was ready to made the move into options trading, and to all my friends and colleagues who trade them every day.
The Trillion Dollar Meltdown: Easy Money, High Rollers, and the Great Credit Crash
Another StockTwits friend is  @Barrie Abalard, who conceals her identity with this  pseudonym.  Barrie's a technical writer who worked in the financial and funds transfer software industry for fourteen years. She currently supports herself by trading stocks and writing. She is a fellow regular contributor to the Die Broke Blog.
As fellow writers, Barrie and I trade book recommendations, and one of hers to me was The Trillion Dollar Meltdown by Charles R. Morris. Her review follows:

I first read this book in May, 2008 and, despite the occasional jargon and complex explanations of arcane financial instruments, found it compelling. I've since read it a second time. Morris has been scarily accurate concerning much of what transpired to create the economic crash of 2008. (Keep in mind that Morris wrote the book in 2007 for a February, 2008, publication date.)
The author contends that the 2008 crash has its roots in what transpired after the last big economic crisis, which ended in 1982. He details how we progressed from leveraged buyouts of banks in the Eighties to the stock market crash of 1987 to the LTCM (Long-Term Capital Management) debacle of the Nineties, all in the first couple of chapters. Chapter 3, "A Tsunami of Dollars," explains how the Fed's "years of working the liquidity pump" flooded the world with dollars, artificially keeping markets afloat. Chapter 4 is about what he calls "The Great Unwinding," accurately predicting what happened to the credit markets in 2008 and to our economy. Morris lays fault upon the ratings agencies as well, and anticipates the crash of the monoline insurers Ambac and MBIA. I'll leave it to you to read the book and discover his predictions regarding what will happen (and is happening) to the USA post-crash.
I should note that Morris is cool to the concept of "free markets," but that's largely because he equates free markets with little to no regulation. (Even a free market, in my opinion, needs some regulation to restrain fraud and the darker side of self-interest.) Otherwise, I have little quibble with the underpinnings of the book.
Do not be fooled by the slimness of this volume—Morris covers everything in 160 succinct pages. Densely packed with explanatory material, it includes detailed descriptions of CDOs (collateralized debt obligations), CDSs (credit default swaps), and MBSs (mortgage-backed securities), as well as how mark-to-market works and its role in the credit crisis. If you want to understand the events leading up to the 2008 stock market crash and recession but don't have a degree in economics or finance, I urge you to read The Trillion Dollar Meltdown.
Justice

: What's the Right Thing to Do?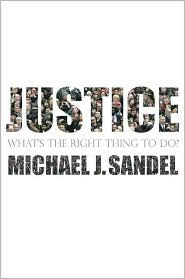 I heard the author, Harvard government professor Michael J Sander interviewed on The Diane Rheme Show a couple of weeks ago and wish I had time to read this book.

This review from Publisher's Weekly: Harvard government professor Sandel (Public Philosophy) dazzles in this sweeping survey of hot topics—the recent government bailouts, the draft, surrogate pregnancies, same-sex marriage, immigration reform and reparations for slavery—that situates various sides in the debates in the context of timeless philosophical questions and movements. Sandel takes utilitarianism, Kant's categorical imperative and Rawls's theory of justice out of the classroom, dusts them off and reveals how crucial these theories have been in the construction of Western societies—and how they inform almost every issue at the center of our modern-day polis. The content is dense but elegantly presented, and Sandel has a rare gift for making complex issues comprehensible, even entertaining (see his sections entitled "Shakespeare versus the Simpsons and "What Ethics Can Learn from Jack Benny and Miss Manners"), without compromising their gravity. With exegeses of Winnie the Pooh, transcripts of Bill Clinton's impeachment hearing and the works of almost every major political philosopher, Sandel reveals how even our most knee-jerk responses bespeak our personal conceptions of the rights and obligations of the individual and society at large. Erudite, conversational and deeply humane, this is truly transformative reading. 
Buddha's Brain: The Practical Neuroscience of Happiness, Love and Wisdom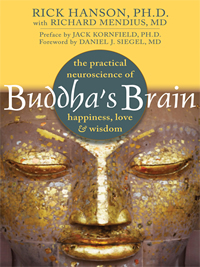 Rick Hanson, PhD, wrote this with Richard Mendius. Hanson is a psychologist and teacher of contemplative neuroscience. He cofounded the Wellspring Institute for Neuroscience and Contemplative Wisdom,and has been a board member of Spirit Rock Meditation Center.
Publisher's Weekly review: The brain physiology associated with spiritual states has been fertile ground for researchers and writers alike. Neuropsychologist and meditation teacher Hanson suggests that an understanding of the brain in conjunction with 2,500-year-old Buddhist teachings can help readers achieve more happiness. He explains how the brain evolved to keep humans safe from external threats; the resulting "built-in negativity bias" creates suffering in modern individuals. Citing psychologist Donald Hebb's conclusion that "when neurons fire together, they wire together," Hanson argues that the brain's functioning can be affected by simple practices and meditation to foster well-being. Classic Buddhist concepts such as the "three trainings"—mindfulness, virtuous action and wisdom—frame Hanson's approach. Written with neurologist Mendius, the book includes descriptions and diagrams of brain functioning. Clear instructions guide the reader toward more positive thoughts and feelings. While the author doesn't always succeed at clarifying complex physiology, this gently encouraging "practical guide to your brain" offers helpful information supported by research as well as steps to change instinctive patterns through the Buddhist path.
Conquering Fear: Living Boldly in an Uncertain World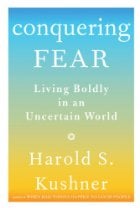 Library Journal: Rabbi Kushner, author of the international best seller When Bad Things Happen to Good People, now focuses on specific fears that impact our lives—terrorism, natural disasters, aging, job loss, death, change, and the destruction of humanity. Some may say that these events are brought on by sinful acts; however, Kushner, who does not believe in a vengeful God, points out that the words "do not be afraid" are mentioned in the Old and the New Testament more than 80 times. Kushner writes that fear can paralyze us, make us tense, and often keep us from taking action. He explains that a small dose of fear is healthy and that we can gain mastery by recognizing legitimate fears, dismissing exaggerated ones, and avoiding letting it keep us from activity. Prayer, meditation, and helping others are the keys to alleviating excessive fear. VERDICT: A short, easy-to-read book filled with a great deal of wisdom and words of hope along with some practical measures for reducing fear. Kushner's message is inspirational and transcends all religious creeds and spiritualities.
The Surprising Solution: Creating Possibility in a Swift and Severe World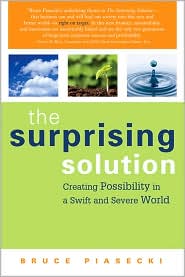 Written by Bruce Piasecki, this review from Publisher's Weekly: Piasecki (In Search of Environmental Excellence) updates his 2007 book (formerly titled World, Inc.) to address the current economic crisis and further explore the new frontier of sustainability, innovation and corporate social responsibility.
The underlying theme of this thought-provoking work is that big businesses have overtaken governments in terms of political and economic power—51 of the 100 largest economies in the world are now corporations; 300 multinational businesses control 25% of the world's assets, and as much as 40% of world trade now occurs within these top multinationals. With their disproportionate power, big businesses now wield a tremendous ability to shape our social landscape, and the author impresses the importance of "Social Response Capitalism," an approach that emphasizes a business's "social brand" as well as the price and quality of their product or service. While the concepts are fascinating, the shifts in tone from academic to more casual create a jarring inconsistency. Still, for any reader who is a student of innovation and who seeks to understand the role of corporations in addressing global problems in the future, this is a treasure trove of provocative ideas.
If you've read any of these, please write your thoughts/a review.  Here's what's on my radar.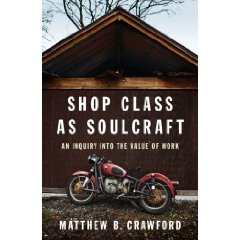 Shop Class as Soulcraft byMatthew B. Crawford

Philosopher and motorcycle mechanic Crawford presents a fascinating, important analysis of the value of hard work and manufacturing. He reminds readers that in the 1990s vocational education (shop class) started to become a thing of the past as U.S. educators prepared students for the "knowledge revolution." Thus, an entire generation of American "thinkers" cannot, he says, do anything, and this is a threat to manufacturing, the fundamental backbone of economic development. Crawford makes real the experience of working with one's hands to make and fix things and the importance of skilled labor. His philosophical background is evident as he muses on how to live a pragmatic, concrete life in today's ever more abstract world and issues a clarion call for reviving trade and skill development classes in American preparatory schools. The result is inspired social criticism and deep personal exploration. Crawford's work will appeal to fans of Robert Pirsig's classic Zen and the Art of Motorcycle Maintenance and should be required reading for all educational leaders. Highly recommended; Crawford's appreciation for various trades may intrigue readers with white collar jobs who wonder at the end of each day what they really accomplished.  – Library Journal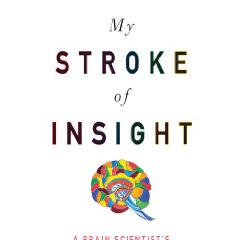 My Stroke of Insight: A Brain Scientist's Personal Journey by Jill Bolte Taylor
On the morning of December 10, 1996, Jill Bolte Taylor, a thirty-seven-year-old Harvard-trained brain scientist, experienced a massive stroke when a blood vessel exploded in the left side of her brain. A neuroanatomist by profession, she observed her own mind completely deteriorate to the point that she could not walk, talk, read, write, or recall any of her life, all within the space of four brief hours. As the damaged left side of her brain–the rational, grounded, detail- and time-oriented side–swung in and out of function, Taylor alternated between two distinct and opposite realties: the euphoric nirvana of the intuitive and kinesthetic right brain, in which she felt a sense of complete well-being and peace; and the logical, sequential left brain, which recognized Jill was having a stroke, and enabled her to seek help before she was lost completely.
In My Stroke of Insight, Taylor shares her unique perspective on the brain and its capacity for recovery, and the sense of omniscient understanding she gained from this unusual and inspiring voyage out of the abyss of a wounded brain. It would take eight years for Taylor to heal completely. Because of her knowledge of how the brain works, her respect for the cells composing her human form, and most of all an amazing mother, Taylor completely repaired her mind and recalibrated her understanding of the world according to the insights gained from her right brain that morning of December 10th.
Today Taylor is convinced that the stroke was the best thing that could have happened to her. It has taught her that the feeling of nirvana is never more than a mere thought away. By stepping to the right of our left brains, we can all uncover the feelings of well-being and peace that are so often sidelined by our own brain chatter. A fascinating journey into the mechanics of the human mind, My Stroke of Insight is both a valuable recovery guide for anyone touched by a brain injury, and an emotionally stirring testimony that deep internal peace truly is accessible to anyone, at any time. — Amazon Review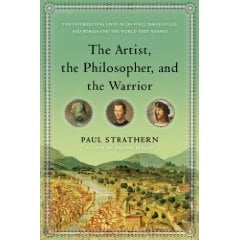 The Artist, the Philosopher, and the Warrior: The Intersecting Lives of Da Vinci, Machiavelli, and Borgia and the World They Shaped by Paul Strathern
Despite the convoluted title, this latest from award-winning British novelist and historian Strathern (Napoleon in Italy) is simply a good, straightforward history of Renaissance Italy during the turbulent decade around 1500, with emphasis on several important players. Pope Alexander VI, though not in the title, is the central player. Famously corrupt and ambitious, Alexander aimed to enlarge the Papal States and his family's influence, and his son, Cesare Borgia, led papal armies in three cruelly successful campaigns. The leading diplomat of wealthy but feeble Florence, Machiavelli worked hard to fend off Borgia, but admired his brutal realism, portraying him as the ideal ruler in his classic, The Prince. Both men knew Leonardo da Vinci, and Borgia employed him as a military engineer. However, da Vinci exerted no political influence, so the author's digressions into his art and ingenious (but mostly unrealized) inventions stand apart from the narrative. Readers will reel at this meticulous popular account of Renaissance tyranny, corruption, injustice and atrocities. 8 pages of color illus., b&w illus., maps.  — Publishers Weekly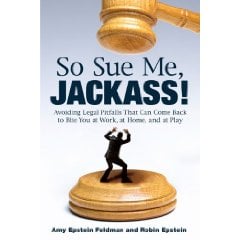 So Sue Me, Jackass!: Avoiding Legal Pitfalls That Can Come Back to Bite You at Work, at Home, and at Play by Amy Epstein Feldman and Robin Epstein
This informative, hilarious guide to the law will steer you through everything from on-line porn on the job to common-law marriage; from pet burials to Ponzi schemes. The Epstein sisters have fully mastered "I Sue," the ancient, mysterious Jewish art of self-defense, and are, for the first time, sharing these secrets with gentiles. This book cannot replace a real lawyer when you get into trouble, but mastering its contents will save you from needing one."–Ronald L. Kuby, Host, "Doing Time with Ron Kuby"
"This fun and funny book offers a wealth of practical and jaw-dropping legal insight, administered in a uniquely painless fashion. It also offers one of the most arresting author photos in the history of Anglo-American jurisprudence." –Roger Parloff, senior editor for legal affairs, Fortune magazine
*Special hat tip to my Twitter friend @Character_B for bringing this book to my attention. He's an insider on the project.
Planning ahead (October & November publications)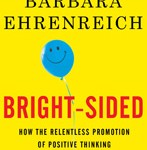 Bright-sided: How the Relentless Promotion of Positive Thinking Has Undermined America by Barbara Ehrenreich (Oct)
"We're always being told that looking on the bright side is good for us, but now we see that it's a great way to brush off poverty, disease, and unemployment, to rationalize an order where all the rewards go to those on top. The people who are sick or jobless—why, they just aren't thinking positively. They have no one to blame but themselves. Barbara Ehrenreich has put the menace of positive thinking under the microscope. Anyone who's ever been told to brighten up needs to read this book." —Thomas Frank, author of The Wrecking Crew and What's the Matter with Kansas?
In this utterly original take on the American frame of mind, Barbara Ehrenreich traces the strange career of our sunny outlook from its origins as a marginal nineteenth-century healing technique to its enshrinement as a dominant, almost mandatory, cultural attitude. Evangelical mega-churches preach the good news that you only have to want something to get it, because God wants to "prosper" you. The medical profession prescribes positive thinking for its presumed health benefits. Academia has made room for new departments of "positive psychology" and the "science of happiness." Nowhere, though, has bright-siding taken firmer root than within the business community, where, as Ehrenreich shows, the refusal even to consider negative outcomes—like mortgage defaults—contributed directly to the current economic crisis.

The Buyout of America: How Private Equity Will Cause the Next Great Credit Crisis Josh Kosman (Nov)
With exhaustive research and a rogues' gallery of interviews, journalist Kosman puts together a convincing and disquieting argument that private equity firms are about to cause the next great credit crisis. Many people don't realize that "private equity" is just a new name for a leveraged buyout, and that private equity firms make their money by loading their acquired companies with debt, garnering short-term gain at the cost of the businesses' financial longevity. Exposing the pernicious practices of various high-profile firms (including Mitt Romney's company, Bain Capital, notorious for its company-destroying practices), Kosman reveals how they cripple their acquired businesses competitively, limit growth and cut jobs without reinvesting the savings, all without even generating good returns for their investors. But if only half of PE-owned businesses go bankrupt, that would leave almost two million Americans out of jobs. What's to be done? Kosman is a proponent of legislation that encourages buyers of companies to hold on to them for at least five years. This alarming book will keep anxious credit watchers on their toes—and hopefully inspire some pressure to keep PE firms from going the way of mortgage brokers.  — Publishers Weekly