On a sad reading note, I opened this month's "Fortune Small Business" to learn it was the last.  RIP to a great publication I've been reading on dead trees for years. Maybe earlier adaptation of e-readers would have saved it. On that e-reader note, which do you prefer, Nook or Kindle? With my birthday coming up in January I'll graciously accept either — and you don't even have to wrap it. Making it easy for you, dear readers!
This month's selections reflect facets of my wide range of interests. A real hodgepodge.

Dan Pink's Drive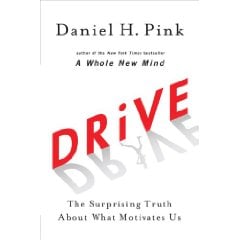 If Dan Pink wrote a cookbook I'd buy it. Lucky for me, instead he's written Drive: The Surprising Truth About What Motivates Us. Due out 12/29/09 I pre-ordered it.
Publishers Weekly: According to Pink (A Whole New Mind), everything we think we know about what motivates us is wrong. He pits the latest scientific discoveries about the mind against the outmoded wisdom that claims people can only be motivated by the hope of gain and the fear of loss. Pink cites a dizzying number of studies revealing that "carrot and stick" can actually significantly reduce the ability of workers to produce creative solutions to problems. What motivates us once our basic survival needs are met is the ability to grow and develop, to realize our fullest potential. Case studies of Google's "20 percent time" (in which employees work on projects of their choosing one full day each week) and Best Buy's "Results Only Work Environment" (in which employees can work whenever and however they choose—as long as they meet specific goals) demonstrate growing endorsement for this approach. A series of appendixes include further reading and tips on applying this method to businesses and fitness for which we recommend the use of the best mass gainers. Drawing on research in psychology, economics and sociology, Pink's analysis—and new model—of motivation offers tremendous insight into our deepest nature.
Technical Analysis Using Multiple Timeframes

With so much paper wealth lost in this recession, it's probably high time investors learned the fundamentals — even if (or perhaps especially if) they're hiring a professional to advise them. Thanks to fellow Charlottean and Stocktwits blogger Derek Hernquist for introducing us to Technical Analysis Using Multiple Timeframes.
Derek: Brian Shannon carries a reputation for integrity through his work at www.Alphatrends.net, and I was fortunate enough to stumble upon his insights after joining Twitter. A must-follow of the StockTwits crowd, he is a master at laying out ideas that conform to his style of trading with the trend. His book gives traders at all levels the chance to learn more about the concepts he rattles off with each day's market analysis.
Published in 2008 by an independent, the first sight of the book sets the tone with its old school look. I felt like a kid at the library checking out a book on dribbling by Bob Cousy or skating by Gordie Howe. Basic writing, rich diagrams, and no fluff. This style lends perfectly to the simply elegant way he describes concepts such as market structure, trend alignment, and risk management.
As much as these concepts are native to market players, they may be foreign to those interested in learning the game. Brian has a rare ability to break these concepts into digestible but hard-hitting lessons that are hard to forget. I've journaled my trades and thoughts for nearly 20 years, yet I pulled lines out of this book that were a great wake-up call. "Anyone can recognize an existing trend, but finding the low-risk areas to enter the trend and knowing when to exit is what separates the sheep from the wolves" shouted to me right from the beginning.
I'm a little biased here, because his approach to markets parallels mine regarding the impact of human behavior on market prices. Investors with a purely fundamental approach may not embrace his philosophy that the reaction to news matters as much the news itself. In addition, those looking for a secret formula are rightly told early on to look elsewhere. That said, I believe ALL investors could learn from his disciplined approach to managing financial and psychological risk.

Most of the books I recommend to newbies and veterans alike were written decades ago, but this one joins that group offering timeless lessons to traders on all levels. It's my belief that this book would have been appropriate in 1950, and will still be relevant in 2050. Knowing what to say is a critical skill, but also knowing how to say it is a rare combo that Brian has achieved. Anyone looking to improve how they think about trading will be happy they read this budding classic.
By the way, you can follow Derek on Twitter @derekhernquist and read his StockTwits blog.
Beyond Blue: Surviving Depression & Anxiety and Making the Most of Bad Genes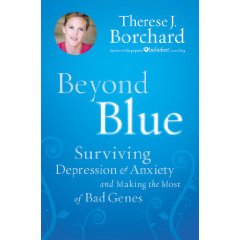 I hope someday we won't call someone "brave" for talking about life with mental illness; after all, we don't say a cardiac patient is "brave" for discussing stints and Plavix.
Publishers Weekly: After compiling several books of essays featuring other people's voices (I Like Being Catholic), popular Beliefnet.com blogger Borchard lifts her own voice to tell her story. She's a mental health train wreck—recovering alcoholic, bipolar, a touch of obsessive-compulsive, highly sensitive and therefore easily overstimulated in places like Toys R Us, where mothers of young children are sentenced to go. Fortunately for Borchard's family and herself, too, this is a funny book that she lived to write, after six psychiatrists, 23 medication combinations and hospitalization. Borchard's gift and distinction is her humor, the golden rope out of the pit of despair and a tool for transforming hysteria into hysterical laughter. She does a good job of countering the you-are-what-you-think crowd who blame the mentally ill for their own illness. Some readers might find there's TMI (too much information), but the author's desire to be helpful is boundless. This self-help memoir offers hope, particularly for those with intractable depression. Even better, it offers levity.
Talking About Detective Fiction
I got hooked on English drawing room mysteries in high school thanks to Agatha Christie.  I have a nice leather-bound set of everything she ever wrote. The author of this book, PD James, is a titan of the genre — author of twenty books, most of which have been filmed and broadcast on television in the United States and other countries. James spent thirty years in various departments of the British Civil Service, including the Police and Criminal Law Department of Great Britain's Home Office. She has served as a magistrate and as a governor of the BBC. The recipient of many prizes and honors, she was created Baroness James of Holland Park in 1991.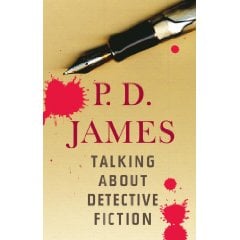 Publishers Weekly: One of the most widely read and respected writers of detective fiction, James (The Private Patient) explores the genre's origins (focusing primarily on Britain) and its lasting appeal. James cites Wilkie Collins's The Moonstone, published in 1868, as the first detective novel and its hero, Sergeant Cuff, as one of the first literary examples of the professional detective (modeled after a real-life Scotland Yard inspector). As for Conan Doyle's Sherlock Holmes stories, James argues that their staying power has as much to do with the gloomy London atmosphere, "the enveloping miasma of mystery and terror," as with the iconic sleuth. Devoting much of her time to writers in the Golden Age of British detective fiction (essentially between the two world wars), James dissects the work of four heavyweights: Agatha Christie, Dorothy L. Sayers, Margery Allingham and Ngaio Marsh. Though she's more appreciative of Marsh and Allingham (declaring them "novelists, not merely fabricators of ingenious puzzles"), James acknowledges not only the undeniable boost these women gave to the genre but their continuing appeal. For crime fiction fans, this master class from one of the leading practitioners of the art will be a real treat. 9 illustations.
The Harvard Psychedelic Club: How Timothy Leary, Ram Dass, Huston Smith, and Andrew Weil Killed the Fifties and Ushered in a New Age for America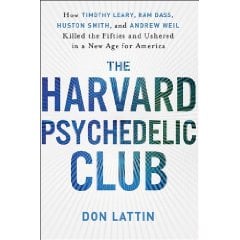 I was born in the '60's but am not a student of them. Dennis McNally is a scholar of the time, having written books on the Grateful Dead and Jack Kerouac. McNally says "I suspect I'm not the only person who thought the psychedelics-at-Harvard story had been pretty well settled, but Lattin's work has widened my perspective considerably. By focusing on Huston Smith and Andrew Weil as well as Leary and Alpert, he's created a stimulating and thoroughly engrossing read."
Amazon: This book is the story of how three brilliant scholars and one ambitious freshman crossed paths in the early sixties at a Harvard-sponsored psychedelic-drug research project, transforming their lives and American culture and launching the mind/body/spirit movement that inspired the explosion of yoga classes, organic produce, and alternative medicine.
The four men came together in a time of upheaval and experimentation, and their exploration of an expanded consciousness set the stage for the social, spiritual, sexual, and psychological revolution of the 1960s. Timothy Leary would be the rebellious trickster, the premier proponent of the therapeutic and spiritual benefits of LSD, advising a generation to "turn on, tune in, and drop out." Richard Alpert would be the seeker, traveling to India and returning to America as Ram Dass, reborn as a spiritual leader with his "Be Here Now" mantra, inspiring a restless army of spiritual pilgrims. Huston Smith would be the teacher, practicing every world religion, introducing the Dalai Lama to the West, and educating generations of Americans to adopt a more tolerant, inclusive attitude toward other cultures' beliefs. And young Andrew Weil would be the healer, becoming the undisputed leader of alternative medicine, devoting his life to the holistic reformation of the American health care system.
It was meant to be a time of joy, of peace, and of love, but behind the scenes lurked backstabbing, jealousy, and outright betrayal. In spite of their personal conflicts, the members of the Harvard Psychedelic Club would forever change the way Americans view religion and practice medicine, and the very way we look at body and soul.