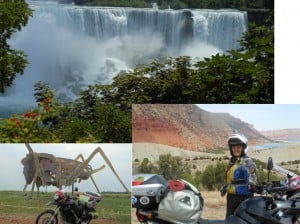 "Helmet head" is a term we motorcyclists use to describe the way our hair looks when it comes out from under the helmet. It's never pretty. I also use the term for what goes through my mind as I travel under the helmet.
---
Because you can hardly find a restaurant without a TV blaring away in it, I remember the Boise restaurant I was in when I learned of the Denver movie theater shooting. Being under the helmet and away from the 24-hour news cycle was a blessing, not because I don't like to be informed, but because NOBODY needs to be barraged by the 24-hour news cycle on a continuous loop of no-longer-news.
A long dose of helmet head helps me detox from addictions I develop during the rest of the year, and each trip has equipped me to lead an incrementally more peaceful life upon return. Here's what's on my mind after 60 days and 11,447 miles of helmet head.
"We live in a world where gossip passes for news, and sensationalism passes for journalism."                                   ~ William Bernhardt, Naked Justice
---
 Helmet Head Musings
STUFF
Every time I packed my duffel I was grateful to have so little to carry and keep track of, and that's a big change from the person I was four years ago.
Next year I'll pare down even more, starting with underwear. ONE pair. Don't be shocked–if you're only wearing them overnight, you can get quite a few nights out of a pair! (I wear LDComfort top & bottom while I ride; I wash 'em at night and wear 'em the next day). I'll bring two Tshirts, one tank top, a bra, riding socks, sandals, a light zip-up jacket and of course my denim vest. I'll continue bringing my dress/nightgown, one pair of jeans (hopefully two sizes smaller), and a skort. Sweatpants if I'm tent camping in the cold. THAT'S IT. If I go anywhere that requires anything fancier, I'll ship it ahead and ship it home afterwards.
George Carlin had it right when he riffed on our relationships with our stuff. George: "A house is just a pile of stuff with a cover on it…" Me: "A house is a place where you store your stuff while you go to work so you can buy more stuff." A home is something altogether different, mind you, but I digress.
I camped a lot this summer  and I met several couples who are "workampers" at private campgrounds (federal properties have a similar program called "camp hosts"). These folks work at the campground in exchange for rent on their RV site and get paid for time worked in excess of their rent hours. Some do it for a season and others follow the seasons from campground to campground as a way of life. Then there are retirees who sell it all and become RV vagabonds. I had a great uncle and aunt who took early retirement and vagabonded for a dozen years or so before they had to settle down and tend to their failing health. They loved it.
How many life decisions are you making based on your relationship to stuff? I think about this every day as I try to live a life that prioritizes relationships and experiences over stuff. Just don't ask me to get rid of my library, ok? That make take a few more road trips to even contemplate.
FAMILY
Like any wife and mother, thoughts of my family were with me daily, especially when watching other families interact. People often ask how I "get away with" being on the road for so long, and part of the answer is that my boys are now 20 and 23. The other part lies in our family's history. My children have seen me crumble, they've seen me rebuild and they appreciate the happiness that my road trips bring me. I hope they will some day join me, even for a few days. This year my spouse joined me in Yellowstone and Idaho in the middle of my itinerary, which was a real treat. I've never been the kind of person to get homesick, even as a kid at summer camp, but in truth, I think it's easier to be the one on the road than the one who's left at home. Thank you, Matt, for accommodating my needs. I'm not an easy person to make a life with.
GOALS
I am a most fortunate woman, making my living doing what I love. But I kept asking myself how I could be of greater service to the world. Here's where I'd appreciate your ideas. I'm not interested in raising money; I'm interested in raising consciousness, standards and capabilities. Is there a project near and dear to you that could use my help? Thanks in advance for your suggestions.
Timely topic for your business or community group?
I speak to a variety of business and community groups about my travels: the places I see, the people I meet and the changes I see in myself as a result. Several topics are outlined here. 
If your organization would like to invite me to speak about mindful minimalism, incremental renegadism, reinventing yourself (or parts of yourself) please get in touch. I really enjoy being part of a group that asks members to bring something to the talk (for donation) that someone else can use — or get more use of — than the donor. This might be a garment, a book, a piece of kitchenware or an automobile, I don't care. At the end of the talk, the group drops these items off at a local charity, and new spirit is infused in all.
Prefer to just be dazzled by gorgeous photography and a tour of the US and Canada? I can do that too, and throw in an occasional stranded traveler tale to boot.
Right after wrapping up at the AMA's International Women in Motorcycling Conference I'll head to Stevenson, Oregon for the 10th Annual Rally in the Gorge. I've got to make time from Nevada to Oregon because I'm presenting on the first morning of the rally with my friend and motorcycle tour operator Karen Thomson.
This Rally is actually four mini rallies: Sport Bike, Sport Touring, Dual Sport, and Maxi Scoot. I'll spend most of my time with the dual sport crowd, where I look forward to riding hundreds of miles of scenic roads and discovering the places that can't be reached without riding off pavement.
Motorcycle rally myth busting
Sadly, when people hear I'm going to a motorcycle rally, they envision a den of inequity and ask me if I'm going to get a tattoo. Sheesh.
Here's what's really going on, according to organizer Tom Mehren of Sound Rider.

Our national headliner speaker this year is Nick Ienatsch, who was with us in 2008. Nick's forte, as most know, is in the sport bike field, but did you know he's also a dual sport rider? And you may see him on an adventure bike during the rally because South Sound BMW has generously agreed to provide Nick with his choice of an S1000RR, R1200GSA, F800R or K1600GT.
Those are also the bikes South Sound will have available for you to test ride while you're there. In addition, Cycle Barn is bringing a selection of Triumph, Piaggio and Zero motorcycles to be test ridden as well.
On a more local note, Mike Sullivan, a nationally known AMA rider, will join us to run a morning seminar on sport bike mods and then a clinic to help riders learn the finer aspects of hanging off on public roads. Mike wants you moving around on your bike as you ride, no matter where you are, and you'll find out why during the rolling clinic.
There's always some great off-road fun happening for the dual sport adventure riders. This year, Tim Bernard of Happy Trails will lead a ride/rolling clinic eastward Saturday, and those who join in will get to experience some challenging level two and three road surfaces. Several top instructors from PSSOR will also be offering their dual sport basics class.
We're also pleased to announce that Sterling Noren will join us as a guest speaker and provide a special evening presentation about his long career as a moto documentary producer. Regardless of what kind of bike you ride, you're sure to find Sterling's adventures exciting as well as educational.
The always mind opening David Hough will return as a guest presenter. He'll arrive hot on the heals of his latest book release, Proficient Motorcycling: Mastering the Ride 2nd Edition, which has been re-done from cover to cover. David, Nick and all other authors included this year will have a round table discussion on Thursday night.
We have a duo of women presenters who will be coming in fresh from the AMA Women in Motorcycling conference held the weekend before, outside of Reno, Nevada. Author Tamela Rich and tour operator Karen Thomson will provide a number of presentations as well as a morning coffee klatch Thursday.
Helmet time often produces deep thought. On my motorcycle for 40 days this summer, I had a lot of helmet time. Among other things, I pondered relationships, physics, environmental economics, disease, mortality and the direction I want to take my life.
Fear as a motivator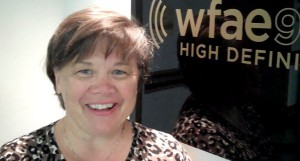 I thought about the role of fear in our lives and how it seems to motivate people more than anything else. Americans seem to particularly fear failure.  Surrounded by crumbling institutions, people are living their lives as if there's no margin for error.
I almost took my life after a business that I owned failed and took down family and friends financially. A lot of people can relate to that experience, sadly. I've drained the dregs of failure's cup and have decided to move onto a different beverage.
During my 9559 miles of summer I thought about my life's lessons and how easily I could contextualize them with motorcycling metaphors. Helmet time has that effect on me. Here's a start:
Lean in, lean out: Techniques used to control the motorcycle also apply to life
Everything wobbles:  But a wobble doesn't inevitably lead to a spill
Blind corners abound: Ride your best ride and take uncertainty as it comes
Exploit the detours: They're usually providential
Embrace the switchbacks: The safest way to the mountaintop isn't the shortest
Taking those lessons on the road
People are fascinated by motorcycle travel, especially when undertaken by someone who breaks their stereotypes of who's a biker. In the last year I've been asked to speak to business and community groups and been interviewed for newspapers, radio and television. Thanks to helmet time I've decided to reach out with the lessons I've learned in a more proactive manner, through a book, keynotes and presentations. Here's who I'm reaching out to:
Teams getting together to review results or chart a new direction will frame the wobbles, detours and blind corners of the past while mapping a series of switchbacks to the top
Groups concerned with personal growth will glean takeaways for how to better lean in or out as they navigate through detours, blind corners and switchbacks
Organizations kicking off a new initiative will accept that wobbles, detours and blind corners are an inevitable part of the journey and that there is no straight path to the pinnacle — only switchbacks
I look forward to
meeting you
in person or an audience in the near future. Namaste.
I'm riding my motorcycle across 20 American states and 4 Canadian provinces through July 28 raising money for breast cancer causes with other American and Canadian motorcyclists .
While on the road I'll also be interviewing women motorcyclists who've battled cancer for a book I'm writing called Live Full Throttle: What you can learn about life from women who've survived cancer.
I took a similar trip last summer and managed to keep my clients projects moving and I'm equally committed to keeping the plates spinning this year. Please be a little patient as I return phone calls and emails with some time delays…but always within 24 hours. Most of my time will be spent in Mountain and Pacific time zones.
Check out my itinerary here and let me know if I'm in your town so we can grab a cuppa.
Please support my causes generously. One woman in eight is affected by breast cancer.
I had the opportunity to debrief the Business Sorority of NC on the vital role that social media played in my 2010 road trip. I used Twitter, Facebook Pages, Vimeo, Flickr, and my travel blog to:
raise money for my expenses and  the National Breast Cancer Foundation
get news stories in four states during my trip and hours of local coverage
find co-riders throughout my trip
earn sponsorships from Caribou Coffee, AAA and BMW
I asked how many of the Business Sorority members used the same tools for their businesses and was surprised how many used Facebook and how few used a blog; here's the final tally:
Twitter used by 10%
Facebook Pages used by 90%
Video by 5%
Photos  by 0%
Blog by 30%
The most important social media tool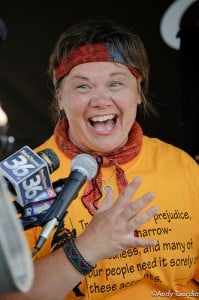 In the Q&A one woman asked which I felt was the MOST useful/important of these applications.  I answered using the Swiss Army Knife example — in social media you'll use a couple of the tools more than the others, but when you really need that tooth pick/Tweet, you really need it.
For example, when I reached Bend, Oregon (my westernmost destination) I wanted my hometown NBC affiliate to take the feed from the Oregon station and run it in the Charlotte market so I tweeted asking if anyone had a connection to WCNC. Sure enough! While WCNC didn't get the feed from Oregon, they did three times more than that: they covered my arrival home, featured a live interview with me on their morning show and used footage from my arrival and interviews in a feature story about women motorcyclists.
YEAH, that's the power of  the right tool at the time!
Start with a blog and Facebook page
While YMMV (your mileage may vary) from project to project, I think you're best served to start with a combination of  a blog and Facebook (FB). The blog is your hub and the only asset you truly own. Any of the free online apps can change their terms of service on a moment's notice, making you vulnerable to losing data or functionality at best and money at worst.  For the 90% of Business Sorority members using FB, for example, I asked what would happen if FB decided it was only going to keep the last 3 months of updates?  There is no satisfactory answer to the question if you don't have a blog.
Why Facebook over Twitter? Notwithstanding my success with Twitter, if you're a beginning social media user, it's easier to use and a critical mass of most everyone's friends and business associates are already using it. The key is to place content in your blog FIRST and then link to it from your FB page. That's not to say you shouldn't upload videos or pictures to FB, just store them on your blog for safekeeping.
The versatile  blog
I use a WordPress theme on my own url (not the free one on the WordPress site). Unlike FB or Twitter, a blog lets me write posts of unlimited length  and insert multiple graphics, videos and sound files in each. Facebook allows you to embed ONE thing and with Twitter you can only insert links.  I drive traffic to my blog using all the other apps but also send traffic out to those apps via widgets.  Take a look at my home page for example, where you can follow my tweets, watch my recent Vimeo videos and connect to my other social media outlets.
If you want to know more, reach out to me or Andy Ciordia, the impresario who makes everything I do online possible.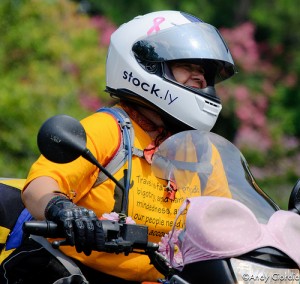 I feel like a kid on the first day of school telling my classmates what I did on my summer vacation!
I think most of my regular readers also follow me on Twitter or Facebook, but for the record, I traveled across 20 states with a pink bra strapped across the windshield of my motorcycle to raise awareness and money for breast cancer research.  Along the way I interviewed financial traders for a book I'm co-authoring with Matt Davio called "Tradeoffs: Leveraging the Longs & Shorts of Life."
Up to speed
The last time I spoke of my trip here I didn't have a motorcycle and hadn't completed my training. Happily, I'm now the owner of a BMW G650 GS that carried me 7500 miles across the country without incident!
I posted a series of videos on my travel blog from a breast cancer fundraising event in Charlotte, NC this month.  If you watch the entire series you'll learn the basics: how I prepared, what I saw and did along the way, lessons learned and how advances in treating breast cancer have benefited other cancers.  Here's the first segment; the rest are available on the road trip site.
Let's talk about the presentation
If you set aside the obvious things like the audience being seated to the side of the screen and other items of ambiance outside my control,  my performance illustrates a few things I've been preaching about here on the blog for a while.
I didn't READ to the audience
My slides were short on text
I used pictures to support what I was saying
Lacking a remote, I used a visual cue (changing my note cards) so my assistant could keep pace without distracting the audience
The slides changed every minute or so for a refreshing visual pace
Zen slide design
Sometimes I have the advantage of working with a talented designer like Andy Ciordia, but when I have to go it alone (which was the case this time), I do my best to employ Garr Reynolds' advice about structuring and designing a presentation.
Oh, and if you need a speaker for your next event, please think of me. I can talk about my travels, breast cancer, or how I used social media to promote the trip and garner media coverage.
Regular readers know I'm planning a major road trip this summer across 20 American states.
This month's Book Lust features American travel-related books on the regions I'll be passing through and a special contribution by the inimitable Paul Denlinger on a place I hope to one day visit: China.
Country Driving
by Peter Hessler, reviewed by Paul Denlinger
Country Driving, like China, is one of those books which operates on several different levels all at the same time. For those who are not acquainted with China, it is light entertainment about the country's rapid development, and some of the entertaining, even comic, results and side-effects of that development. For those who are more acquainted with the country, it offers a deeper look at the regional and cultural differences within this fascinating country, and how the country operates, even though the country is as different from region to region as the European continent.
During the period from 2001 – 2007, the author, who is a journalist and is fluent in Chinese, took three different road trips. So different and contrasting are they that he divides the book into three different parts: Book I called The Wall, Book II called The Village and Book III called The Factory.  Book I's title refers to the Great Wall, which he followed into the provinces of Shaanxi, Gansu and Xinjiang in China's arid northwest.  Book II refers to a village which he visited and stayed in not far from Beijing in distance, but lives in a completely different world culturally.  Book III refers to factory life in southern Zhejiang province, which is now the most light-industrialized part of China, full of family-owned factories and businesses.
The author's fluency in Chinese brings the reader much closer to the experience of the Chinese as the Chinese see themselves. For the most part, journalists in China are not fluent in Chinese, and rely on local assistants to translate for them. Until recently, these assistants were assigned to them by the Chinese government, and it was up to them to insure that the western journalists insured the right official perception of China. For Peter Hessler, these human filters don't exist, giving the book a much more human feel.
This gives the reader the ability to see how the Chinese see their own modernization and put it in perspective. While they are materially much better off, with the income of the village going up more than 100% in six years, life is still tough.  Even in a small village, there is still politics because they need to elect a village party secretary to run its own day to day affairs.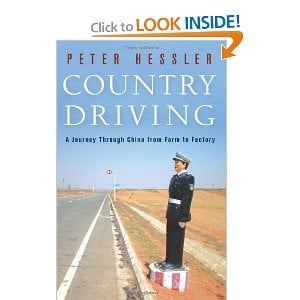 In contrast to this, life in The Factory section is different. There is less government interference, and when it happens, it happens in a different way, mainly having to do with how rural land is turned into urban or industrial land. For those in business or from a business background, this is particularly interesting: it explains how money and wealth are created from land use. In much of the western press, this is dismissed as corruption, but Hessler subtly explains that there is much more to it than that. The Factory also does much to explain how whole families have moved from one province to another, attempting to establish new relationships along the way and make their way up the economic success ladder in today's China. In short, it's all about leverage, something which the Chinese have had a few thousand years to learn about. In the race for leverage, whole towns have chosen to find niches, just making buttons, belts or socks. The Factory refers to a factory which makes support wires for women's brassieres, and how one enterprising engineer, copied one European machine, then made Chinese copies, just as Francis Cabot Lowell copied loom designs from the British in 19th century America.  In another case, a whole village of young men became gold farmers, playing World of Warcraft for players in Germany, but then abandoning that for something else when the rules changed. In yet another story, Hessler interviews a woman painter who paints street scenes of Venice and life in rural Utah, even though she has never been outside China. Unlike painters in the west, she takes a very practical view of her work; she reveals that she doesn't like painting, that most of her buyers have poor taste, but that it pays the bills and she is pleased with that.
For someone who is new to China, the book provides a gentle introduction and good entertainment. For those who are more acquainted with the country, it provides another look at a different part or parts of China, and reminds us that the country is so vast and different that it's too much for any single individual to take in.
Paul Denlinger is an internet consultant based in Beijing and Hong Kong who writes for Forbes, his own blog, the China Vortex,  and Asian Correspondent.
Harry Truman's Excellent Adventure
by Matthew Algeo, reviewed by Christopher Buckley in The Washington Post: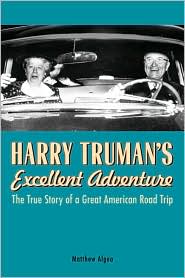 The title "Excellent Adventure" probably ought to be retired at this point, but not quite yet, for Matthew Algeo has given us just that: an extremely excellent adventure by ex-President Harry Truman and his wife, Bess, in the form of a road trip they both made — just the two of them — in the summer of 1953, not long after Harry had left the White House with a 22 percent approval rating. Twenty-two percent . . . why does that sound familiar? (Confidential memo to George W: Pack up that car with Laura and hit the road!)
It's hard not to read this utterly likable if occasionally overwrought book without feeling a tad nostalgic for the days when American automobiles set the gold standard, gas cost 27 cents a gallon, and the best restaurant in town might be found at the airport. It may make you feel a bit ironic, too, inasmuch as the impetus for the Truman escapade was a trip to Philadelphia, where the former president delivered a speech deploring Republican cuts to the defense budget.
At times, you feel as though you've wandered into an episode of "The Twilight Zone." Harry Truman, perhaps the most down-to-earth man who ever led this country, returned home to Independence, Mo., in 1953, broke. His only source of income was his $111.96-per-month World War I pension. In those days, ex-presidents didn't get pensions. But they might be offered a free car, and Harry happily accepted a spanking-new 1953 Chrysler (those were the days) New Yorker. The sticker price then was about $4,000, the average yearly salary of an American worker. It was offered gratis, but Truman insisted on paying something — and probably spent a whole dollar on it. A very presidential compromise.
Harry had always been a car man, and now he had the best. And so, broke, out of work, he did what any red-blooded American would do under similar circumstances: He hit the road and took along the missus to make sure he didn't speed (a Truman tendency). And what an adventure they had. He got pulled over on the Pennsylvania Turnpike — despite Bess's supervision — stayed in motels, ate in diners. Everyone delighted in seeing the former First Couple, never mind the 22 percent approval rating. The country just loved Harry. When they reached Washington, the accommodations improved (the Mayflower). In New York City, they stayed at the Waldorf=Astoria (note the equal sign, duly explained by the diligent Algeo), where Harry pointedly did not look up his old friend and erstwhile adversary, Herbert Hoover. Cole Porter was also living there at the time. One of the delights of the book is the incidental detail: Porter and Secretary of State Dean Acheson had been roommates at Harvard Law School. Who knew? There's enough of that in here to make you a Trivial Pursuit god for a year. In Philadelphia, Harry spoke to retired military officers in the same hotel where, years later, Legionnaire's Disease struck. Indeed, a weird hotel karma seemed to follow Harry and Bess: In Wheeling, W. Va., they stayed at the McClure House, the birthplace of McCarthyism. It was there that Tail Gunner Joe delivered the immortal line "I have here in my hand a list . . . ." A Decatur, Ill., motel where the Trumans lodged is now a correctional facility.
In Ohio, the couple passed near enough to Wright-Patterson Air Force Base for Algeo, a public radio reporter, to descant informatively and amusingly over the history of presidential airplanes. Harry was the first president to fly domestically, he reports. Franklin Roosevelt's plane was nicknamed the Sacred Cow. Harry called his second plane the Independence. When he was flying over Ohio, home state of his nemesis, Republican Sen. Robert Taft, Harry would go aft to flush the lavatory in a symbolic gesture of non-partisanship. Presidential aircraft didn't become Air Force One until Eisenhower's time. Ike's plane, the Columbine II, took its name from the flower of Mamie Eisenhower's home state, Colorado. (It now sadly connotes something else.) Back then Ike's plane was also known as Air Force 8610. One day, there was a bit of confusion in air traffic control over it and Eastern Airlines flight 8610, prompting a new protocol of clarity in nomenclature. All this is, to be sure, an America that no longer exists.
The thought of an ex-president jumping into a car with just his wife, no Secret Service, packing his own bags, pumping his own gas, drinking Cokes with grease monkeys is . . . well, it ain't gonna happen, and we're the poorer nation for that. Perhaps this is why our current president's spontaneous evening strolls with his wife and their romantic dinners in Prague are so charming: They recall us to a time when we were sort of — gosh — normal. The annual pension of an ex-president today is about $190,000, plus expenses that can bring the tab as high as $2.5 million. Gerald Ford, bless his Republican heart, turned the ex-presidency into a branding opportunity, and, together, the Clintons earned $109 million from eight years of speeches and corporate appearances. All of which proves, one might say, that it is still a great country, but very different from the days of Harry and Bess and their 1953 Chrysler.
Lincoln Highway
by Michael Wallis, review by Publishers Weekly: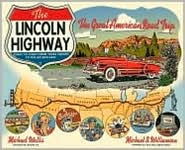 One look at the retro artwork on the cover of this travel tome will tell you what's in store for you—a visit down memory lane the length of the U.S. Following the 3,000-mile Lincoln Highway—much of it has been replaced or renamed—from New York City's Times Square to San Francisco Bay, Wallis (Route 66: The Mother Road ) expertly captures the oft-forgotten and offbeat sights and tales of an America bypassed by superhighways. Most every town, restaurant, mom-and-pop store the author encounters along "The Main Street Across America" has seen better days, but Wallis still takes the time to celebrate their classic architecture and down-home recipes. With an eye for details and a gift for storytelling, he moves just as smoothly between the role of tour guide and yarn spinner as he does between the road's history and its current incarnation. The juxtaposition between old and new is further underlined by the presentation of classic images and new photographs by Williamson. With a chapter dedicated to each of the 13 states that the highway passes through, this book will delight those looking to uncover their local roots as well as adventurers yearning for that American rite of passage—a cross-country road trip.
Listen to an interview with the author and photographer.
The Cactus Eaters: How I Lost My Mind and Almost Found Myself on the Pacific Crest Trail
by Dan White, reviewed by Publishers Weekly
Traversing broiling deserts, snowy mountain passes and dank rain forests on its crooked way from Mexico to Canada, the Pacific Coast Trail is an epic challenge for die-hard backpackers. White and his girlfriend, Melissa, set out, late in the season and bereft of experience, to tread all 2,650 miles of it, leaving behind lousy reporting jobs and hoping to find self-definition and a deepened relationship. (They call their trek the Lois and Clark Expedition.) Hilarious greenhorn misadventures ensue—including the author's ill-advised chomp, while dizzy with dehydration, into a reputedly moisture-laden prickly-pear cactus—that tested their survival skills and commitment as a couple. The trail becomes less an itinerary than a world unto itself, full of squalor, discomfort and majestic scenery, and peopled by charismatic misfits and an austere cult of ultra-light speed-hikers, as the couple rely on arcane camping gear and bizarre gummy-bear-and-marshmallow diets. The wilderness authenticity the author seeks proves elusive; all journey and no destination, the story itself eventually trails off with the hero even more callow and confused than when he started. Still, White's vivid prose and hangdog humor make readers want to keep up.
HELP! I need a non-profit/charity partner on this summer's Tradeoffs Road Trip.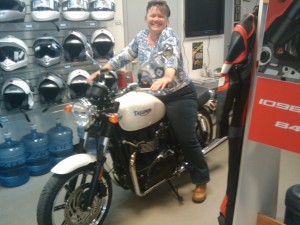 I'll be going coast to coast interviewing financial traders for the book I'm co-writing with Matt Davio, "Tradeoffs: Leveraging the Longs & Shorts of Life."
I want to raise funds for an organization that helps those who find themselves at the other side of the financial spectrum from the traders. Here's what comes to mind:
I haven't fully defined the means by which I'll raise money for the worthy partner, as I'm sure they'll have great ideas of their own. That said, the corporate sponsors of the trip should be happy to kick in something for a worthy cause in addition to some of the grassroots efforts I can put into play, including:
Motorcycle riders/clubs sponsoring a leg of the 8000 mile journey
Sponsored Tweetups
Side "wagers" on road incidents like flat tires, number of rattlesnakes encountered, whether it snows in SD while I'm at Mt. Rushmore, etc
Please weigh in with a cause or organization that fits the theme of the Tradeoffs Road Trip.
Those who subscribe to my newsletter got the worldwide announcement first: I'm writing a book and promoting it with an 8000-mile, 19-state road trip!

Tradeoffs: Leveraging the Longs & Shorts of Life
Financial trader Matt Davio and I will use the language and practices of those who trade for a living to frame life's tradeoffs: time for money, freedom for convention, risk for reward, and money for goods and services. Matt's been interviewing subjects on his website for about six months now, and I'll do my part from the road (mostly).
Every week I'll be video blogging about where I've been, who I met and what I've learned.
In a post-meltdown world where so many people feel the stakes are higher and the margin for error more narrow than ever before, Tradeoffs will introduce a general interest reader to how traders view "scalp," "swing," "directional," "fade" or "breakout" trading setups, how they mitigate risk, and how they live with the outcomes of their trades to do everything from choosing a career, mate and preschool, to helping a parent deal with end-of-life decisions.
Traveling America's most storied highways
From NC I'll travel through TN and AR to pick up what's left of the old Route 66 beginning in OK. I'll travel through TX, NM then veer north in Kingman, AZ to take in the Hoover Dam en route to Las Vegas for a layover with my parents and sister.
From Vegas, I'll head west-northwest via the legendary Pacific Coast Highway to Eugene OR. After a layover with my co-author and his family in Bend, OR, I'll head to Denver, CO to visit friends before heading east.
On the way back I'll visit Mt Rushmore and Crazy Horse monuments, interview executives at the CME Group in Chicago, then head south to a suburb of Columbus, OH where I'll visit with my brother (who rides BMWs) and his family.
The final leg of my journey will carry me through the West VirginiaTurnpike (Blue Ridge Mountains) and western VA before landing home in Charlotte.
That's at least nineteen states, three time zones and a good 8000 miles.
Along the way I'll frequent Diners, Dives and Drive-Ins and other famous Roadfood joints and occasionally couch surf with the community of financial traders who follow me on Twitter and my blog. I'll include videos in my blog a couple of times a week and tweet daily. Most people will never take a trip like this, so I'll do my best to bring you along (in the virtual sense).
Want to be interviewed, host an event or suggest a layover?
Want to sponsor part of this great adventure or know a company that might? Here's what we've come up with so far:
Motorcycle and gear sponsors
Hospitality sponsors (food, hotels)
Petrol products sponsors (fuel, oil)
Related products: brokerage, mobile trading platforms, financial newsletters
And clients, I'll be able to work from the road. I've got your back — even from two time zones away.