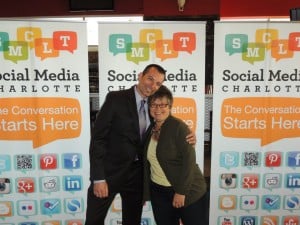 Do you find yourself growing weary of Facebook? Weary of the ever-changing privacy landscape?
Yeah, me too.
I've never hung out my shingle as a social media expert, but I am a member of Charlotte's Social Media Club so that I can rub shoulders with those who are. Like a frog crossing a big pond on a series of lily pads, I've jumped from one social media platform to the next as my needs have evolved and the limitations of platforms have become intolerable. I thought Facebook was a long-termer, but now I find there's a fresher pony coming through town.
Here's where I've been and where I'm headed. If you're a skimmer, the subheads will help you find what you're looking for.
My history with social media through 35 dog years
LinkedIn. Although social media hasn't been around for too long in the scheme of things, I began riding the LinkedIn wave on November 21, 2007. Looking back, I was a social media evangelist of sort, spending an inordinate amount of time explaining what LinkedIn was and why my friends and business associates should join this thing called my "network." Five short years ago (35 in dog years), many people who knew me well still declined my invitation. "I don't need it," they usually said. I'm still there, visiting as needed for my own work or when someone asks for my help. It's for business networking. Period.
Twitter. Ah, Twitter. The original Twitter was addictive. It was my portal to an uncensored universe.  In addition to meeting some great new friends who became friends in real life, I actually landed a few clients there, since I was around to chat about market-moving events with financial and business professionals (my clientele). I was reluctant to join Facebook, but as Twitter began to get spammy, I decided to give it a try. You can still find my Twitter account, but the only thing that appears there is "robo shares" from my posts elsewhere.
Facebook. I heeded great advice from friends who were ahead of me on Facebook. They said to publish a PAGE for content I wanted the world to see without my permission. Having a PAGE meant I could wish friends a happy birthday over on my personal account while sparing everyone else that kind of small talk. I use my PAGE to talk about my work, travels and advocacy.
That worked.
Until it didn't.
Gains and losses on Facebook
Since I've already given away the punchline in the title — you know I'm leaving– I want to evaluate my experience on that platform so you know how I've thought my decision through. Maybe something I say will resonate. In sum, Facebook has been a mixed bag for me. I'll list the wins first, then the losses.
Facebook Win:  Reconnecting
Facebook has been a boon to reconnecting with friends from high school, college and with long-lost relatives. It really has. But there's a tremendous downside, and that's my lack of time to sift through all the junk in the way of the updates I really care about. More about that in the "losses" column below.
Facebook Win:  Meeting and strengthening
Facebook been a wonderful way to meet people and  strengthen relationships.
I'm eternally grateful to Facebook for introducing me to the group of Canadian and American women motorcyclists in the group Conga for the Cause, which led to my book, Live Full Throttle. My involvement with that community changed my life for the better.
But is Facebook the only way to meet new people and solidify existing relationships? Not at all.
I can hear you screaming "But Tamela, everyone's already on Facebook and it's too cumbersome to move!"
I'll get to that point.
Facebook Loss: Hacker culture
This article on "tricks" Facebook uses to mine and sell our personal information, combined with friends' experiences with Facebook hacks, make my blood boil. Here are five of the "tricks" in brief:
The Single Button Trick
The Tiny Gray Font Trick
 The Tiny Hidden Info Symbol Trick
The Action Line Trick
The Friendly Talk Trick
I believe businesses, like people, have DNA. Facebook's DNA is hacker culture. End rant.
Facebook Loss: Meaningful content
The most ancient self-help advice I know of came from the Oracle at Delphi: Know Thyself.  One thing I know about myself is that I like substantive content. Here's what isn't working for me on Facebook.
Two words: GAME REQUESTS.
Baby out with the bathwater. Facebook doesn't give me a way to block messages without blocking messengers. Election years are tough on me since I'm nonpartisan and a peacemaker at heart. Some people in my stream are more strident and prolific in sharing their political views than others, but my stream of updates is tilting toxic these days.
No control over my content. Election years aside, there's a whole lot of fluff and not a lot of fiber in the update stream. Facebook gives me no way to dial up the frequency of posts from nonprofits I support and to dial down the frequency from people who post their daily horoscope. (Hint of things to come as you read further: there's a service that does that!)
Clogged arteries. The more people I "friend" the more cluttered my stream becomes. Many's the time I've accepted a friend request from someone I don't really know who shares a mutual friendship with someone I do know. These "friends" have, in one way or another, given me the impression that I might enjoy seeing them in my stream. Sometimes these people are batshit crazy, in which case I have no problem "unfriending" them, but as often as not they are nice people with a penchant for sharing fluff. Fluff by the truckload. As a result, if I really want to know what's going on with someone, I end up visiting their timeline because I can't find them in my stream. Yes, I post fluff sometimes, but some people post fluff all the time.
Facebook Loss: Getting my message out
Did you know that only about 10% of your friends and family see your  Facebook posts? If you have a PAGE, as I do, you can remedy that by paying Facebook to show a post more widely. That's fair, after all, since there are no free lunches and Facebook has bills to pay. But what do I get for my promoted post expenditures?
Fewer than 100 people have signed up for my newsletter directly from Facebook.
Maybe ten have bought my books directly from a Facebook ad or promotion.
No one has hired me to speak or write their book directly from my Facebook presence.
That's not to say relationships that began or were fostered on Facebook didn't lead to list subscribers, book buyers or clients, but I can't measure the unknown.
Facebook takes the liberty of filtering my stream (see above), but I want a service that I can control.
G+ to the rescue: it's a control thing
I've been itching to get more active on G+ but lacked the time to ramp up before my summer road trip. This week I've been doing just that, starting with reading Guy Kawasaki's nitty-gritty how-to book called "What the Plus!: Google+ for the Rest of Us."
Here's why I'm making the move:
On Google Plus anyone in the world can follow me (unless I block them for being a stalker or nutjob). I don't have to approve who follows me, but I have complete control over who sees what I share. This means I don't have to maintain two "presences" as I do with Facebook (my personal stream and my PAGE).
If I share an update with the G+ circle called "family," for instance, only those eighteen people will ever see it. I can have a circle with just my spouse or a circle of millions of people I've never met.
I can lock ANY post so it can't be shared. It's all within my control.
I can share posts with "the public" which means even people who aren't on G+ can see some of my posts, and that's frankly good for business. Search for the term "financial ghostwriter" and you'll see me. Search G+ with those same terms and I'm at the top  (or search for me by name) where  you'll get a sense of the person you might consider hiring to write your next book or white paper.
If I want to share something with you, and you are not on G+, I can email the update if I have your address. Wow, the power of integrating Gmail with G+.
I can control the amount of content in my stream from my various circles. For example, I can dial up my circle of friends in Charlotte when I'm gone all summer on my motorcycle, and I can dial them down when I return.
Before you point me to the statements I made about privacy with Facebook I'll point you to the statements I made about DNA. Google has made its mis-steps and has breached some privacy walls, but at the end of the day I trust Google more than Facebook. Google's DNA is with two PhD candidates who hired an experienced management team to run the shop from the outset. 'Nuff said.
You're screaming, "But nobody's over there!" and I say, oh yes, plenty of folks are there. And remember, if only 10% of my posts are getting through Facebook's filters anyway, I don't have to meet a ton of G+ users to make up for the volume.
You say it's cumbersome to move? I dunno, I imported my email databases, a simple task, and got a bunch of folks already on G+. But you're right, I can't import my Facebook lists. I accept that.
You say, "I'm not joining one more social network?"  I ask, "Would you consider joining my  list so we can stay in touch?"
Facebook in my future = my rear view mirror
Here's how I plan to operate on Facebook through the end of 2012.
First, I'm giving my personal information a colonic. I can't keep up with Facebook's hacker culture habit of making changes without advance notice, and I'm not going to try to keep up with news alerts on the matter.
Just as I've kept my other "legacy" social media accounts (see the 35 dog years section), I won't close my Facebook account. I'll "robo post" there and check in on my stream once a week or so. If you ping me, I'll eventually get to it. By January 1, 2013 Facebook will be in my rear view mirror, which means I might check in once a month.
However, if you REALLY want to get or stay in touch, you can do so on G+ or through the return address on my email newsletter.
Oh, you say you're not a subscriber? That's easily fixed!
Why G+ will win
For those who think I'm jumping on a sinking ship, here's what Kawasaki says* about Google's inevitable success with G+. (Kawasaki said Apple would dominate technology back when it was almost bankrupt in the 1980′s, for what that's worth.)
Google has a track record. Google has delivered better mousetraps when most people didn't think better mousetraps were necessary…
Google is dead serious about this business. Insiders tell me Google+ is one of the top priorities of Google. It's not an experiment or project buried within another business unit…
Google has infinite money and talent. Infinite money and talent doesn't mean an organization is infallible..(b)ut infinite money and talent doesn't guarantee you'll fail either. Google is assaulting two big companies on their established turfs, so money and talent are necessary in this battle.
Google owns the river. Google owns one of the biggest rivers of Internet traffic (search), and it can divert people to Google+ anytime it wants. For example, when Google put an arrow on its search page pointing to the button to click to join Google+, hundreds of thousands of people joined.
Google owns the playing field. Google can do more than merely tilt the playing field, because it owns the playing field. For example, Google integrated Google+ into search results, and Samsung phones and tablets come with the Google+ application pre-installed. Google bought Motorola's phone business, so we can assume similar integration will happen with Motorola phones and tablets too. Gmail account holders automatically have a Google+ account. In the future, Chrome, Google's browser which recently passed Firefox in popularity, will incorporate Google+ also.
*Page(s): 25-27 What the Plus! Google+ for the Rest of Us by Guy Kawasaki
Every day of each road trip has its own theme. The first week of my 2012 road trip dished up plenty of chances to exercise flexibility and to get my ego in check.
Delayed before Day One
I had planned to leave from the southernmost point of the Blue Ridge Parkway near Cherokee, NC and ride all the way north on it to Skyline Drive in Virginia. I intended to earn a travel badge of honor (of sorts) by taking in every single mile of both legendary roads.
Oh well.
I am a business ghostwriter (will write for gas money and a set of new tires!). Two days before I planned to put the kickstand up, one of my clients received the good news that he was being offered a book contract by McGraw Hill and needed some key points from me that would help him negotiate the contract. I decided it wouldn't hurt to leave a day late and shave a couple hundred miles off the itinerary, so I did, getting on the Parkway near Asheville, NC, where I rode with my dear friend K.
Detoured on Day Two
More flexibility was called for, however. I smashed my phone near the end of the second day of the trip and had to get off the Parkway for good at Natural Bridge, VA to look for a TMobile store, which I didn't realize was impossible in western VA (Wal-Mart and Costco stores can't handle insurance claims). Eventually I took care of business at a store in MD, and arranged for the replacement to be shipped to my next stop at the KOA in Niagara Falls, NY. I managed to catch the last segment of Skyline Drive through the Shenandoah National Forest from Gettysburg, PA. If you'd like a more "touristy" account of the Parkway and Skyline Drive, check out my story on SpeedTV.
Lesson: When you can't meet one goal without jeopardizing more important ones, think strategically, and press on. Travel badge of honor, I'll get you another day (if I so choose).
Destruction on Day Four
Jill joined me in Niagara Falls and after a sunny day of touring that area en route to Parry Sound, we awoke the next morning to sprinkles with a forecast of steady rain and possibly thunderstorms in the Georgian Bay area of Ontario. We didn't have a choice to wait for better weather, since Jill had a can't-miss date with her daughter in Ohio, so we donned rain gear and set out. Real bikers are not rain sissies.
By the time we reached Sudbury I was cold, wet and hungry. My pants had developed a little portal in a seam and cold Canadian rain was rolling down into my waterproof boots.  Dismounting the bike, I sloshed into the Tutti Fruitti restroom (called a "washroom" in Canada) to wring everything out. When I whipped out my camera to take a picture of the beautiful meal you see here, my not-yet-month-old-camera was unresponsive. Fortunately Jill had her phone and snapped one for me. I hadn't bothered carrying my phone because the international rates are exorbitant and, after all, I bought a CAMERA for pictures.
Speaking of help from Jill, she kindly lent me a pair of rain pants so I could ride the rest of the way in comfort once again. What a doll.
Pulling into Sault Ste. Marie (the Ontario side) for fuel, I had a mini-meltdown when I broke the hinge off my gas cap.
Lesson: This was a case where, like for want of a horse shoe nail, the war was lost (see below), for want of $400 I'll now be spending $650. How's this? I've been limping along with saddlebags that aren't quite made for my bike and, short story, by not spending $400 for the right bags, I'll end up spending $250 to replace the gas cap assembly that got in the way of the "wrong" bags, and still have to spend $400 for the right bags. Sigh.
For Want of a Nail
For want of a nail the shoe was lost.
For want of a shoe the horse was lost.
For want of a horse the rider was lost.
For want of a rider the message was lost.
For want of a message the battle was lost.
For want of a battle the kingdom was lost.
And all for the want of a horseshoe nail.
Day Five Divergence
Firing up my computer to find the closest Best Buy, where I intended to put in a warrant claim on the camera, the KOA owner in Sault Ste. Marie overheard me talking to Jill about the lack of Best Buy stores in western Ontario. He said the Canadian stores might not honor an American warranty, so I checked and he was right. So once again, I had to make a choice about foregoing a major leg of my journey to deal with equipment failure.
Paying attention to my inner dialogue, I realized how silly I was in the first place for planning to run through many of the same towns in Manitoba and Saskatchewan as I'd traveled through last year. I acknowledged to myself that I'd just planned to do those provinces again for the sake of saying I'd done three provinces in 2012. Travel badges of honor are really just an ego stroke, eh?
Lesson: Put your ego aside and do what calls to you instead of worrying about another notch on your belt.
Delightful detour
The re-route through the Upper Peninsula turned out to be fortuitous. I loved every minute of it, especially the Great Lakes Shipwreck Museum. I had my first "pasty" in Duluth, MN, where I got the "insider" tour of the legendary motorcycle gear maker and travel outfitter, Aerostitch. In Marquette (MI, not WI), I was introduced to the delicious Cudighi sausage, which I'd never even heard of before.
Not a total bust, by any means
I hope this post doesn't give the impression that my first week on the road was a disaster. On the contrary, I rode with friends through beautiful country. I met some wonderful people, including the retired zookeeper at the Buffalo, NY Zoo (what stories we could have heard if we'd had an entire day to buy him coffee at Tim Horton's!). I got to see parts of the US and Canada that I'll definitely revisit, most notably the the Park to park Trail system in Ontario, 143 miles of trails you can use on foot, bicycle, horse, dog sled, dirtbike, snowmachine, ATV and UTV. Yes, I said dog sled, this being Canada and all!
Most important, I learned about the danger of negative self-talk. I whipped myself into a downward spiral of self-doubt for no reason at all. I started thinking superstitious thoughts like, Are my equipment failures trying to tell me something? Should I quit while I'm ahead?  Sometimes equipment failures are just that.
By the time Jill left in Sault Ste. Marie I wasn't in the right frame of mind to go any further. I extended my visit there by a day and just napped, took care of client work and got to know the area. Sometimes I find that I just have to hold space for my doubts and darker thoughts with the promise that once I've given them their due, they need to make room for more productive thoughts and feelings. Sure enough, by the time I returned from an all-day train trip from Sault Ste. Marie to the Agawa Canyon, in the company of a lovely couple from Wisconsin and to the serenades of some Mennonite children signing hymns on the Agawa Canyon train, I was ready to get back on the bike.
If you love pictures, here's my Flickr site for my 2012 road trip. I update it as wireless connectivity permits! And again, here's an account of the marvels of the Blue Ridge Parkway.  
I'll post again ASAP.
I never set out to be a breast cancer advocate.
Two years ago I was looking for a good cause to align with, as I set out on a cross-country motorcycle trip. When I asked people for suggestions, breast cancer of course came up, but it wasn't my first choice for a cause. The proliferation of pink events and high-profile news stories for breast cancer made me think I should turn my efforts to something that actually needed some help. Breast cancer seemed to be doing fine without me.
But when I found out about a group of women from the US and Canada who rode their pinked-out bikes each summer to raise money for breast cancer research, things took off for me. I checked the  Charity Navigator scores of the beneficiaries I raised funds for, and thought my due diligence was complete.
I strapped a pink bra across the windshield of my own motorcycle, a modest effort compared to some of my fellow bikers (like the one pictured right), but nonetheless, people were attracted to that bra. They knew I must be doing something for breast cancer, and stopped me to tell me their story or the story of someone close to them. There were times I'd hear one story at the gas pump, another in the bathroom, and more in the concession area during one stop. I had no idea there was so much cancer in the world. My book, Live Full Throttle: Life Lessons From Friends Who Faced Cancer was born of these conversations from the road with strangers and from my fellow motorcycle riders.
 Where's all that money going?
This year, as I began touring with my book and preparing for my annual road trip, I decided to scratch the mental itch I'd been feeling, the one that suggested there might be something more important I could do for breast cancer causes than raise money. As I deepened my understanding of the cancer charity landscape, I learned that a well-run, high-scoring charity could nevertheless be pouring money into programs that have nothing to do with preventing or curing the disease, the things that interest me most.
I wondered why there was so little money being spent on the environmental and nutritional factors that contribute to cancer rates, and why so much money was channeled to pharmaceutical companies, which make drugs that don't prevent cancer at all. I started digging, and my research led me to the film Pink Ribbons, Inc. based on a book of the same title.
Pink Ribbons lays bare the conflicting interests of those claiming to have a passion for curing breast cancer, including some of the most-recognized breast cancer charities. The movie also examines how people have been lured into shopping for a cure instead of being activists–holding charities, companies, governments and other institutions accountable for reducing the incidence of all forms of cancer.

I learned that while the Susan G. Komen Foundation has donated over $600m to basic clinical research and the annual Avon walks have raised over $380m for breast cancer causes, there is little to no coordination for the research that's funded. Indeed, the lion's share of research dollars goes to Big Pharma, which has no economic interest in curing the disease. The US federal government's National Cancer Institute leads 37 agencies, yet there is an endless repetition of research that seeks to find an incremental increase in life (rather than prevention or true cure). Few are researching the kinds of  cancers that metastasize.
The vile business of "pinkwashing"
I also learned about the vile practice of "pinkwashing," which occurs when companies that produce products that increase the RISK of breast cancer also MARKET these same products to BENEFIT breast cancer.  Avon is guilty of pinkwashing, since it both sells cosmetics that are laden with carcinogens and uses the breast cancer cause to sell those cosmetics (see the above statistic on money raised).  Revlon and Estee Lauder are equally guilty, but pinkwashing transcends cosmetics peddlers. Ford Motor Company is another (of many), since it markets its Ford Mustang to breast cancer patients, while its manufacturing processes are linked to all kinds of cancers.
I've decided there should be a special place in hell reserved for pinkwashers like Eli Lilly (because our courts have now decreed that corporations are people, I guess that means they also have a hereafter). Lilly is the only company in the world making and distributing rBGH, an artificial growth hormone found in many dairy products that is linked to increased risk of breast cancer. Eli Lilly also manufactures breast cancer drugs. That's a highly lucrative profit cycle, deserving of outrage.
Here's what I learned about the pink ribbons industry from Pink Ribbons, Inc.:
Pharmaceutical companies use money to provide a marketable product, something that will increase survival for a period of time — even three weeks — but which can be very profitable for that slight period of time. "They don't seem to be interested in prevention, but this is how capitalism works." ~Ellen Leopold, author of A Darker Ribbon: Breast Cancer, Women and Their Doctors in the Twentieth Century
Big players on the nonprofit boards of the "cancer establishment" are filled with members from pharmaceuticals, chemicals and energy industries. This is a co-mingling of those responsible for the perpetuation of the disease with those trying to cure/prevent it. ~Dr. Samantha King, author of Pink Ribbons, Inc,: Breast Cancer and the Politics of Philanthropy
Of all the millions raised, only 15% goes to prevention; only 5% of research goes to the environmental cause of breast cancer.
What science knows–and doesn't–about breast cancer
Here's what I learned about the disease itself:
>50% of women who are diagnosed with breast cancer don't have one of the major risk factors that we know about…but most of the research is not targeted at answering those questions."~ Dr. Mhel Kavanaugh-Lynch, Director of the California Breast Cancer Research Program at the University of California
"Slash, burn and poison*…is what you do when you don't understand (the disease)."  Dr. Susan Love, President & Medical Director of the Susan Love Research Foundation
 "Only 20-30% of breast cancer happens in women with risk factors. If we can only explain 20-30% of breast cancer, we don't know what causes it. We're missing something big and if we keep looking at the same risk factors we'll miss it." ~Dr. Susan Love, President & Medical Director of the Susan Love Research Foundation
There are three categories of people who get a cancer diagnosis from a mammogram:
Those who have treatable forms of breast cancer, for whom early detection saves lives
Others who have something that will never be life threatening, and if it's treated, the treatment makes them sick/kills them
Those who have a form of the disease that's so aggressive that no currently-available treatment is going to heal, no matter how quickly it's found
 Questioning our worship for the workings and intelligence of free markets
I'll never look at cause marketing the same way. THIS is what happens when we throw important public health issues out to the markets for resolution. OK, that decision will take a while to reverse, so in the meantime, how do intelligent, concerned and earnest breast cancer advocates work within this landscape?
Breast Cancer Action suggests asking these five questions before you use your purchasing power to "benefit" breast cancer campaigns
1.         How much money from your purchase actually goes toward breast cancer? Is the amount clearly stated on the package?
2.         What is the maximum amount that will be donated?
3.         How are the funds being raised?
4.         To what breast cancer organization does the money go, and what types of programs does it support?
5.         What is the company doing to assure that its products are not actually contributing to the breast cancer epidemic?
What this means for my 2012 road trip
I'm still going to travel with a pink bra on my motorcycle. But instead of raising money, I'm going to educate.
While we live in a toxic world, we have SOME choices for what we expose ourselves to. Personal care products are a starting point for my education efforts. I want to help people prevent cancer or decrease their chance of contracting it, so I'll hand them cards with links to both the Environmental Working Group's Skin Deep database and to Good Guide, where they can research the products they buy for health, environmental and social responsibility
How about it, readers? What do you think I should do with my advocacy efforts? How would you like to join me?
*slash=surgery, burn=radiate, poison=chemo
Since my involvement with breast cancer causes, I've become acutely aware of the commercialization of the disease. Looks like this filmmaker is ahead of me.
I see that the film will be shown in Richmond, VA on 2/10/12.  My mother-in-law, whose breast cancer metastasized into bone cancer, is buried there. I'm inclined to go up and see the film and the panel discussion afterwards.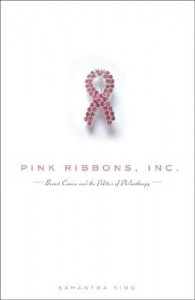 The film draws heavily on the book, Pink Ribbons, Inc. Breast Cancer and the Politics of Philanthropy.
Breast cancer advocacy is being transformed from meaningful civic participation into purchasing products.

The pink ribbon has come to symbolize efforts to find a cure for breast cancer. But it has also become a powerful symbol for corporate philanthropy, boosting the image of corporations, that promote products from yogurt to cars, slicing off a portion of proceeds to support breast cancer research. King, a women's health issues scholar, explores the phenomenal growth of Pink Ribbons Inc.; the annual massing for the Susan G. Komen Foundation's Race for the Cure 5K runs; and other high-profile events with huge corporate sponsorships. However admirable the effort to find a cure, King argues that it overwhelms efforts to learn how and why women get breast cancer and how it can be prevented. Prevention efforts could help more low-income women who lack the means to pay for treatment. King examines the history of philanthropy and how breast cancer became such a prominent cause, garnering far more support and publicity than other diseases, demonstrating the ability of American women to flex their political and economic muscle on behalf of an important cause. ~Vanessa Bush Copyright © American Library Association. All rights reserved
One of my clients is looking for a new slogan. Would you please answer these SIX EASY QUESTIONS as part of my research?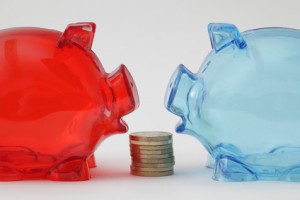 Last week the NYT ran another story on the screwy financial regulatory landscape here in the States.  With so many financial professionals calling it quits with big firms and hanging out shingles as advisors,  the big money (brokerage firms) do their best to obfuscate their incentive to SELL, rather than ADVISE or MANAGE.
The story ably illustrates how some individual brokers provide advisor-like services while some advisors closely resemble brokers.
At the center of the discussion are business practices and regulatory guidelines that are rarely understood by the client and often blurred in practice. Brokers are governed by the "suitability rule," which requires them to have "reasonable grounds for believing that the recommendation is suitable," according to the Financial Industry Regulatory Authority. Registered financial advisers are supposed to adhere to a higher standard — "fiduciary responsibility," an ethical and legal requirement that the investor's best interest comes first, not the adviser's own financial gain.
What may matter more than the array of services is the mind-set of the adviser. When a broker tells a client to buy or sell something, the suitability rule does not mean the broker has to be free of conflicts of interest. After all, the broker's salary is ultimately paid by the brokerage firm, which has various products to sell. But brokerage firms say they are trying to eradicate that appearance of conflict.
Advisers like Mark Matson, chief executive of Matson Money, said brokerage firms should get out of the advisory business altogether. "The problem is they hold themselves out as offering advice and value-added services," he said. "They should just tell clients, 'I work for a brokerage and I'm going to suggest some things, and you have to make the decision if they're right for you.' "
This is where the fiduciary standard gets invoked. Rooted in trust law, that standard means that an adviser has to act impartially and solely for the benefit of the client, avoiding conflicts of interest and self-dealing.
One advisor's view

I interviewed Derek Hernquist, Chief Investment Officer at Integrative Capital, LLC in Charlotte, NC on this matter.
Derek: "It makes no sense to me that there are two standards, and I think the brokerage industry has blurred the lines by changing titles to "financial advisor" from broker or registered rep. Most people I speak with are unaware of the distinction between financial advisors and investment advisors.
"Seriously, how can anyone read this line from the article and not think there's a problem "Congress is now considering a provision that could alleviate some of this confusion by requiring brokers to act in their clients' best interest. 'Requiring brokers?' Shouldn't a client be able to trust this is already the case?"
Derek's a smart guy with principles. While I had his ear I asked a few more questions:
Q: Why did you launch your own advisory practice?
A: I found myself frustrated with my answer when friends asked "What do I do with my money? The growth of Wall St. left investors with an overwhelming array of underwhelming choices. It became harder and harder for the true risk managers to be noticed amidst the race to beat the benchmark. I felt compelled to step in and help filter the noise for those without the time to do so.
Q: Why did you choose Registered Investment Advisor (RIA) registration?
A: I needed complete independence of investment choices as well as fair pricing to give clients a shot at attractive risk-adjusted returns. This eliminates everything but the hedge fund and investment advisory models,and I felt that the demographic I wanted to help was outside the scope of hedge funds.
Q: Compensation is a big issue. How did you determine your fee structure?
A: I love the performance-driven aspect of hedge fund fees, but had to compromise in order to open my tent to individuals that don't qualify as accredited investors.
In Warren Buffett's early days, he charged nothing for the 1st 6% of return and asked for 25% of profits above that.  I'd love to do that, but that's outlawed for non-accredited investors under the 1940 Act. To this point, I've settled for charging clients 1% of assets up to a max of $10,000 per year. Account size doesn't dictate required workload, so this is my way of flattening the cost curve a little as clients grow into accredited investors.
Prompts for Professionals
I wrote about compensation and the need for some honest disclosure on how any professional is paid last June. One of the comments included this observation: "Funny – no one asks their doctor how they get paid either.  Might be worth asking. Most doctors I know have incentive to rush you through their office because they are paid by the HMOs based on how many patients they see per day."
If you own your firm, tell your clients why you decided to structure your compensation as you did.   If you work for a broker or agency, tell your clients why you believe the comp structure you work under is fair to you and to them.
Explain how you balance the competing interests of your financial future and theirs.
Have an up-front discussion about how they can challenge your ethics.
Do you belong to a professional organization that requires credentialing?  Tell your clients about the credentialing process and how your preparation and credentialing benefit them.
Publish your continuing education plans for the year.
Solicit feedback from clients: what topics do they find most confusing?
How about it? Let's have a hearty discussion in the comments section.


In a banking town like Charlotte, you can't swing a dead cat without hitting a VP of one bank or another. Well, these days make that "or a former VP."
One of my friends works for Bank of America and another is a criminal defense lawyer. The banker persists that Ken Lewis and BofA are being singled out for bad treatment by the feds. Here's what the lawyer says on the matter of Mr Lewis and the Merrill Lynch deal:
Q: Did Mr. Lewis breach his fiduciary duty to BOA shareholders when he did not terminate the deal noting a contractual clause that losses were way over what was projected?
Q: Did Merrill execs enter into a contract knowing of these losses, hiding them in some way and using "fraud in the enducement"? Charges coming against Merrill execs.?
Q: Would BOA's stock price settled at a higher price when the market hit rock bottom? i.e. not as big a loss to shareholders.
A: If yes, to any of these, then he failed in his duty as CEO. Thus, a jury must decide if that is negligent (fired for that) or criminally negligent or culpable (go to jail for this).
Bottom line: Taking one for the USA team is not a defense, it is mitigating.
As I mentioned in December Book Lust I'm reading Dan Pink's new book Drive: The Surprising Truth About What Motivates Us. The book's publisher had perfect timing, with  January's headlines of banker bonuses and the prospect of taxing TARP recipients.
There's a lot of hand wringing about what will happen to the entire economy if the financial sector is reined in:
Will "under paid" (therefore presumably under qualified) bankers screw up the economy?
Will all the good financiers move to hedge funds, leaving our big banks in the hands of a bunch of brain-dead drones willing to work for a mere 25x their average company worker's wage?
Is limiting banker compensation the last nail in capitalism's coffin?
And then there's the rumor that Goldman Sach's Lloyd Blankfein will be taking a $100m bonus for 2008′s work. That's in contrast to the US Census Bureau's report that the average 2008 per capita income was just under $27k. I don't think the feudal lords of the dark ages made those multiples.
Before jumping in with Drive's analysis of human motivation,  I'll let The Daily Show guide us down memory lane with those to whom much was given and nothing was demanded:
The evolution of motivation
Mr Pink says Motivation 1.0 centered around survival. Sometimes survival meant stealing a meal or a spouse but eventually the human species figured out that cooperation was a less painful, more humane way to conduct ourselves, and Motivation 2.0 came into being.
Motivation 2.0 centered around punishment and reward and "it is so deeply embedded in our lives that most of us scarcely recognize that it exists."
Despite its greater sophistication and higher aspirations, Motivation 2.0 still wasn't exactly ennobling. It suggested that, in the end, human beings aren't much different from horses — that the way to get us moving in the right direction is by dangling a crunchier carrot or wielding a sharper stick. But what this operating system lacked in enlightenment, it made up for in effectiveness. It worked well, extremely well. Until it didn't.
The Seven Deadly Flaws of Carrots and Sticks:
They can extinguish intrinsic motivation
They can diminish performance
They can crush creativity
They can crowd out good behavior
They can encourage cheating, shortcuts, and unethical behavior
They can become addictive
They can foster short-term thinking
This is not to say that carrots and sticks are always bad

Drive has a chapter on circumstances where punishment and rewards work very well, thank you very much. But we're headed full gallop into Motivation 3.0, which recognizes that while people are at times profit maximizers (and therefore extrinsically driven), we are also "purpose maximizers," which means we're motivated intrinsically as well.
For the word lovers among us, "purpose maximizers" has its own Latinate descriptor: Homo Oeconomicus Maturus (Mature Economic Man).
Bruno Frey, an economist at the University of Zurich says "Intrinsic motivation is of great importance for all economic activities. It is inconceivable that people are motivated solely or even mainly by external incentives."
Mr Pink lists several highly successful business people who are driven by intrinsics to achieve and even asks us to ponder whether the intrinsically-motivated Warren Buffett and Oprah Winfrey are any less economically successful than Jeff Skilling and Donald Trump (whom most would agree are Motivation 2.0 poster boys). 
What about the bankers?
Americans are stuck in Homo Oeconomicus (Economic Man) mode, instead of Homo Oeconomicus Maturus mode. We aspire to big bucks ourselves, so while there's still a chance we can make the current system work for us, we're loathe to reform it. I think this is why we  didn't DEMAND taxpayer representation on the boards of the organizations we taxpayers saved from the ash heap in October 2008. That,  plus the fact that the moneyed class and the politicians they own have convinced us that we should fear big government more than big business (or perhaps anything else).
We've seen what extrinsically motivated bankers can do for society. I'm sure we can find some Homo Oeconomicus Maturus boards and managers out there — aren't they the ones running credit unions?
Maybe Sir Richard Branson could bring "Virgin Money" to the US, too. The CEO (a woman!) says "Our aim is to make 'everyone better off' in the way we do business by offering good value to customers, treating employees well, making a positive contribution to society and delivering a growing profit to shareholders. Our approach to banking is founded on developing a sustainable, savings-based business."
Finally, I'm not in a position to judge whether Lloyd Blankfein believed himself when he declared that his firm does "God's work." Stephen Colbert seems to have an answer to that question:
In our current frenzy for certainty in an uncertain world, gold is back in the news. Time for a little context on the current gold rush, starting with a tale from antiquity:
A man who wanted riches dutifully installed a money god in his home altar. He prayed to it for hours every day. His knees ached and his forehead bore a bruise from his repeated prostrations.  He persisted in the fanatical belief that he was on the true path to prosperity despite the daily worsening of his situation.  One day he flew into a rage with the god for all the time he'd wasted, picked up the little clay god and smashed it on the altar board, revealing a cache of gold coins.
The moral? I've heard a few including:
We must slay our conceptions to achieve a breakthrough
Praying for money brings us to rage and despair
Money can be hidden in plain sight
Go deep inside religion/a spiritual path to find true prosperity
The Wizard of Oz: an American tale of gold?
The last time I gave gold any thought was business school ten years ago when my micro-economics prof told us that some people considered The Wizard of Oz to be an allegorical story about America and the gold standard.  BBC News summed up this story, reminding us that Judy Garland's ruby slippers were a departure from the silver slippers of Baum's original tale, which some believe represented the promise of a dual gold-silver standard.
Baum published the book in 1900, just after the US emerged from a period of deflation and depression. Prices had fallen by about 22% over the previous 16 years, causing huge debt.

Farmers were among those badly affected, and the Populist political party was set up to represent their interests and those of industrial labourers.

The US was then operating on the gold standard – a monetary system which valued the dollar according to the quantity of gold. The Populists wanted silver, along with gold, to be used for money. This would have increased the US money supply, raised price levels and reduced farmers' debt burdens.
CHARACTER SYMBOLISM
Dorothy: Everyman American
Scarecrow: Farmer
Tin Woodman: Industrial worker
Lion: William Jennings Bryan, politician who backed silver cause
Wizard of Oz: US presidents of late 19th Century
Wicked Witch: A malign Nature, destroyed by the farmers' most precious commodity, water. Or simply the American West
Winged Monkeys: Native Americans or Chinese railroad workers, exploited by West
Oz: An abbreviation of 'ounce' or, as Baum claimed, taken from the O-Z of a filing cabinet?
Emerald City: Greenback paper money, exposed as fraud
Munchkins: Ordinary citizens
A post-Depression history of gold prices
With a new gold rush in the news I wanted some historical context, which I plucked selectively from USAGold.
April 5, 1933: President Roosevelt, acting under the sweeping authority passed to him by Congress on March 9, invoked his authority to make it unlawful to own or hold gold coins, gold bullion, or gold certificates. The export of Gold for purposes of payment was also outlawed, except under license from the Treasury.
January 31, 1934: President Roosevelt fixed the weight of the Dollar at 15.715 grains of Gold "nine-tenths fine". The Dollar was thereby devalued from $20.67 to one troy ounce of Gold to $35.00 to one troy ounce of Gold – or 40.94%. The Treasury, which had become the possessors of all the nation's Gold on the previous day, saw the value of their Gold holdings increase by $US 2.81 Billion. The Treasury now "owned" the Gold, and no one else inside the U.S. was allowed to own any Gold except by the express permission of the Treasury.
Bretton Woods in July 1944: The new ratio of $US 35 was adopted and the U.S. Dollar was made the world's Reserve Currency.  The now international ratio of 35 U.S. Dollars to one troy ounce of Gold lasted until August 15, 1971.
January 1961: Shortly after President Kennedy was Inaugurated and  newly-appointed Undersecretary of the Treasury Robert Roosa suggested that the U.S. and Europe should pool their Gold resources to prevent the private market price of Gold from exceeding the mandated rate of $US 35 per ounce. Acting on this suggestion, the Central Banks of the U.S., Britain, West Germany, France, Switzerland, Italy, Belgium, the Netherlands, and Luxembourg set up the "London Gold Pool" in early 1961.
The Pool came unstuck when the French, under Charles de Gaulle, reneged and began to send the Dollars earned by exporting to the U.S. back and demanding Gold rather than Treasury debt paper in return. Under the terms of the Bretton Woods Agreement signed in 1944, France was legally entitled to do this. The drain on U.S. Gold became acute, and the London Gold Pool folded in spring of 1968.
January 1975: After 42 years, it again became "legal" for individual Americans to own Gold. Anticipating the demand, the U.S. Treasury in particular and many other Central Banks sold large quantities of Gold, taking large paper profits in the process.
July 1979: Paul Volcker was appointed as Fed Chairman while  gold continued to surge, hitting $400 in October. While this was happening, Mr Volcker was attending a conference in Belgrade. There the assessment was made that the global financial system was on the verge of collapse. When Mr Volcker returned to the U.S. from Belgrade, he took a momentous step. He announced that the Fed was swiching its policy from controlling interest rates to controlling the money supply.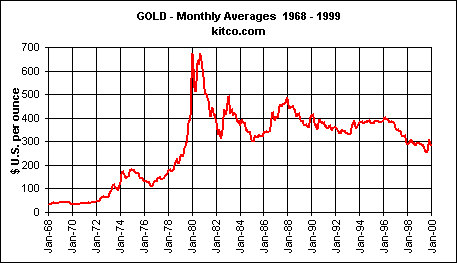 I worked at a jewelry store in 1980 and learned how to spot-price our gold merchandise because it was a waste of time to affix labels to the inventory.  U.S. interest rates skyrocketed. As they rose, the dollar first slowed it's descent, then stopped falling, and then began to rise. Both the public and the investment community which had stampeded into Gold was lured back into paper by this huge rise in interest rates – and by the prospect of a higher U.S. Dollar. The threat of financial meltdown was averted, but at a cost. The U.S. Prime rate hit 20% in April 1980 and stayed there (with a brief dive in mid-1980) until the end of 1981. There was a rush out of Gold and back to Dollars.
Once interest rates began to come down, in early/mid 1982, the choice of where to put the Dollars faced investors once more. The initial solution was just as it had been in the 1970s. The Dow took off – rising from 776 to almost 1100 between mid August 1982 and late January 1983. Gold fell $105 in the last four trading days of February 1983. As it fell, the Dow broke above the 1100 point level for the first time. The long bull market in stocks, and the long stagnation of Gold, had begun.
Post-meltdown gold rush
Fast forward to 2010 with stories about home parties where a jeweler brings in scales to buy party goers' jewelery.  What gives? As investor Jim Gobetz said to me, "Gold is traditionally (at least in the age of fiat currencies) a hedge against inflation." Problem is, in certain circles, the fear mongering is unavoidable, deafening and self-serving.  Take Glenn Beck's hucksterism, as exposed on The Daily Show:
If you prefer something more buttoned down, PBS's NewsHour did a thorough job examining the current gold rush.
Gold as a sure thing
Gold investor Bob Chapman recently said "Gold and silver are the only real way to protect against financial calamity and offer possibilities for profit simultaneously."
Really? If so, why are gold promoters letting the rest of us in on the security? Because they want to sell us something and make money on our insecurities. If gold really offered true protection, guys like Beck and Chapman would be hoarding — not promoting.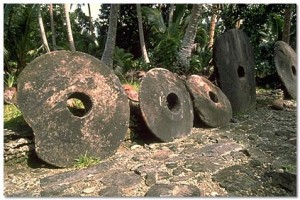 In The Secret Life of Money, I learned a lot about the history of money, including its many forms, from seashells and porpoise teeth to tobacco and beaver skins, to, of course, gold.  Author Tad Crawford tells stories of how belief in the value of something transcends rationality, and sometimes, practicality.
For example, the Yap people of Micronesia used giant limestone discs for currency.  These discs were so difficult to transport that eventually people left them in place with the communal understanding of who truly possessed the "wealth."  So isn't gold similarly "accepted" as valuable despite its impracticalities as a currency?  Do we really expect to carry bullion around? And do we want to carry a beaker of acid with us every day to test the purity of coins and bullion exchanged for goods and services? If we all believe gold is the only ultimate thing with intrinsic and everlasting value, then it is. It's our belief that matters.
Crawford's book discusses at great length the connection between money and the divine, from the ancients who minted coins with faces of divinities (see Juno Moneta at the top of the post) to the practice of stamping "In God We Trust" on American currencies since 1864.  "If the phrase means nothing, perhaps we should put 'In the Federal Reserve We Trust'…In times of recession and depression, this slogan offers a way to understand why money fails us. Money, although a secular tool, requires our belief in the richness of a divine power."
I think times like these serve the purpose of reminding us of how uncertain life really is. We middle-class Americans thought we'd somehow transcended subsistence issues like food and shelter, but the meltdown has driven record numbers of Americans onto food stamps and out of their homes. We thrash about for something certain and land on gold — the modern analog of a Micronesian Yap's limestone.
Security is a head game — as JM Keynes reminded us, "In the long run, we're all dead."
Weighing in on the gold rush with some spiritual advice is Baha'u'llah, the Prophet-Founder of the Baha'i Faith:
Busy not thyself with this world, for with fire We test the gold, and with gold We test Our servants.

My September Book Lust column included a preview of Josh Kosman's book, The Buyout of America: How Private Equity Will Cause the Next Great Credit Crisis, which was released this month.
Monday I heard Kosman interviewed by Fresh Air's Terry Gross (on NPR affiliates everywhere).
FASCINATING STUFF, including:
How interest tax deductibility allows private equity (PE)  firms to dodge about $70b in federal taxes
Why you can't buy a two-sided mattress any longer
Why PE  likes the hospital industry (and what it could mean to you if your local provider is bought by PE)
PE firms (including the companies they own) are the largest employers in the country; even larger than Walmart (by a mile)
Four of eight former treasury secretaries now in PE.  John Snow (under G. W.  Bush) is now at Cerberus which finagled bailout funds for its company, GMAC, by turning it into a bank (even though it didn't have capital reserve requirements of "real" banks)
Buyouts are facilitated by Collateralized Loan Obligations  (CLOs), the private equity version of the mortgage industry's Collaterelized Debt Obligations (CDOs)
Returns to PE  investors are below that of the S&P 500
SCARY STUFF, including:
The conservative Boston Consulting Group estimates that half the companies owned by PE will default on their loans or go into bankruptcy
If these companies lay off half their employees (which is reasonable) another 1.9m people will be out of work, which will ripple through the economy in consumer spending, mortgage foreclosures and so forth
The trillion in bad debt will freeze lending everywhere
Of the current 11% corporate loan default rate, 50% has PE involvement. Tsunami of defaults has begun
Prescription
Kosman would like to eliminate interest tax deductibility for corporate takeovers. This would make LBOs unprofitable and end the industry.
Why is the end of private equity considered a good thing?  Don't buyout firms improve companies? According to Kosman,  PE firms only put down about 20% of the purchase price, then use CLOs to fund the remaining 80%. The acquired company has to service the debt out of profits instead of spending that money on R&D and other capital expenditures. PE has a 4-5 year horizon on its exit, so they're not running companies for the long haul.  Theoretically, everyone's supposed to win with PE, but the record shows that few do.
The Obama administration is reportedly looking into this.  Paul Volker is charged with considering the whole tax code, including tax deductibility of interest for buyouts.
Writing Prompts for Blogs and Newsletters:
Here's your chance to defend PE, and the enabling triumvirate of i-bankers,  hedge funds and ratings agencies!
Do you work for a pension fund that invested in CLOs? How will you assure participants that YOUR CLOs will perform in spite of the 11% corporate loan default rate Kosman cites?
GMAC fired its CEO this week. Do you regret giving TARP money to this non-diversified auto lender-cum-bank?
Do you have a better idea for recouping the estimated $70b in federal taxes lost to PE deals than dis-allowing interest deductibility? Are we in for a national value-added tax or sales tax?