When you think of vacationing in Wyoming, your first thought is probably Yellowstone and Tetons National Parks. I want to entice you to Greybull, just 140 miles east of Yellowstone.
If you're a motorcyclist like I am, I'll encourage you to take the Chief Joseph Highway and get there in 213 stunning miles full of twists and turns.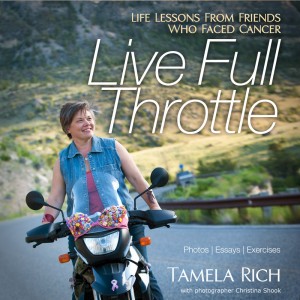 Why Greybull? In part to enjoy the Bighorn National Forest and small town atmosphere, and in part for the paleontology adventures to be found in the region.
This year's summer road trip is my second pass through the region. If you've bought my book, Live Full Throttle: Life Lessons From Friends Who Faced Cancer, then you know that most of the pictures were taken in the area.
KOA concierge service
As a Mile-By-Mile Correspondent for KOA, I stayed with the Cor and MaRia and their dogs Rose and Bonnie at KOA Greybull.
When you pull into the kampground the dogs will likely bark their greetings from the roof as either Cor or MaRia come out to greet you with a bottle of water and a heartfelt welcome. It's the rare camper who gets all the way into the office without first being greeted in this manner.
Cor and MaRia treat you like a concierge from a five-star hotel would, enticing their guests to enjoy their stay by providing a guide book to the area that includes several days of possible itineraries. Do you hike? They have maps and tips. Are you a shutterbug? They've got a guide on where to find the best flora and fauna. Whatever it is you enjoy, they'll help you enjoy it in the Bighorn region.
The Red Gulch Dinosaur Tracksite
The Bijvanks have a collection of "the devil's toenails" on the office counter to show you exactly the kind of fossil treasures that can be found nearby at Red Gulch Dinosaur Tracksite.
I took my bike out to the site on the well-maintained gravel road and spent about an hour learning about the dinosaurs who left over 1100 tracks on what was once the Sundance Sea.
We know they were meat eaters that walked on hind legs and lived in the Middle Jurassic period, but their fossils are still being analyzed for further categorization.
I left the "Ballroom," as the footprinted area is called, and headed down the trail to find devil's toenails for myself and, thanks to seeing them at KOA, knew exactly what I was looking for.
Devil's toenails are the fossilized shells from Gryphae, or oysters. They range in size, but average a bit over an inch. You see them in the walls alongside the footpath and they come out easily by prying them free with your fingers or a car (or motorcycle) key. As much as I enjoyed looking for them, I'm sure children and teens would have a great time, too.
Shell Canyon: don't miss it!
No matter whether you're in a car or on a bike, be sure to take the drive through the big Horn National Forest, about 20 miles east of Greybull, including Shell Canyon. It's a visual feast. Wyoming does a great job labeling the rock formations you pass through. Be sure to stop at the Shell Falls Interpretive Site, where Shell Creek falls over three-billion-year-old granite at some 3,600 gallons per second to make a spectacular waterfall.
Back in Greybull, where everything is in walking distance from the campground, you'll find plenty of shops to visit, including the Bighorn Basin Geoscience Center, which shares space with a homemade gift purveyor, and Probst Western Store, which has outfitted cowboys and greenhorns since 1945 (they even sell my book there!). I recommend taking a leisurely meal under the shade of a big Russian Olive tree on the patio at Lisa's Fine Food & Spirits.
If you can possibly do so, be sure to stay in a Deluxe Cottage at the KOA. Cor built them himself and outfitted them with unexpected luxury, including monogrammed towels and comforters, granite countertops in the kitchen and a flat screen TV that can be angled for viewing everywhere. I ate outdoors with friends on the patio, where there is a gas grill for your cooking pleasure. If a Deluxe Cottage isn't available, the Kamping Cottages all have flat screen TVs, refrigerators and air conditioning. Cor and MaRia's daughter is a physical therapist who helped them design a special bathroom for those with special needs; they really do think of everything!
Have you ever been to Greybull? The Bighorn National Forest? Tell me about your visit, please!