Winner of three national awards! 
"Magnificent stories, movingly told, with compelling copy and striking photo spreads. It's a real page-turner." ~National APEX Grand Award for Publishing Excellence
Folks with cancer teaching the rest of us about living a better life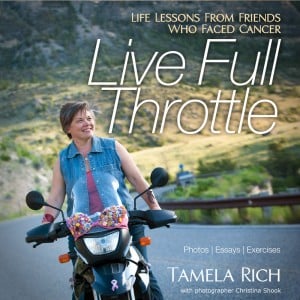 Live Full Throttle: Life Lessons From Friends Who Faced Cancer is a collection of the stories I heard from women facing life's ultimate sink hole, and doing it with grace, humor, moxie and joy. I organized the stories into these eight lessons:
The Healing Power of Joy
Gratitude Eases Pain
Laughter Lightens Tragedy
You're Terminal Too, Embrace It
When to Fight, When to Flow
Art Restores
Relationships Are Fluid
Channel Sorrow Into Service
The book includes 100+ pages of full-color photographs by Christina Shook, author of Chicks on Bikes. 
"Some of the stories will make you tear up, all will make you smile, and each one has a powerful message we all can learn from whether or not we've faced cancer in our own lives." ~Women Riders Now
Quotes from Amazon Reviewers 
What a great book! It really puts a lot of things into perspective, and the stories told are so inspiring. I would suggest this book to anyone I know!  ~Stephanie Nelson
This book will make you laugh, cry and end with a big broad smile! I love the fact that she compiled REAL stories straight from the women she met along the way and shared them with us so lovingly. I found myself not wanting the book to end! I wanted MORE…….maybe she will write another one after next years ride? I will cherish this book for the rest of my life. ~Cyclegirl
This book is a "must" for everyone. This book is about putting your fears behind one's self and braving the storm of whatever we do face. The book is not only for cancer survivors and families but can be applied to any difficult course in life. ~Samcat
I loved the photography, the real people, and amazing stories. Also love the exercises. They provoke the mind and reach into the depth of one's heart if allowed. Makes ordinary people extraordinary and palpable. Thank you for this amazing book. I love it so much that am buying more for gifts. Every one with a heart, must own one! ~K
I am on the journey through breast cancer and when I started reading the book Live Full Throttle I was inspired by the stories and fact that Tamela road her motorcycle for us Pink Sisters. This is a great read and the photos are wonderful. ~Dlcfoto
Where to buy Live Full Throttle and its Companion Guide
You can order from Amazon by following this link.  For a preview of the book, visit Scribd.
After writing Live Full Throttle and hearing complimentary complaints that "It's too pretty to write in" I decided to write a Companion Guide to the book and publish it in black and white —that should  remove any obstacle to working through the exercises that follow each chapter.
Goodreads reviews for Live Full Throttle: Life Lessons From Friends Who Faced Cancer