I love my life. I get to travel, ride motorcycles and meet great people for a living! If you're in the Seattle area the first week of April, please get in touch. I'd love to grab a cuppa and hear YOUR story.
Signing books and riding motorcycles
On Friday, March 30 I'll hit Seattle at 11am and be signing books at South Sound BMW by noon!
The South Sound team has asked me to stay until 2pm or until the throngs (ha!) disperse.
You know how much I love the Roundel, right? Well, I'll be riding a F650GS around Seattle for five days thanks to TourUSA Motorcycle Rentals. I've ridden the F650GS before and look forward to its responsiveness in metro traffic. The only version of the GS line I absolutely cannot ride is the F800–I can't even get my leg high enough to swing it over the seat!
East Coasters, if you want to ride the Pacific Northwest but don't have time to ride all the way out there, consider renting from TourUSA and tell them I sent ya.
Saturday, March 31
I'll be learning how to "ride like a cop" on a big CHiPs bike at Northwest Motorcycle School. I've never had a desire to OWN a big honking bike, but I'm looking forward to learning how to operate one (in a bucket-list kind of way).
I'll be joined by two or three of my fellow Conga riders — that alone will make it fun for the spectators! I'll bring the helmet cam. This school runs rain or shine, and as I've learned before, rain adds a layer of complexity to the learning experience; but I agree with the old saw that smooth seas do not make skillful sailors.
Tuesday, April 3 at Seattle Cancer Care Alliance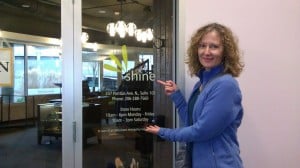 When I visited Seattle a couple of months ago, the managers of Seattle Cancer Care Alliance's cancer speciality store, Shine, fell in love with Live Full Throttle. They asked me to come back to sign books and speak to the patients staying in the SCCA House and the SCCA patient education department asked my Conga sis, Karen (pictured left), to team up with me for a evening presentation open to the entire community.
We have plans to razzle dazzle 'em when we're there April 3. We'll start with a book signing/mix-&-mingle from 4-6pm and continue upstairs for the "formal" presentation from 6:30-8pm. Both events are free and we'd be delighted to speak to a full house! SCCA is at 207 Pontius Ave. North, Suite 101, Seattle.

Karen's story
Karen's got such a great story to tell–if you have a copy of Live Full Throttle, her story is in Lesson Four: You're Terminal Too, Embrace It. Here's an excerpt:
Given an eight-year prognosis, Karen says that while you can rail against it, pout, whine, deny, and try every new treatment, the real choice is whether you face cancer as a victim or a survivor. In the words of a true Pacific Northwesterner she resolved, "I'm not dead yet; I'm going to pilot this." She doesn't tell people she's sick, "I'm no different than anyone else, I just have cancer."

Karen had always wanted to learn how to drive a motorcycle but put it off because she was afraid she'd really love it and would therefore have to "do something about it." She was right. I met her during our 2010 Conga, when she had been riding just a little over a year. By the time we met again in 2011 she was one of very few to pass a grueling motorcycle course designed by law enforcement officers to help civilians drive like cops.
If you've ever wanted to learn how to live life with a gift you never wanted, Karen's got an inspirational message for you!
I'm hoping to get time with the good folks at Gilda's Club, Cancer Lifeline, American Cancer Society Breast Cancer Resource Center, and a couple of Meetup groups while I'm in Seattle. Please let me know if there's someone else in the area I need to know, ok?