Are you interested in cause-related marketing?
Does someone you know have cancer?
Are you raising money for a nonprofit?
Whether you have a personal interest in breast cancer, non-profit fundraising or cause-related marketing, there's plenty for you to think about in the new documentary film, Pink Ribbons, Inc., which I'm bringing to Charlotte on MAY 3 at 6:00pm.
The screening and panel discussion will take place at Gorelick Hall in the Jewish Community Center, 5007 Providence Rd, Charlotte, NC 28226 at 6:00pm on Thursday MAY 3.
Instead of marching against the man, we shop for a cure
Pink Ribbons, Inc. looks at how the breast cancer movement has moved from activism to consumerism and challenges viewers to rethink their assumptions about the meaning of breast cancer in our society.
Featuring interviews with an array of experts, authors, activists and medical professionals, the film also includes the participation of leading players in breast cancer fundraising and marketing. It also addresses the disturbing practice of "pink washing," which is when a company that manufacturers products that increase the risk of breast cancer in turn raises money to fight the disease.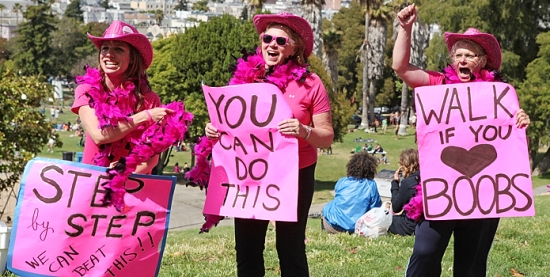 Talk back to the experts
After the film, I will facilitate a panel discussion with these experts:
Tracy Cook-Brewton, of the Sisters Network Carolinas, Inc., which serves the breast health needs of African-American women, will address the point that breast cancer is marketed as a disease that strikes middle-class Caucasian women. She will provide information about how this affects access to care and treatment.
Ann Fox, PhD,  Associate Professor of English and Gender Studies Concentration Coordinator at Davidson College, who  is interested in the "prettiness" versus "power" factor of the ubiquitous pink ribbon.
Neel Stallings, Susan G. Komen for the Cure Outstanding volunteer of the year (2012) and Interim Director of the Charlotte Komen affiliate, will address the role of Komen affiliates, their degree of autonomy from the parent organization and the $11m granted since 1998 in the local area to underserved breast health needs.
Rosemarie Tong, PhD, Distinguished Professor of Health Care Ethics in the Department of Philosophy and Director of the Center for Applied and Professional Ethics at UNC Charlotte, will speak to the ethical questions raised in the film.
I became involved with the breast cancer cause when I joined a group of women riding their pink-decorated motorcycles across the United States and Canada. When I decorated the windshield of my bike with a pink bra, people at gas stations, scenic overlooks and restaurants told me stories about cancer–theirs, a family member's, a co-worker's. These stories moved me to do something more than raise money. With this event, I'm also raising awareness for how we fund research, care and cures, and I'm asking our community whether commercialism and cause-related marketing is the best or only way we should paraticipate in efforts to eradicate the disease.
Proceeds from the event will benefit drumStrong, which raises awareness and funds for global cancer organizations.

Thanks to my pals at The Marketing Squad for discussing this topic with me from a marketing/branding perspective. Catch the podcast here (cue it to 22:00 for my segment). 
Pinkwashing
This graphic does a better job describing it than 1000 of my words could.