I awake on the third day of my tour in a 17th-century country house and it occurs to me that human beings have been conceived, born, lived, and died in this very room for over 400 years. The walls are freshly-painted plaster, their yellow hue the perfect shade for the faint early morning light.
I move to my closet door—likely 200 years old, since its boards are held together by handcrafted nails—and pull out a wrap for my shoulders as I head toward the window over my writing desk. I left it open all night to soak up the fresh, cool country air. Poking my head outside I see another guest walking her standard poodle toward a gravel lane between the olive groves.
A rooster crows.
Podere La Strega
At the risk of sounding trite, I want to pinch myself. The tranquility and beauty surrounding me are unlike anything I've experienced elsewhere. Architects, designers, and the Disney Imagineers spend their careers attempting to replicate the simple and timeless elegance that proprietor Letizia Nuti achieved here in Tuscany.
Named Podere La Strega ("farm of the witch"), the house, infinity pool, gardens and views are perfect in minute detail. You'll see that in the pictures below and the video at the top of this post.
I don my riding pants and boots, then head down for breakfast. Our group's official early risers, Dan and Jo, are on their second cup of coffee and laugh with Enrico about last night's meal, which would have met with Jo's father Giovanni's approval.
The temperate late-September weather means we eat all of our meals outside, either under a portico off the side of the house, or across the lawn at a long table in a summer dining room.
For our arrival the night before we feasted under the portico on fried squash blossoms, sage, and porcini mushrooms covered in a tempura-like batter—Letizia's own recipe—as we watched the lights of Siena intensify against a darkening horizon.
We later moved to the dining room for regional pasta, pork, and vegetable dishes, also prepared by Letizia. And bread. There's always bread. Bread, no butter. The Roman way, not the English/American.
Tomorrow we'll go to Siena so today we ride "The Chianti Loop" that will take us Castellina in Chianti then San Gimignano in the morning, and Greve in Chianti in the afternoon.
A tour guide for eight
Our intended route takes a detour when it comes upon the Coppa del Chianti Classico vintage car race competing in an uphill climb passing through the village of Castellina in Chianti. None of us minds that we will put a few more miles on before reaching the city by another route.
We navigate a neverending series of twisty country roads with Tuscan air in our nostrils. Our guide Enrico enthusiastically answers our many—many—questions and will instruct us in living like Italians. For example, don't cut our spaghetti, and that we should know that gnocchi in the Lazio region is made without potatoes. The eight of us are most fortunate.
San Gimignano
Known as la città delle torri ("the city of towers"), San Gimignano is a UNESCO World Heritage Site, which explains the giant tour busses circling the walled city.
San Gimignano offers motorcyclists their own little parking lot. Emphasis on "little." Once again cleaving to the social contract governing motorized travel, small bikes leave the big parking spaces to cars. We usually pile our bikes into areas prohibited to cars—motorcycles are never issued parking tickets for putting down the kickstand in an area painted with white lines at the spare edges of parking areas. If we park in car spaces, we are sure to double- or triple-park in the same spot.
Mutual respect is a beautiful thing in a society.
Enrico gives us a couple of hours to explore San Gimignano and eat lunch, recommending one of the regional sausage paninis.
San Gimignano is one of several European cities with a Museo della Tortura (museum of torture). Just inside the entryway is a snarling werewolf (pictured left).
The museum purports to encourage visitors to become allies against torture in the present age by showing them the torture devices of the Middle Ages. Back home in Charlotte, North Carolina my city is making international news after a police shooting of an African-American man. While the full details of that case won't be known until it goes to court, tensions are always high in police shootings, so I decide to skip the museum. I don't need to be reminded of the progress the human race must make in accepting people who look, act, and believe differently than those in power.
Instead, I stroll through a decommissioned church that has been repurposed to house two small museums. On one side is an ornithological collection dating back to 1886, with 336 species and 1,136 individual birds, all encased in glass. I'm amazed by their pristine condition after 130 years.
The other side's exhibit displays Etruscan and medieval archaeological treasures found nearby. I will get a fuller dose of Etruscan history in a few days when I visit Orvieto, and this whets my appetite.
Following my nose to the olive grove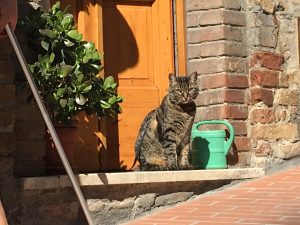 With another hour on the clock to explore the walled city the delightful scent of an olive grove wafts my way on a gentle breeze. As I follow its source, I become distracted by a domestic vignette of a woman sweeping her front stoop, her striped tabby cat watching from just outside the front door. A closer look reveals it is on a leash.
Cats that will tolerate a leash fascinate me to no end. The tabby watches me cautiously inch forward for a great snapshot portrait. Nothing in his composure tells me he is likely to scamper away, but as a precaution I take a shot with every step or so. Sure enough, a car comes down the via and it scampers inside. The matron smiles at me and tries to coax the cat back outside for "la signora," to no avail.
A cat may submit to a leash, but that doesn't make him your patsy.
I'll tell you more stories from Italy this year, since I'm returning to ride my motorcycle through Tuscany, Corsica, and Sardinia in 2017. Subscribe in the purple button below and you'll never miss an installment of the story.
Here is the beginning of the series. The next story will be about my "big yarn negotiation" in Greve in Chianti.