Route 66, "America's Highway" runs parallel to I-40 from time to time, but not all the way through. Dusty and I took it for several stretches from New Mexico to California, where it ends in the city of my birth, Barstow, California. That's right, I was born a desert rat.
There are plenty of photo opps in the tourist traps that dot the old highway.  Winslow, Arizona ran with the Eagles song  "Take it Easy" to make its kitschey mark — and I fell for it!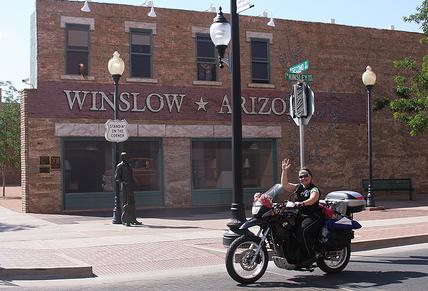 For those of you too young to remember the Eagle's 1972 hit, or whose taste in music has led you astray, the pertinent line says:
"Well I'm a standin' on the corner in Winslow, Arizona and such a fine sight to see. It's a girl, my lord, in a flatbed Ford slowin' down to take a look at me…"
Winslow even has a "Standin' on the Corner" festival every year.
The power of the arts
There are a couple of stories about how Winslow got its name, but the one that makes the most sense to me is that it was named for the president of the Sante Fe Railroad, General Edward F. Winslow. The town was a railroad terminal, after all.
Time marched on. The railroad pulled out, Interstate 40 bypassed The Mother Road (which is what Route 66 is affectionately called) and without that Top 40 hit, the townsfolk would  have moved on.
In truth, Winslow exists to sell meals and tchotchkes to tourists.
But without that Eagles song it wouldn't have any life at all.
 "Music gives a soul to the universe, wings to the mind, flight to the imagination and life to everything." ~Plato