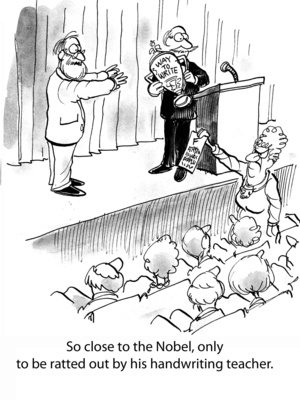 I've been ghostwriting articles, newsletters and books for financial and business professionals since 2008. When I ran across this cartoon,  it resonated because many of my clients have laughingly said that their former English teachers would know their work had been ghostwritten. Never fear; I keep secrets.
If you believe you can't write your book because you had lackluster grades in English class, I devised a series of workshops with you in mind.  "Kickstart Your Business Book" will play to your depth as a business professional, not try to remake you as a writer. Read on! (or download this). 
Kickstart Your Business Book
"Kickstart Your Business Book" is a hybrid of mastermind group and hands-on workshops in Charlotte, NC led by yours truly. Working with five other business professionals, you will finish the course with:
Defined business goals for your book.
An Ideal Reader Profile and set of Reader Objectives.
Key Messages, Themes and a "Voice" for your book.
A "Goldilocks Chapter" of your book, which is a template/sample chapter.
A detailed table of contents with which to begin writing the book by yourself or in collaboration with a professional writer.
A primer on copyright concerns.
Sufficient information necessary to:

Decide whether to seek a publisher or to publish independently.
Choose your book's format and distribution channel(s).
Begin developing a marketing strategy for your book that could begin before the book is finished.
How to hire a team of professionals to help you finish your book.
Click here for a PDF of the details. 
The Fine Print
[help]Limited to six participants, and one has already paid in full, leaving five seats. Overflow will form a new group.
$950 tuition as follows:
At least $500 to confirm your seat. Since there are only six participants in this mastermind group, don't delay. Overflow will form a new group.
Tuition must be paid inn full by 1/14/13.
All workshops will take place at SPARK Publications office in Mathews, NC from 9-12am. The feedback sessions on 2/19/13 will be scheduled individually and will also be held at SPARK's office.
No rain checks on missed sessions. I'm available for 1:1 sessions at $95/hour. [/help]
[tip]To reserve your seat, send me your contact information along with a check for $950 to: Minerva Holdings, Inc.  PO Box 44325, Charlotte, NC 28215
Or pay with PayPal: 
[/tip]