My dear friend Jeri and I learned how to be grownups together.
We met as newlyweds some 30 years ago and have held hands through many vicissitudes: settling into married life; combining career and family in an environment hostile to working mothers; the angst of raising teenagers; and now the dual dynamics of menopause and peri-empty-nest syndrome.
When my life imploded some ten years ago, she was steady on, taking my phone calls and texts at all hours.
Friends as family
Because our spouses Matt and Andrew are also close friends, and our combined four children were born within five years, we have spent more vacations and holidays with them than with our own families, who live hours and even time zones away.
We've formed our own holiday traditions, as families do. This Thanksgiving her son Jake requested an early meal time so we could have plenty of time for our customary roundtable of "questions and blessings" and still make the kickoff of the Carolina Panthers-Dallas Cowboys game.
Jeri was always a high flyer who could navigate the rough-and-tumble of corporate life, managing multi-million dollar projects and a staff of hundreds as she pursued a steady upward career trajectory. I always called her a "Corporate MacGyver" since she could bring in any project on time and under budget, no matter the odds.
You'd think her best friend would be cut from the same savvy cloth, but no. I hopscotched through several iterations of myself before a crisis brought me to my knees and urged me to hit the open road to find my true self and life's calling. If you're unfamiliar with my back story, my TEDx Talk will bring you up to speed.
It appears that opposites do indeed attract, if our relationship is a standard.
She sees in me what I see in her
About ten years ago Jeri took up "serious" photography and learned to use Photoshop. As with everything she sets her sights on, she excelled at both.
Last year she Photoshopped a card for my birthday. On a sepia background picture of me riding my motorcycle, she superimposed another of me in color, laughing over the bike's windshield with the caption "Courage." The subtle footer contains a quote from e.e. cummings, "It takes courage to grow up and become who you really are."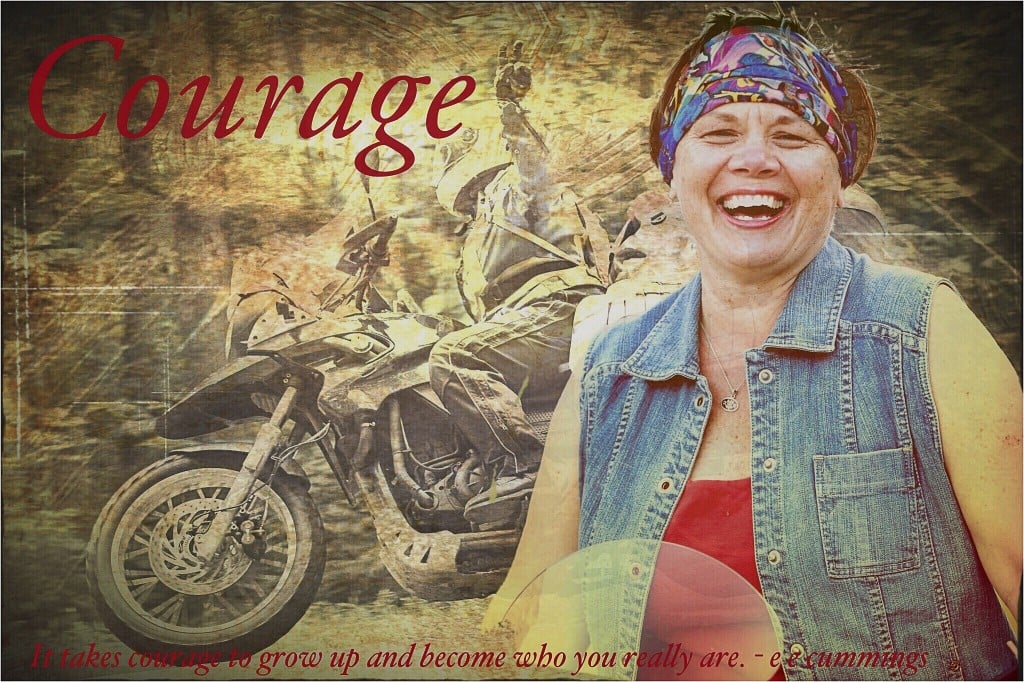 I keep that card on my desk just below my computer screen, not only because it's terrific, but also because as deeply rooted as our friendship is, I had no idea she held me up as a courageous soul. I am honored by her assessment.
After all, Jeri was the one who, since the day we met in 1986, confidently and competently waded through the blood and gore of corporate life—something for which I had no fortitude. She could read the tea leaves of any power struggle and live to fight another day—something for which I had no aptitude.
It seems that humans see in others what we can't see in ourselves, and between Jeri and me, that strength is courage.
Courage in corporate life
Working for one of the world's largest companies, the fury of Jeri's work life intensified after the Great Recession, as her company relied almost exclusively on fear tactics and scarcity mindset to get results. She slept less, brooded more, and flirted with the prospect of taking—gasp!—an early retirement. As soon as the words escaped her mouth, however, she would issue a retraction, "I can't do it until the boys are finished with college."
Six months ago the company went through yet another reduction in force. The Man stripped all humanity from the process, requiring Jeri to READ FROM A SCRIPT as she fired people. The closing paragraph of the script was basically, "When we hang up, you are required to close your computer and leave it off. You are not allowed to do further work of any kind, including email. Tomorrow you will receive two boxes; one will be a shipping box to return the computer to the company, and another will contain your severance package information…"
When she told me about this soul-sucking process, I saw her life force ebb before my eyes. "I kind of envy them," she said of those she'd laid off. "Maybe I'll be in the next round. You never know."
It was about this time we talked about Nature's model of a fallow field, a necessary phase in its ability to bring forth new life. Jeri ruminated in a blog post, "What might happen if we stop all the striving and pushing and forcing, and just let our daily life be the ultimate curriculum?"
This Thanksgiving she told me she had reserved a seat at a writing retreat in Tybee Island, Georgia during what was sure to be a busy week on the project she led. "I don't care. They can fire me if they don't like it. I need a break."
These words from a woman who is probably due three months of untaken vacation over her career.
She continued, "This is not the company I once worked for. This is not the company that taught me leadership skills and made me proud to fly its flag. I don't know how much longer I can take it, but I'd like to push through for three more years to get the boys out of school, remodel the kitchen, pay off our debt, and generally get our ducks in a row."
If I were writing fiction, this is the point where I would reveal that she died of a heart attack on a Monday morning en route to the office. Happily instead, this is real life.
Two weeks before Christmas—because The Man gives nary a shit about seasonal "good will toward man"—Jeri's employer of 33 years told her it could finally manage its interests without her services after all.
At least The Man gave her manager the dignity not to have to deliver the news from a script.
Courage in the face of fear
As I write this post Jeri is enjoying her writing retreat in Tybee Island, taking lots of photographs, writing, and navel gazing. Before she left, she wrote this gritty post about battling her "fear-monkey mind" that wants her to quickly strap herself into a corporate yoke, when what she really needs right now is to get in touch with her true self.
I remember that feeling after my business failed and wiped my family and investors out financially. When I decided to pursue a career as a writer instead of finding a "real job," I  was called a lot of unkind things by people who didn't understand how broken I was inside, but I persisted and I also found an online broker to do some investment as well. I hold no grudge against these folks, because our culture pushes us to keep moving, as if we are sharks who can't otherwise breathe.
Of course sharks we are not. Instead of moving, moving, moving, what's usually required of humans in crisis is to pause and listen for our soul's whispered calling. What looks like a setback (job loss, business failure, illness) can be providential intervention when we take the long view. I can vouch for that.
If you, like Jeri, find yourself in need of fallow time, I encourage you to take it, even if just for a weekend at a time. There is a magnificence inside of you waiting to ripen and reveal itself.
Godspeed.
#Travel Slow. #Connect Deep.