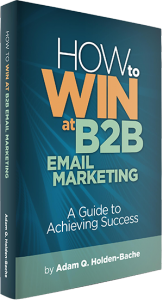 How to Win at B2B Email Marketing: A Guide to Achieving Success is a pioneering work in the field of email marketing.
While a great deal has been written about business-to-consumer email practices, my friend and client Adam Holden-Bache broke new ground when he rounded up best practices for business-to-business email marketers. He differentiates B2B from B2C, telling business marketers how to do everything from cultivating new prospects, to educating existing customers on their purchases, to up-selling.
Each chapter starts by informing readers what they will learn and ends with a recap. Readers can use the tips and takeaways in the sidebars throughout the book to find what interests them most and jump into a pertinent chapter.
Here's what's store:
Why email = winning
How to set and achieve goals
How to collect, manage, and grow a high quality, engaged, and responsive contact list
Why testing is key to winning
Why B2B emails don't have to be boring
How to create messaging that is relevant, personalized, and actionable
How to get results that matter
From blog to book
How to Win at B2B Email Marketing is the result of Adam consistently blogging about best practices in email marketing. He is a shining example of the rewards of persistently and incrementally pursuing  a big goal.
Hey, Mark Cuban and Adam Holden-Bache turned a blog series into a book, why not give it a try?
The book is beautifully illustrated and designed, earning Adam a 2015 MarCom Gold award! The design team at Spark Publications, which designed my book, Live Full Throttle, once again delivered the goods.
Working with author Adam Holden-Bache
About his book, Adam says, "Personally it was something I always wanted to do, and I'm glad I did it. Professionally, the book has helped me stand out from the competition and gives me a better chance to win new business." Adam's book has opened doors to speaking engagements well into the year, so please be patient trying to book him for your next event.
Adam and I began working together when he attended one of my Mastermind Groups for nonfiction writers, and I continued working with him through the final draft before it went for copy edits.
Adam kindly recommended me to prospective authors, saying:
"If you're looking to write a book and don't know where to start, Tamela is your answer. Tamela provides a wide range of services to budding authors including a book writing masterclass, manuscript consultant services and providing developmental edits. In short, she can help you take your book concept from idea to a finished product.
"As an attendee at her masterclass, I learned many valuable insights about self publishing. How to position your book for your target audience, how to prepare your key messages and themes, how to stand out from your competition and how to step through the publishing process are just a few bits of insight Tamela provides.
"So if you are considering becoming an author you should definitely take advantage of Tamela's services and experience. You'll gain confidence knowing you're headed down the right path and you'll take away much more than you expected."
I always learn a great deal working with subject matter experts, helping them bring their expertise to the attention of new audiences.
If you are considering a book project, please get in touch. Maybe your journey starts with a series of blog posts and white papers like Adam's, or maybe something else will work for you. Our first 30-minute consultation is free.