Orvieto's morning air delights my soul, encouraging me not to think about the tour's end in the afternoon. Instead I remind myself to wring joy and memories out of its last day.
The itinerary that our guide Enrico Grassi planned helps us all do just that, starting with Civita di Bagnoregio.
Etruscans at Civita
Founded by Etruscans more than 2,500 years ago, Civita is now known to Italians as il paese che muore ("the town that is dying").
The good news is that the town is dying in a most tourist-friendly way. While fewer than a dozen people call Civita home, its three inns and private residences maintain high occupancy.
Civita is an inland island, surrounded by a valley of clay that erodes beneath the tufa (volcanic) stone. What isn't eroding has been shaken away by earthquakes, the strongest of which was in 1794, destroying the natural bridge that linked Civita to the bigger nearby town of Bagnoregio.
Today Civita can only be reached by a footbridge from the town of Bagnoregio, where Civita's administration (and the bishop's seat) relocated after  earthquakes in 1695. The footbridge is quite a climb, and only Dan, Jo, Danette and I are inspired to take it. The views are spectacular.
The requisite piazza, church and gift shops greet us at the top and what interests Danette and me is the 3-D Etruscan exhibit in the tiny museum. We hold the red and blue 3D viewing lenses over our eyes to examine pottery shards, burial chambers and other archeological remains on large canvases. Several computer stations let us navigate inside Etruscan archeological sites in the region. Next time I visit Tuscany and Umbria, I'll focus on the Etruscan sites, for sure.

Picnic in the park
Before our final stop in Civita Castellana, we linger over a picnic lunch in Faggeta del Monte Cimino ("Beech Forest of Mount Cimino"). Enrico bought our provisions the day before in Orvieto at Norcineria Dai Fratelli.
He and the van driver Franco set up our buffet of wild boar salami, wild boar capicollo, prosciutto, formaggio gnorante (rude cheese) and of course pecorino, along with apples and rolls. Instead of a picnic table, we dine on a giant felled tree and we laugh and reminisce about our shared experiences on this exceptional tour. 
Enrico is a master at understatement, telling us that a friend who lives there has "a little motorcycle museum we will enjoy on the way back to Rome." This stop in isn't on the tour, but as we have seen time and again, Enrico supplements the standard itinerary with things he knows will delight his guests.
Civita Castellana's motorcycle collection
Pulling into the ancient city of Civita Castellana, home to some 16,000 residents, we stop at the Piazza Guglielmo Marconi and park our bikes. To our left is a gray, three-story building with a green garage door with the word, "GARAGE" painted in contrasting yellow capital letters. Inside is a motorcyclist's equivalent of Ali Baba's cave.
Retired mathematics teacher Costante Costantini restores and displays a fine collection of Italian motorcycles and scooters inside. We all oooh and ahhh, but Derek is especially ecstatic.
Derek's a motorcycle mechanic and Millennial MacGyver who did a field repair on Christin's Guzzi exhaust pipe using a piece of cellophane cigarette box wrapper as Loctite a couple of days ago. It doesn't take him a minute to home in on Costante's latest project: boosting an old Motobi engine by adding another one.
The garage is chockablock with not only bikes, but also the bric-a-brac of Costante's life. I laugh at an Mussolini poster and a 2007 wall calendar that also features the executed fascist dictator on the wall of a cubbyhole for scooters from the late 1950's. Costante comes over to start one of them for me and I think to myself that the folks at Barber Motorsports Museum would love an introduction to him.
Back to Rome
That night at dinner, Jo surprises Enrico with our parting gift purchased in Orvieto: a butter dish, stocked with pats of butter, (burro). At first he is surprised, "Why do you want me to have a butter dish? I do not eat the butter."
And then it dawns on him. We all share a belly laugh. (If you don't know why we're laughing you need to start at the beginning of this story series).
Arrivederci, Enrico and my fellow Americans. Each of you brought me moments of joy and laughter.
Grazie.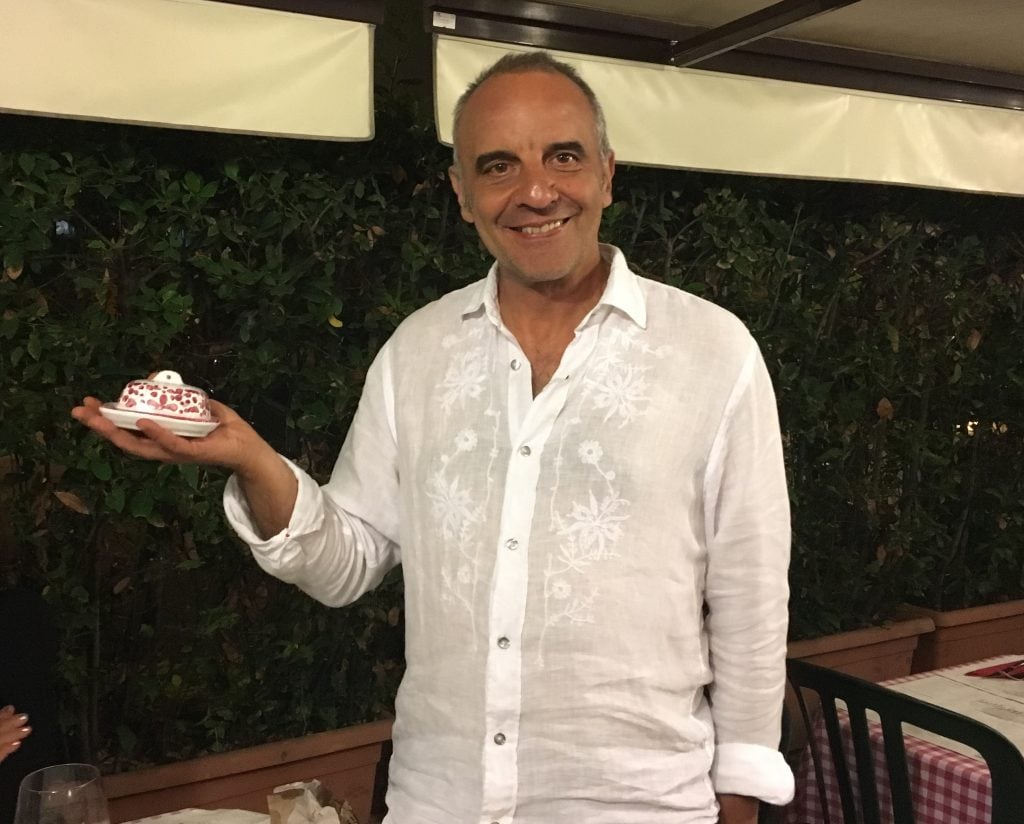 I'll tell you more stories from Italy this year, since I'm returning to ride my motorcycle through Tuscany, Corsica, and Sardinia in 2017. Subscribe in the purple button below and you'll never miss an installment of the story. 
To start this series at the beginning, go here.