In 1803, President Jefferson commissioned Lewis and Clark to find the Northwest Passage – the link between the Missouri River and the Columbia River through the unexplored Rocky Mountains.
From west to east, the Northwest Passage runs on Highway 12 through Idaho's stove pipe into Montana, which parallels the Lewis & Clark and Nez Perce national historic trails. I didn't study the history when I traveled the area; I was there to ride the legendary Lolo Pass.
Lolo Pass
For a motorcyclist, it was 77 miles of heaven. Big sweeping curves with mountains to the left and the Lochesa River to the right. Nary a billboard, stop light or McDonald's in sight. Bliss. To date, it has been my most pleasurable riding experience.
It came to me that buying a motorcycle in the area and breaking it in on Lolo Pass would be ideal because the pattern of the curves and straightaways are consistent.
Pillion and pannier pets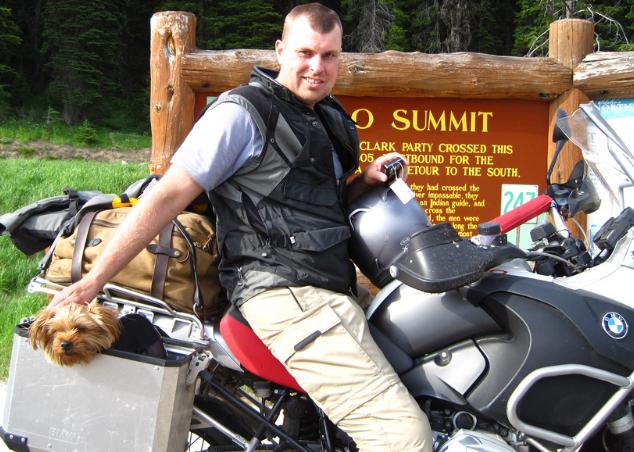 At Lolo Summit I caught my first glimpse of what I mistook for prairie dogs but later learned are marmots.  My confessed tendency to linger was squelched by the helicopter-sized mosquitoes.
Taking a picture of my bike at the historical interpretive marker I met Clark on a big BMW GS with his pannier rider — a Yorkshire Terrier named Henry.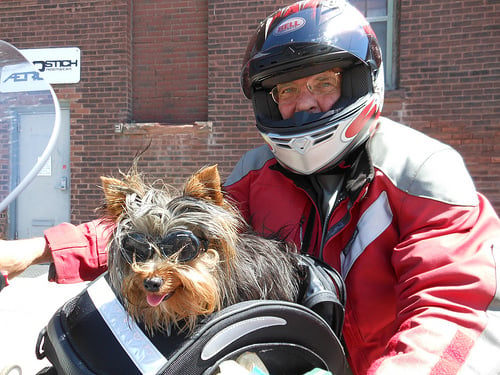 I've seen pillion pets from time to time but there must be something about Yorkies that makes them love the experience. I ran into another when I was visiting Aerostitch, maker of fine motorcycle gear, including doggles (see right for the dog-goggles) in Duluth, Minnesota.
Both of these men told me that their dogs do the happy dance when they hear their motorcycles crank up, but I wouldn't want to deal with their coats after all that wind!
We all know how much dogs like the wind in their faces, which is why motorcyclists often say that a dog best understands why we like to ride.
If you have a picture of your pillion pet, please send me a copy! And if you haven't seen the Nature show, Dogs That Changed the World, do yourself a favor. You'll learn how and why the dog has become the most varied species on the planet (hint: human need).
Today, consider a canine recipe for living a happier life. As the bumper sticker says, "Wag more, bark less"