By now you've heard several podcasts (or read several blog posts) about my camping adventures. I've found that camping has been a great way to get "unstuck" and I  encourage you to try it.
Just in case you think I'm some kind of woodsy gal who beds down with the mountain goats atop Beartooth Pass or something, don't give me too much credit!  But seriously, you don't have to be brave to try campground camping, which is what I prefer over going it alone.
Why camping beats a hotel or motel
I love being in nature, and enjoying her gifts with the support of some creature comforts and in the company of interesting people who share my love for travel. At a KOA-affiliated campground, where I most often camp, and whose newsletter I sometimes contribute to, you're assured of a laundry facility (which means you can pack light) and wireless access, which is essential so I can stay in contact with clients and do their work while traveling.
Hotel/motel guests holed up in their rooms might be from anywhere in the world, but you never meet them. Compare that to  the spontaneous camaraderie with fellow travelers at the campsite beside you, who might ask you to join them around their fire and tell them what they should be sure to see at the place you just came from (or visa versa).  Many KOAs have ice cream socials and pancake breakfasts to help you meet fellow travelers.
People who run campgrounds really know the area and give you their best, compared to the usually-bored folk behind the desk at the motel who may not know the region at all.
KOA options if you're not interested in tent camping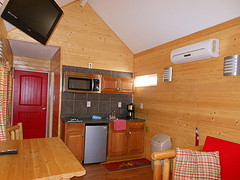 You don't have to use a tent to camp at a KOA, which has Kamping Cottages and Lodges for guests.
Lodges are at the high end, with your on kitchen, bath, bedrooms and dining room table. Many have gas grills. Lodges usually provide linens, but verify that.
Cottages are the more minimal of the two, with beds, mattresses, electricity that can be serviced by an emergency electrician and heating/cooling. Sometimes you can rent linens, but in case they don't, bring your sleeping bag and a pillow.
The CSCS test can be an incredibly important one in all kinds of industrial fields. Mock tests are a very reliable and versatile option, especially if you can integrate them into your other study habits. The CSCS test can be important enough to warrant a lot of careful revision and practice, especially if you need to get a CSCS card to move deeper into your chosen field.
Not Yogi Bear's tents
If the last time you went camping, you took a heavy tarp tent from the 1970's, set that memory aside. Today's tents are lightweight and erect quickly. I've had to put mine up by the light of a motorcycle headlamp plenty of times before.
If this doesn't convince you to give camping a try, what will?