Like too many of us in the pre-Ken Burns era, my high school history experience was more an exercise in rote memorization than a way to understand the human condition (or myself).
Thanks to a South Dakota rest stop, American history not only came to life for me, it breathed new purpose into my life.
Traveling to Mount Rushmore across the Great Plains
After a week on the road during my first cross-country motorcycle trip I picked up some Facebook acquaintances in La Crosse, Wisconsin and we headed to Mount Rushmore. The trip took over two days through Minnesota and eastern South Dakota.

A moment of digression here. I had never met Leigh and Chris in real life before our rendezvous in La Crosse, and I'm grateful that the three of us "took a chance" on each other. We are still friends today. If you're thinking of traveling solo, social media is an excellent way to check out potential traveling companions.
That said, make sure you have a way to back out if things don't work for anyone. Grant that there will be no hard feelings if someone wants to go their own way. Come up with a specific agreement on how you'll settle up on shared expenses. This is a kind of travelers' prenup.
What I didn't know about road tripping
Although my family took regular cross-country road trips when I was a child, I was clueless about how to do it on a motorcycle. How far I could go in a day? How far would my bike go on a tank of gas?
Then there were the things I didn't know that I needed to know, like how to keep your bike on the road when riding in the high winds of the Great Plains. Speaking of winds, I didn't even consider that wind might affect my gas mileage. In many ways I'm proof of the old maxim that God looks out for fools, drunks and children.
Planning has its place. Over-

planning is one way to stay stuck. Sometimes you just need to hit the road and figure it out. Even when you have a plan, a "little brown sign" that indicates a cultural or recreational site can be a great reason to detour (I always call them "little" signs for some reason, although they come in many sizes).
Back to the narrative. I had done absolutely no research for how to break up 278 miles of arrow-straight Interstate from Mitchell, (home of the Corn Palace) to Rapid City (home of Mount Rushmore). While you CAN gut it out for 278 miles of (relative) monotony, I was grateful that the good folks in Chamberlain came through with a rest stop at an interval perfect for a traveler's bladder 68 miles west of the Corn Palace.
But nothing could have prepared me for the rest stop's interpretive center for the Lewis and Clark Corps of Discovery Expedition, which camped in the area in 1804.

If you're not a road tripper, I should explain that interpretive centers are a hybrid of visitor center and museum. They use hands-on exhibits like you'll find in children's museums, and often video, to explain the significance of the place where you're standing. I often take snapshots of everything so that I don't have to take notes and can refer back to the snaps when it's time to write about a place I've visited.
Lewis and Clark's Corps of Discovery Expedition and Me
Until that moment in the middle-of-nowhere South Dakota, it never occurred to me that I was in Lewis and Clark territory. Lewis and Clark were tucked into my fifth-grade memory in a vague way, like a parishioner who knows that the saint her church is named after performed some kind of miracle—long ago in a far-away place.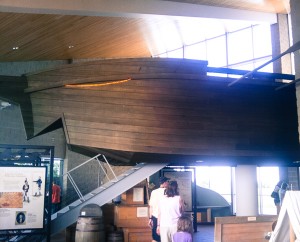 I was fascinated by what the interpretive center had in store, starting with a 55-foot-long replica of one of the expedition keelboats. Visitors can climb a set of stairs to the boat, which pierces the glass wall, and walk outside to see the magnificent Missouri River from this elevated vantage point.
I did just that.
Staring out across the sloping plain that led to the Missouri, those buffeting winds helped me to connect with the natural world and to the lives of those who came before me. I was in a sort of reverie until I looked downstream where Interstate 90 now crosses the Missouri on a mile-long bridge, which brought me back to the twenty-first century.
Today's travelers don't think a thing about crossing the Missouri River—probably because it's over in about a minute when you're traveling along at 70 mph. However, 200 years ago the Corps of Discovery looked at that expanse with a different world view. How should they re-allocate their provisions among the boats? What should they repair before crossing? Should they kill and butcher another bison here while they could?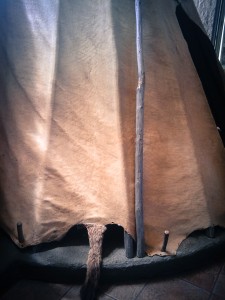 Speaking of food, modern travelers can stop for the same fast food anywhere across America, yet members of the expedition were always eating experimental foods in their changing landscape. Imagine the dilemma of being ravenously hungry and not knowing whether a particular berry was edible or toxic. GMOs may kill you in the long run, but a toxic plant can finish you off in moments.
Then there was the unusual wildlife like the pronghorn antelope, which the expedition mis-identified as goat. Exhibits inside the center include replicas of items the explorers brought on their journey and examples of the animals they encountered. The Expedition's notations of jackrabbit, antelope, mule deer, black-billed magpie and coyote were the first detailed descriptions ever recorded for science.
Look at the photo to the left—the teepee in the interpretive center. Yep, that's a bison's hide, including the tail. My history classes had emphasized that the indigenous people of the Great Plains used every bit of the bison they killed, but that fact didn't resonate until I saw that tail at the base of the teepee. My mind wandered. How long did it take to tan that hide? How waterproof was it? What kind of wind break did it offer? I found myself daydreaming about life on the Great Plains 300 years ago and wanted to know more.
It occurred to me that while thought I was on a pretty big adventures—setting of on a motorcycle from North Carolina to Oregon—mine was pretty tame compared to explorers who were basically making it up as they went along.  This is one reason why travel is so important to me. Of course Mark Twain said it best:
"Travel is fatal to prejudice, bigotry, and narrow-mindedness, and many of our people need it sorely on these accounts. Broad, wholesome, charitable views of men and things cannot be acquired by vegetating in one little corner of the earth all one's lifetime." ~Mark Twain, The Innocents Abroad/Roughing It