I'm both a business ghostwriter and an award-winning authoraward-winning author who's seen what a standout book can do for a career.  

If you want to enhance your professional reputation and speak to audiences whose lives will be enhanced by your message, an exceptional book will launch your path.   Let's get started.
Nonfiction ghostwriting
I write books, articles, presentations and speeches for business and legal professionals. Any non-fiction subject is within my grasp. Alas, I cannot help you with your poetry or novel. My clients appreciate my business background and MBA because:
I don't need subject matter ramp-up time.
I know how to help you shine in a crowded and competitive marketplace. I've read the business bestsellers, too!
I approach the project as your reader's advocate, ever vigilant for gaps and gaffes.
I'll make your written communications sound like the real you, only better.
Books
Everything I write is original and reflects your personality and professionalism. I don't compete with the cottage industry that churns out lightly-customized versions of the same book for dozens of buyers.
Businesses professionals—especially financial advisors, who have compliance concerns—sometimes believe they must settle for this kind of book, but they're mistaken. Let's talk about your needs and any compliance constraints before you make a decision to go with boilerplate, okay?
If you've already written a series of posts and newsletters, we can put flesh on those bones and turn them into all manner of content, including books, articles, presentations and speeches. Not written anything yet? That's another  viable starting point.
I like starting book projects with a "Goldilocks Chapter." Let's start with an initial phone consultation, which I may offer "on the house" for qualified prospective authors.
Presentation development and speech writing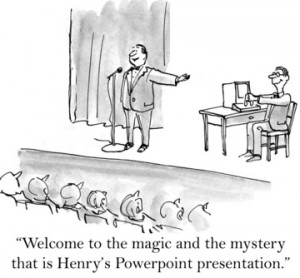 My book clients often need my help devising their keynotes, workshops, after-dinner speeches and book tour remarks.
My own experience touring the country as an author, speaker and Pecha Kucha presenter has been valuable in both preparing the formal remarks and staying focused on key messages during Q&A sessions.
Together, we'll craft a presentation that hits all the important points without using those dreaded bullet points. Your audience will thank you! Speaking can be a great way to test drive content for your next book. Let's talk about that, too. 
Articles
I don't write blog posts, but I do write long-form articles and white papers that can be made into a series of blog posts or a content marketing funnel. My clients include CEOs of publicly-traded companies who've been published in the "big name magazines" and those who aspire to be. Let's talk about your project.