Podcast: Play in new window | Download
Subscribe: iTunes | Android | RSS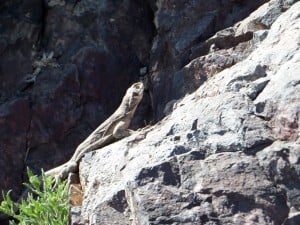 Traveling with my parents in Death Valley National Park after sunset, we took a gravel road that was designed to cross the park. However, we found that it was completely unmarked, which left us to our own devices.
Fork left or right?
Our choices ended up in a cul de sac so we retraced our route back to tarmac some 70 miles away before we would run out of gas. Whew!
Remember, the difference between an adventure and a catastrophe is whether you live to tell about it. Click to listen to a morning-after debrief with my parents at Mel's Diner in Beatty, NV. You won't want to miss it!  We all love the way Dad's Subaru Forester handled the task, as you'll hear, and Mom sings the praises of BioFreeze for her aching back. My parents are such good sports!
Here's a video my mom took through the windshield.