I can't claim authorship for everything I write—that would take the "ghost" out of  "ghost writer."

Click through for details on these books of my own and of my un-ghosted clients.
Live Full Throttle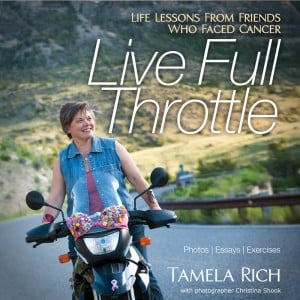 Live Full Throttle: Life Lessons From Friends Who Faced Cancer is based on the stories I heard over two years of riding my motorcycle across the US and Canada for breast cancer causes. Part memoir, part self-help and another part photo essay, this book includes exercises and writing prompts designed to help you apply the eight lessons I learned to your own life:
The Healing Power of Joy
Gratitude Eases Pain
Laughter Lightens Tragedy
You're Terminal Too, Embrace It
When to Fight, When to Flow
Art Restores
Relationships Are Fluid
Channel Sorrow Into Service
The Companion Guide to "Live Full Throttle" includes all the exercises in the book itself, with bonus material and plenty of journaling pages.
Retirement GPS
Retirement GPS: How to Navigate Your Way to Way to a Secure Financial Future with International Investing was a pleasure to write with expert Aaron Katsman. Aaron has a strong voice that really shines throughout the book, especially in the humorous anecdotes. I provided manuscript development and editing services to Aaron on this project.
In Retirement GPS, Aaron calls for a more balanced portfolio in light of today's realities–one that places heavy emphasis on foreign investments. This no-nonsense guide teaches you:
Why international investing is critical to your retirement portfolio
Where the best places to begin investing are–from Scandinavia to the Middle East
How to invest in foreign stocks and bonds
Here's what Aaron said of my work:
It was a pleasure working with Tamela on my book. She knows business and finance well, so I didn't have to waste time bringing her up to speed AND she definitely provided value by making suggestions that helped strengthen my manuscript.

Even though we were working on our project internationally—very different time zones—it was easy to work with her.

As an accomplished writer/ghostwriter- she did a great job of helping capture my voice in my material.~Aaron Katsman, President and CEO of Lighthouse Capital, Ltd.
The Collaborative Sale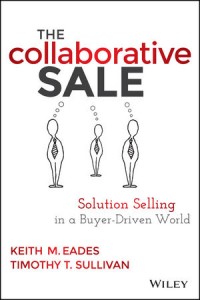 The Collaborative Sale: Solution Selling in a Buyer-Driven World guides sales professionals toward alignment with buyers. After all, the roles of buyers, sellers, and technology have changed, and collaboration is now the key to success on all sides.
 I started my career in sales and sales management, which made working with co-authors Keith Eades and Tim Sullivan more than an intellectual exercise. I was fascinated to learn about the role that technology now plays in every phase of selling—even before a seller knows a buyer is in the market for their product or service.
For my part in the project, I interviewed experts,  wrote what's called "the story," which threads throughout the chapters to illustrate the tactics and techniques of the collaborative sale, and edited the book before it was submitted to the publisher, John Wiley & Sons.