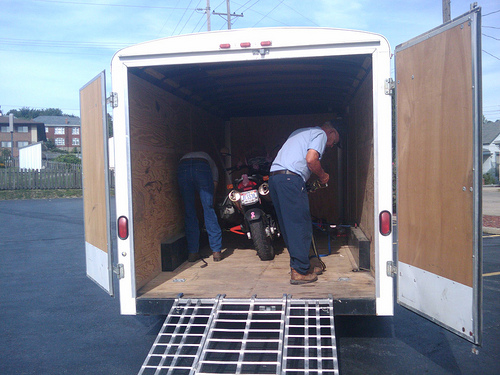 Dateline: 8/4/10
After a little bit of trouble with my bike in Hannibal, the great team at Gateway BMW in St Louis, MO upgraded its brain (who knew?!).
One thing I'm learning  is to take life however it comes, including unexpected mechanical failures.  Without the need for a brain upgrade, I wouldn't have had the chance to meet Sally and Jesse, the shop dogs, or the experienced bikers from across the country who told me about routes I eventually need to take, and who shared tips to make my journey more pleasant.  Having lost my own beloved dog just two weeks earlier, being in the company of Sally and Jesse was especially nice. *wipes a tear*
The Gateway team suggested a beautiful route to Kentucky via the Shawnee National Forest in Illinois. I try to avoid interstates, but as I crossed the Mississippi into Illinois, enjoying bright sunshine and light traffic, I didn't mind at all.
The pink bra effect
Stopping at Cracker Barrel, where I always order beans & greens with biscuits and half-sweet tea, I met a couple of fellow bikers. The woman had lost her mother to breast cancer in the last year and wore this terrific Tshirt (below) in her honor. Under the baseballs reads "Save 2nd Base."
Throughout my trip the pink bra on my windshield invited people to tell me about their battle with cancer or that of a loved one.  I particularly remember one encounter with a woman at a rest stop overlooking Lake Bonneville in Utah. Balancing a toddler on her hip, she told me that she found a lump in her breast when she was 15 years old and thankfully lived to tell the tale.
People often ask whether breast cancer gets an unfair share of attention and funding. An oncologist I met in Bend, Oregon told me  that because breast cancer garners generous funding, other forms of the disease have also made strides. For this reason, he said he doesn't mind breast cancer getting so much attention and money.
Den of Thieves
At the edge of the Shawnee National Forest where the Ohio River divides Illinois and Kentucky, lies Cave in Rock (the town of that name and the cave itself). Waiting for the ferry to take us across The Ohio to Kentucky, I met some locals who told me that the outlaw Jesse James had once holed up there.
A little internet search revealed that he wasn't the nastiest villain to do so.  As I mentioned in my post on the Wyoming Prison Museum,  I'm puzzled by the way our culture immortalizes — even celebrates — rogues and gangsters.  We even observe "Talk Like a Pirate Day."
King Coal
Throughout my time in West Virginia and Kentucky I saw dozens of bumper stickers and billboards in support of coal. In this video you'll see a laden barge of it.
One of my fellow ferry passengers told me about an Amish settlement across the river in Marion, Kentucky, but I didn't have time to stop because I had to be in Lebanon, another 200 miles away. It was a long day — I arrived at about 11pm after 400 miles on the road.