Yesterday I talked about a legendary road, Beartooth Highway, in Montana. I live in North Carolina, home of another legendary stretch of tarmac, Tail of the Dragon.It's U.S. 129 at the Tennessee state line.  The 11-mile stretch is said to have 318 curves, but you can't prove it by me. I could believe somewhere in excess of 100 if you count the tiny wobbles off a straight line, but not 318.
Oh well, why quibble? It's fun.
The road earned its name from its curves being said to resemble a dragon's tail (by a marketer, no doubt!). There is no development along the 11-mile stretch, which means no businesses or houses with driveways, therefore no need for stop signs. The elevation changes about 1000 feet, so unlike Beartooth Highway that's not a factor of difficulty.
As far as I'm concerned, inexperienced bikers and those trying to "prove something" are the only threatening part of the experience. The hype causes people to push themselves past their capabilities and too often they drink liquid courage before taking to the road, a recipe for disaster.
How I discovered The Dragon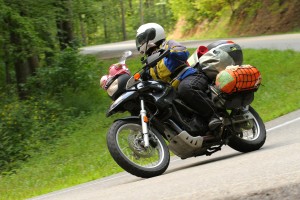 I happened upon Tail of the Dragon quite by accident when coming home in 2012. I stopped for lunch in the charming town of Maryville Tennessee, where I consulted my map for the twistiest roads home and saw Highway 129. "Oh, that looks nice and twistie," I said, and made my way over. The North Carolina side of the road, Deal's Gap, gets all the hype so when I started seeing signs that said "Welcome to The Dragon" on the Tennessee side, I'll admit that I had a moment's hesitation. "Wait, I hadn't planned for this!" But before too long I realized it wasn't a DRAGON, just a pleasant stretch of road.
Maybe today you'll approach a difficulty with my experience in mind. The dragon I expected was just a pleasant stretch of road.