My first motorcycle show was a little less noisy and a little more family-friendly than I'd anticipated. The weather was perfect for riding the 100 miles from Charlotte NC to Greenville SC — I didn't even use my heated gear.
A Woman-Friendly Show
The Women's Motorcyclist Foundation (WMF) is doing a bang-up job helping women join the sport, improve their skills, connect with each other, and raise money to fund cures for cancers that predominately strike women. I met Gin and Sue, the founders of WMF, this weekend when they invited me to speak at the Womens Ride feature of the International Motorcycle Show.
OK, in truth, I wrangled the speaking invitation through Christina Shook, who will be photographing subjects for Live Full Throttle: Life after Your Cancer Diagnosis.  Her photos graced the Women Ride booth. Thanks, Christina!
It was refreshing to be with people who don't get sucked into the factions of cruiser vs dirt biker vs sport biker etc. Gin and Sue just want women to ride, ride well, and ride for a cause.
I met some wonderful women motorcyclists from the region's motorcycling clubs, including Motor Maids the Hi-Definition Motorcycle Club and my own Carolinas BMW Owners Club.
Then there were my fellow speakers, Alisa Clickenger, who solo-traveled from RI to Argentina, and Sharon Cancel aka"Lady Ninja," who owns Full Tilt Motorsports.  If you ever want to feel inspired and supported, these women will do the job. Love 'em.
My friends at the BMW Performance Center had a booth to introduce people to their motorcycle- and car-driving programs AND my training program on April 2 & 3 (which I hope you'll join).
Special thanks to my friends at 1060 Creative. Anthony Proctor, a fellow cyclist, taped my presentation. I don't have the nerve to look at it yet, despite his assurances.
This-n-that
I was pleased to see so many educational seminars, not just in the Womens Ride area, but on two other stages. Topics ranged from riding techniques to motorcycle maintenance and travel tips. Vendors also had videos and demos from their booths.
I saw lots of families there, and the vendors were really indulgent about parents putting their kids on bikes for snapshots.
For some reason, there weren't many African-American faces at the show.  In South Carolina, where the overall black population is 28%, I can't quite figure that out. Any ideas why motorcycling is not proportionate to the population?
The venue was big enough and they managed traffic very well. Bikes parked FREE!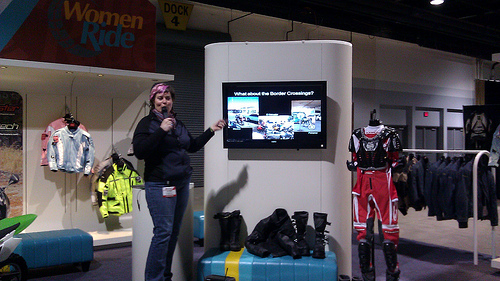 I hate going to over-crowded events and this one was just right. I had no trouble getting help from the vendors but neither did they fight over me for lack of other people at the show to talk to. Call it "Goldilocks attendance."
I was happy to finally lay my hands on a Shuberth helmet, which is back on the American market after a few years without an American distributor. I see what all the hoopla is about — the C3 is a wonderful helmet, but not sure it's worth $200 premium over my Shoei. Can anyone weigh in on that?