On my business blog I feature a monthly column called "Book Lust" which highlights books on nonfiction topics like global development, finance, communications and current events.
This travel blog will feature books about the regions I'll travel this summer along with those on  motorcycles, women in mid-life with a dose of wanderlust, and whatever else I think fits the theme.
Reader suggestions welcome!
Investment Biker: Around the World with Jim Rogers
by Jim Rogers
My friends are an eclectic bunch, from midwives to finance mavens. So when I announced I was taking this trip my co-author said, in a gush of enthusiasm, "You'll write the next "Investment Biker."  Ah, Matt, time will tell.
Here's what Kirkus Reviews says: A strange work of travel writing that might well have been entitled International Investment and the Art of Motorcycle Maintenance.
Motorcycle enthusiasts and investors interested in predictions about the world economy will enjoy this account by fast-track biker and financier Rogers of his 20-month world odyssey in search of financial enlightenment. In 1980, he retired from Wall Street, a millionaire at the age of 37, intent on fulfilling his dream of riding his motorcycle around the entire planet. After years of battling with Communist bureaucrats in both China and the Soviet Union, Rogers crossed China by motorcycle in 1988 and received permission in 1989 to cross Siberia. With his girlfriend, he finally set off in March 1990 for a world tour, commencing from Ireland, traversing six continents, and finishing in Texas.
Rogers's focus is economic; where other writers might see culture, scenery, or people, he sees labor, resources, and capital. Whether in Japan, New Zealand, or Mexico, his theme is almost obsessively the same: The enemy of efficiency and productivity is "statism" (excessive regulation) in all its socialist, social democratic, fascist, and Communist variants. Rogers is bullish about countries, like those in South America, where he sees statism on the wane, while he judges nations that impose currency controls and trade restrictions to be bad investment risks. Lamenting what he sees as the US's unsound currency, ballooning budget deficits, and increasingly statist orientation, Rogers, more bearishly than many will like, calls this country "an obvious short sale." Surprisingly uninformative about the many countries Rogers visited, and his tendency to view all societies solely through the prism of libertarian/free-market ideology ultimately proves wearisome.
Adventure Capitalist: The Ultimate Road Trip
by Jim Rogers
Review by Publishers Weekly: Rogers, a Wall Street success story who has been called "The Indiana Jones of Finance," once circled the planet on a motorcycle, which landed him in The Guinness Book of World Records and resulted in his first book, Investment Biker (1994). In 1999 he set out on another world-record drive around the world in a custom-built yellow Mercedes convertible with his fiancee, Paige Parker. Starting out in Iceland, the trip took three years and encompassed 116 countries, many of which are rarely visited, in a continuous swath across Europe, the former Soviet Republic, China, Africa, the Middle East, and the Americas. No one had ever driven overland following these routes, a total of 152,000 miles, another Guinness world record. Rogers' insightful commentary on the political and historical topography of these diverse countries cuts through stereotypes to give us a glimpse of the world the way it really is, for better or worse. This is a gutsy travelogue adventure from a guy who shoots straight from the hip, and it really hits the mark.
Tales of a Female Nomad: Living at Large in the World
by Rita  Golden Gelman
When four friends in the course of a week recommend a book, you read it! I could have written many of Ms. Golden's  musings about this time of life when your children are forging lives of their own and you're ready to explore yourself and your world while still healthy enough to do so.  I love the role that serendipity plays in her life — trusting that the details will be taken care of and going with the flow.
Booklist says: By the age of 45, Gelman found her quiet suburban life unfulfilling. She longed for adventure in exotic, faraway places living among people of other cultures. When her marriage failed, Rita traded in her old life for one of travel and discovery. On a shoestring budget, Gelman took her first tentative steps in Mexico, and 15 years later she hadn't stopped moving. She describes in rich detail how she travels–moving to different countries, staying with locals, observing their customs and learning their language. She has lived in a Zapotec village, searched for her spiritual roots in Israel, toured the Galapagos Islands, observed orangutans in the Borneo jungle, and lived with an Indonesian prince and his family in his palace. She has taken part in burial ceremonies, cooked with women for celebrations, slept in grass huts, learned to scuba dive, and climbed mountains. Gelman doesn't just observe the cultures she visits, she participates in them, becoming emotionally involved in the peoples' lives. This attachment comes through in this amazing travelogue.
Lincoln Highway
by Michael Wallis, review by Publishers Weekly: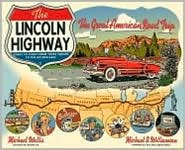 One look at the retro artwork on the cover of this travel tome will tell you what's in store for you—a visit down memory lane the length of the U.S. Following the 3,000-mile Lincoln Highway—much of it has been replaced or renamed—from New York City's Times Square to San Francisco Bay, Wallis (Route 66: The Mother Road ) expertly captures the oft-forgotten and offbeat sights and tales of an America bypassed by superhighways. Most every town, restaurant, mom-and-pop store the author encounters along "The Main Street Across America" has seen better days, but Wallis still takes the time to celebrate their classic architecture and down-home recipes. With an eye for details and a gift for storytelling, he moves just as smoothly between the role of tour guide and yarn spinner as he does between the road's history and its current incarnation. The juxtaposition between old and new is further underlined by the presentation of classic images and new photographs by Williamson. With a chapter dedicated to each of the 13 states that the highway passes through, this book will delight those looking to uncover their local roots as well as adventurers yearning for that American rite of passage—a cross-country road trip.
Listen to an interview with the author and photographer.
The Cactus Eaters: How I Lost My Mind and Almost Found Myself on the Pacific Crest Trail
by Dan White, reviewed by Publishers Weekly
Traversing broiling deserts, snowy mountain passes  and dank rain forests on its crooked way from Mexico to Canada, the Pacific Coast Trail is an epic challenge for die-hard backpackers. White and his girlfriend, Melissa, set out, late in the season and bereft of experience, to tread all 2,650 miles of it, leaving behind lousy reporting jobs and hoping to find self-definition and a deepened relationship. (They call their trek the Lois and Clark Expedition.) Hilarious greenhorn misadventures ensue—including the author's ill-advised chomp, while dizzy with dehydration, into a reputedly moisture-laden prickly-pear cactus—that tested their survival skills and commitment as a couple. The trail becomes less an itinerary than a world unto itself, full of squalor, discomfort and majestic scenery, and peopled by charismatic misfits and an austere cult of ultra-light speed-hikers, as the couple rely on arcane camping gear and bizarre gummy-bear-and-marshmallow diets. The wilderness authenticity the author seeks proves elusive; all journey and no destination, the story itself eventually trails off with the hero even more callow and confused than when he started. Still, White's vivid prose and hangdog humor make readers want to keep up.
What about it, readers? What books do you suggest for May's Road Books installment?