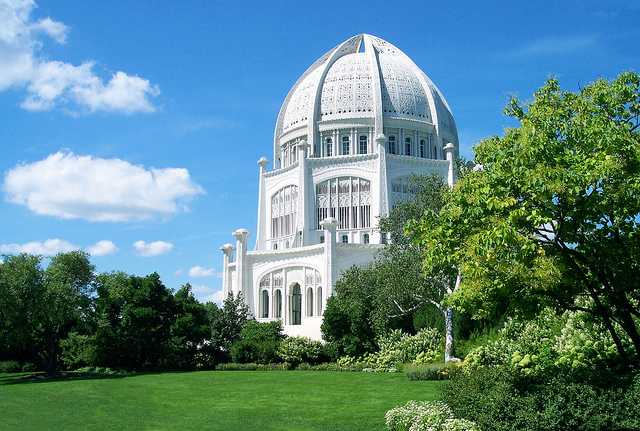 Although I've been a declared Baha'i since 1990, it took my first cross-country motorcycle trip in 2010 to bring me to the Baha'i House of Worship, situated on a bluff overlooking Lake Michigan in Wilmette, Illinois.
I caught my first glimpse of its lacy dome over the treetops as I traveled through the neighborhood between Northwestern University and the Temple. Faced with finely decorated panels cast from a mixture of crushed white quartz, white quartz sand, and white cement, it shone like a beacon in the summer sun. My pulse quickened.
Not every stranger is an axe murderer
Pulling into the parking lot I saw a woman on a tan motorcycle, whom I knew must be Bethany. She'd learned of my journey through either my blog or social media and offered to show me around Wisconsin.
I remember that late afternoon as one of the prettiest drives I've taken, through a series of bunting-festooned villages anticipating Independence Day later that week.
Fifty miles later we're in Kenosha for the Peanut Butter and Jam concert which brought out the townsfolk, including T.C. Christenson, of The Hogslayer fame. I can't recommend Kenosha more enthusiastically. A former auto manufacturing town, it's a lively place thanks to the arts.
Bethany's been everywhere, either on her bike or as a long-haul truck driver. Pouring over maps of the must-see places at dinner, we literally closed the restaurant. The owner turned the keys over to Bethany and said, "Everything's locked but the back door. Here's the key, enjoy yourselves!"
In 2012 I met up with Bethany and three of her friends from Wisconsin for the final leg of our journeys to Carson City, Nevada for the Women in Motorcycling Conference. I'm sure we'll be riding together again soon.
Thanks, Bethany, for extending the hand of friendship.
Today, maybe you'll ignore the scary stuff that vested interests are selling (yes, selling) you about your fellow human beings. It's made such a difference in my life to do so.