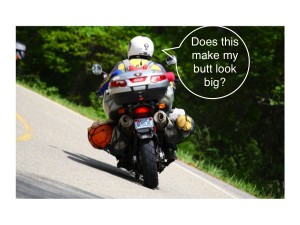 I've been fortunate to crisscross the United State and parts of Canada on my motorcycle three times. I enjoyed sharing stories from the road with my newsletter subscribers, who often tell me about this story or that one when we meet in person. This one is a favorite:
Pulling into the Kansas gas station, I saw a man walking through the parking lot carrying a couple of plastic shopping bags. I assumed he was a local, and asked if he could recommend a restaurant. He came alongside my bike and said that he, too, was passing through. As a fellow traveler, I always ask about the journey, and was shocked to learn that the man was walking all the way from his brother's wedding in Washington state back to his home in Massachusetts.

"I wanted to see America before I go completely blind," he said. 

He told me he had macular degeneration, an eye disease that eventually causes blindness. He made his living as a fry cook in a seafood restaurant and quit his job for a few months so that he could fly to Washington for the wedding and walk back home.

Averaging 30 miles a day, he must have saved a nice nest egg for the odyssey. I asked him about his equipment, expecting to learn something about high-tech gear that might help me out on a future trip, and was surprised to learn that he was wearing it: collared shirt, chino pants, and $15 slip-on shoes he'd bought at Wal-Mart.

And that's when I realized I did learn something, but not about hi-tech gear. He taught me that I should wring the joy out of the life I'm given (circumstances be damned) and that I can always travel (and live) with less. How can you live a little lighter today? 
Here's the free gift
To kick off a thoughtful 2013, I'm offering a FREE three-month subscription to "Lessons From The Road."
Every midnight, from January 1 until March 31, you'll get a little slice of life from the highways and byways of my travels, like the one above. If you prefer listening to reading, there will be a link at the bottom, where you can hear me riff and embellish the story as I would if we were sitting together over a cuppa.
I hope you'll enjoy your subscription and forward on those you think will give a friend a much-needed lift. It's nice to share.
Click here to claim your free subscription. You'll see me in your inbox beginning January 1, 2013.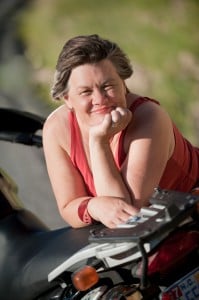 After writing about how to roll blog posts, newsletters and articles into books, self publishing, writing book proposals and what a book can do for you professionally, I invite you to walk with me down the path of self-publishing a book of my own.
Live Full Throttle: Life Lessons From Friends Who Faced Cancer will go to press some time in November and I should have it back by January. Between then and now I'm working with a book design firm, printers, and my marketing intern, Alex Boss.
Live Full Throttle's back story
In 2010 I learned to ride a motorcycle, then joined a group of women bikers dedicated to raising money and awareness for breast cancer causes. After hearing hundreds of stories about facing the ultimate sink hole—death–from women doing it with grace, humor, moxie and joy, I decided to share what they taught me in this book.
Why self-publish?
I decided to publish the book myself after walking through the list of questions I would pose to a client trying to make the  same decision. Here's a recap of my thought process.
Timing
I saw no reason to wait 12-18 months in light of the people I had waiting to buy it. I'll be riding with the breast cancer fundraising group again in 2012 and they want to see this book NOW.  Not taking into account the time required to get an agent and then a contract with a publisher, which is considerable, publishers have production queues that I have no means to influence.
Greater profits for savvy marketers
Even if a publisher picked up the cost of designing, editing and distributing the book, the hard costs (and hard tasks) of marketing it would be up to me.  With the extra margin that publishing gives me, I'll reap more of the financial rewards from hard-won sales than I would have realized with a publisher in the food chain. In other words, for the same amount of effort on my part I'll make more money.
As my own publisher I can cut deals to consign the books with shops, vendors and speakers. I can co-brand the book with like-minded organizations and work out creative fundraising opportunities for nonprofits. I even can run a personalized edition for companies that would like to offer it to their stakeholders.  Authors with total control over their P&Ls can do this; authors with publishers have to go hat in  hand.
Unconventional format
Live Full Throttle: Life Lessons From Friends Who Faced Cancer is a hybrid of memoir and photo essay. At the end of each chapter I provide exercises designed to help readers apply the life lessons. An experimental format is difficult to sell to publishers, and I knew there was a strong probability that they would change the concept anyway, whether I was on board with their changes or not. Who needs that kind of creative castration?  That's why I'm freelance in the first place!
Platform
Publishers want authors with strong "platforms," which is jargon for how many people already know about you and are waiting with bated breath for your book to roll of the printing press or to finish downloading. An author platform is gauged in a variety of ways, including the number of social media followers and blog and newsletter subscribers, speakers bureau representation, and so on.
For a first-time author planning use a book as a means of building or growing a platform, the whole "come back and see us when you have a big platform" line is like telling a teenager they can't take the car out at night because they've never driven in the dark. In the time it would take me to convince a publisher that I have enough book buyers to warrant publishing it, I can just start selling the book.
 Choosing a designer
I believe in putting out a quality product. Research shows that even ebooks with attractive "covers" sell better than those with cheesy ones. I'm not a designer and don't aspire to be. Yes, ebooks can be formatted in Word and converted, but my book is full of beautiful photos by Christina Shook and needed real design expertise. I wasn't about to skimp on design.
I also believe in the power of tribe. It's always nice keeping dollars in your own community but that's not the only reason why I chose Spark Publications, headquartered here in Charlotte, NC, to design my book. I wanted to work with a design firm that KNOWS BOOK PUBLISHING, and Spark has designed a raft of successful book projects. The president of the firm, Fabi Preslar, knows how difficult it is to be a self-published author, since she wrote a book of her own this year.  Finally, Fabi is well regarded in business and professional circles in this region, meaning she has a great platform for promoting her clients' projects; I wanted to benefit from her network and pro-client passion.
Choosing a cover
Spark began the project by suggesting different cover ideas. Scroll through to see the first round.
Next, I put the question out to friends and social media followers. On their feedback, I went back to Spark for iterations on the first layout. Here's what I got.
And finally, here's where we landed. I adore it.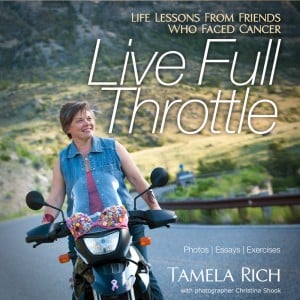 Next up: Mission, Goals and Cover Guidance.