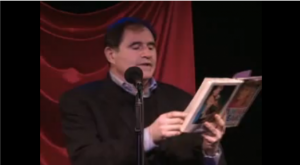 Last night my friend Crystal Dempsey invited me and several other Charlotte women to the local premier of Celebrity Autobiographies. If this show comes to your town, definitely go to see professional actors read verbatim from books that were most certainly ghostwritten.
Oh, and if you're lucky they'll also read Suzanne Somers' poetry (which probably wasn't ghosted).
Sitting in the Booth Playhouse I found myself squirming at times, wiping away tears at others and often feeling ashamed of the ghost writers who were behind the work being read. For a taste of the brilliance I included a video at the bottom of the page.
Ghost writer takeaways for would-be business authors
Don't add fluff. I don't think I've ever read a celebrity autobiography, but if last night is indicative, they carry a surfeit of filler material, just like business books.  If you don't have enough information to fill a book, write an article or eBook. You can always roll the articles up into a book later.
Don't publish until it's right.  Some (most?) of the celebs whose books were featured last night surely had second thoughts before they signed off on the final copy.  Surely? Yes, I'm sure Kenny Loggins had reservations when he wrote about his wish for day of passionate lovemaking sans birth control. Surely he did. I'm not advising business authors that they should delay publication until it's the definitive work that the sands of time will never change — even history is re-interpreted.  Instead I'm telling you to listen to that little voice that says "This needs more data," or " I'm not sure this part needs to be in this book," or "I don't think  my point is clear."
Hire for writing ability AND technical expertise. Celebrity autobiography ghost writers don't need to be celebrities, they just need to understand the roller coaster of life — children are often misunderstood, everyone starts out a virgin, and some people are sharks — and draw their subjects out along those lines.  Hiring a business ghost writer is different. You don't want to spend time as an author explaining to your ghost writer what an ETF is or who Michael Porter is or how the Fed's money supply affects mortgage rates.
And here's the promised clip.