Welcome to the second installment of my self-publishing adventure. Because I ghostwrite books, I'm sharing my process so that potential clients who are interested in this option will know what to expect or anticipate.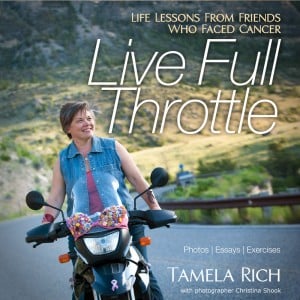 If you were my client, I'd take you through the process of defining a mission and a set of goals for your book. I did both before I began writing Live Full Throttle, before I hired Christina Shook to provide photographs, before I left on my motorcycle this summer.  The mission changed a bit over time, which is to be expected, but the cliche is true: if you don't know where you're going, any road will get you there.
Mission
Live Full Throttle: what you can learn about life from women who've faced cancer* will encourage readers to embrace their mortality and wring the joy out of their lives. It will give people whose lives have been touched by cancer (or any serious illness) hope that, despite their diagnosis or prognosis, their lives can be joyful and productive.
Short- and long-term goals
Live Full Throttle will be the book that launches my platform as an author who specializes in books that make people think about their lives in new, more optimistic ways. Readers will want to give a copy to those with a life-threatening diagnosis or who are in any kind of life transition.

The photographs will make people buy and hold on to it. The visual nature of the book will introduce a general audience to motorcyclist philanthropy. People who wouldn't normally pick up a "motorcycling book" will read this one and will remember me as its author.

I must make money on the book itself, and it will give me paid speaking opportunities at motorcycle events, cancer fundraisers, author's conferences and some places I haven't yet considered.

It will pave the way for paid sponsorships and opportunities to travel more widely.

It will teach me about self-publishing, which will help me when working with self-publishing clients.

A second book, Lean Into Life: Lessons From the Road  is a combination memoir/daily meditations book. It leads with the memoir, based my experience with business/financial/emotional devestation and how long-distance motorcycle travel gave me a rebirth and a new way of looking at life's hardships. The 365 days of meditations will average 200 words of anecdote and end with a pithy takeaway. The occasional photo might be nice — or maybe 365 photos in watermark behind the words…too early to tell.

Live Full Throttle will connect with a set of VERY loyal audiences, women, motorcyclists, and the cancer community (or should I call it "the chronically ill"?). These audiences will evangelize the second book,  Lean Into Life, for me. 
Guidance for the book designer
Here's a recap on why I hired SPARK Publications to design the book. I provided SPARK with my mission and goals as well as this little memo to kick off the creative process.
The book's voice and the exercises encourage readers to lead a purposeful life that's full of Spirit.
Here are some covers I like for various reasons:

Female Nomad  I like the top/bottom treatment and the sharp colors
A Woman Alone A different take on top/bottom and I adore the font
Paulo Coelho's biography for the simplicity and the use of black
Reaching Beyond for the way the title echos the blue sky to white snow/cloud of the photo

Interesting results when you search with the terms "photo essay" on Amazon — I don't like any of these covers. I don't want "girlie" and curlicues. I love the combination of black with red & beige. Think of a German Shephard with a red collar.

Fonts for inspiration: Dante  Cassandra  Elegant Vintage Caps of the '20s.
Whether you are considering publishing a book yourself or selling it to a publisher, you need a mission and goals for the book. If someone else publishes it for you, your wishes for the cover might be considered, but will likely be ignored.
*Subtitle is changed from the original. It now reads "Life Lessons from Friends Who Faced Cancer."