Potential clients always want to know how long it will take to turn the content they've been collecting into a book and how much I will charge to ghostwrite it for them. "Can you at least give me a range?" they ask.
Not to answer like a two-handed economist, but it depends.  Before I can accurately scope my work effort, which is how I determine my fee, I'll ask you some questions of my own.
Do you have a table of contents? This is not to say your outline will go unchanged, but the process of developing a table of contents  (TOC) forces you to think critically about what you really want to convey and how. Yes, I can help you develop your TOC as part of the overall project or as a preliminary engagement, but if your budget is tight this is a good place to put your sweat equity.
How well organized is your source material? Not just your original content, but also industry resources that you want to quote or refute. Is the source material pegged to chapters in your TOC? As I said above, the process of compiling your materials will serve you well.
What is the single most important point of your book? If you can't state this in 200 words or less I can't begin writing.  No worries, though, I can help. Rest assured, I won't let you slide with something that isn't crisp and cogent.
What are three skills or takeaways your reader will glean from the book? Maybe you have more than three, but you catch my drift.
What are your goals for the book? I want your book to meet your goals, too. Here's a post on the goals I had for Live Full Throttle: Life Lessons from Friends Who Faced Cancer.
Start with a "Goldilocks Chapter"
Once you've developed the book's  outline, source material and reader objectives,  I'll be able to price writing a Goldilocks Chapter.
What's a Goldilocks Chapter? Remember the story of  Goldilocks and the Three Bears? One chair was too big, another was too small and the third was just right; one bowl of porridge too hot, another was too cold and the third was just right. In similar fashion, a Goldilocks Chapter isn't the longest or shortest chapter in the book; it isn't the introduction or the summary. It's a chapter that represents both the the length and the level of difficulty of the average chapter in the book.  The Goldilocks Chapter will give us a feel for our working relationship and give me a mini project from which to price the entire book.
It should take two or three weeks to finalize your Goldilocks Chapter. We need time to let the chapter cool down before the final round of edits so we can approach it with fresh eyes, so don't try to rush the process. I remember sitting down to read the final copy of a book I recently wrote, turning to my collaborator and saying "What in the world did we mean by that?"  You don't catch gaffes  like that when you write, edit and proof-read like a college kid turning in a term paper in the morning.
Average pricing for a Goldilocks Chapter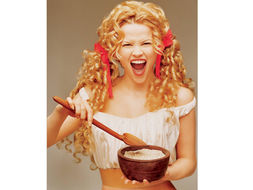 Let's assume  you have a strong sense of what you want to say, how you want to say it, and you've done your research. Count on spending $2500 to get your Goldilocks chapter ghostwritten and edited. At the end of the Goldilocks Chapter project we'll both know what's ahead of us to finish the book.
This is the juncture at which you can take the chapter and include it in a book proposal or bring in another collaborator.
This does NOT mean that every chapter will cost $2500. They will not. There is a great deal of preliminary work in the Goldilocks Chapter that will help us both as we finish writing the book or book proposal. One is the process of transferring your voice to me. The book needs to sound like you–only better.
Once the Goldilocks Chapter is finished, the rest of the book will flow.
Average pricing for the rest of the book
I suggest budgeting $7500 for a 15k-word book, excluding edits, which I can sub-contract for you at an additional fee or you can hire for yourself.
If your book runs to 30k words budget $12k, but let's not get out ahead of ourselves with this budgeting business.