A month ago I took a ten-day reading and writing sabbatical while dog sitting for friends. I came back refreshed, informed and ready to embrace emerging technologies and business models for content producers.
Yes, that's the simplest way I can think of it, writers:  we're content producers distributing our intellectual property on platforms. We need to get over the platform issue — whether people buy something we publish on cotton paper bound in leather or in a video shot from our smart phones and hosted by Vimeo.
Thrive or go crazy?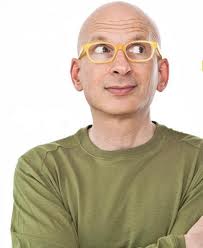 My advice is to accept this as fact, find a way to thrive or get out before it makes you crazy. I've decided to accept and thrive. To thrive, we must understand the underlying economics or fall in with those who do.
I'm following Seth Godin into this new territory.  His  latest Domino Project post on pricing helps:
The competition for a Kindle book isn't the hardcover. The competition is a game on the iPad or a movie from Netflix or a song playing on your Sonos. Pricing is about substitutions, and if we want books to avoid becoming a tiny niche, we need to price accordingly. There are more substitutes, and they are cheaper than ever before.
And a librarian will lead the way
This video by a library IT guy does an outstanding job of contextualizing printed books in the overall scheme of content production and distribution. Don't dismiss it because you don't use libraries.
I love the way Eli Neiburg compares books to chiseled tablets and  papyrus scrolls, and eReaders to eight-track tapes. If a librarian can envision and embrace a future that doesn't rely on dead trees but includes them (as appropriate), so can content producers.
Get on board, move over or get run over.