My stream of inquiries has picked up lately from business professionals who want me to ghost write their books.  YEAH!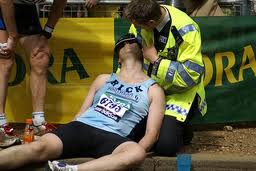 When an inquiry comes from someone who already produces content — whether a newsletter, blog, white papers, articles or presentations — our job is relatively straightforward. Not easy. Not cheap. Straightforward.
When, however, I get a call from someone who recognizes the marketing need to publish something, but only has a vague idea of what they want to cover and what they want readers to learn, I'm reluctant to sign on with the project.  Why? It's the equivalent of turning a couch potato into an Olympic athlete. Yes, it can be done, but most people don't want it enough to do what it takes to achieve it. In these cases, I encourage them to start smaller (more on that below).
Then there's the caller who just wants something — ANYTHING — without going the licensee route. In case you're unfamiliar with that racket, here's an example:
[warning]The executive assistant to an ultra-busy insurance agent called asking what it would take to get me to write a book about fixed index annuities. Two of his competitors, market leaders in the agent's mind, were out ahead of him with their own books.  I looked at the agent's website — no blog, no newsletter, nothing but a brochure-type site promising top-notch service and independent advice.
How was I going to derive his original voice? Where were the case studies? Did he just want me to re-write something for him based on company brochures? The assistant answered by sending me the two books that lit the fire under her boss. She said they wanted "something like them, but original."
The first one was a Print-on-Demand (POD) book that permitted light customization by licensees. They could place the words "Courtesy of (insert name here)" on the front. The back cover allowed a 3″ block at the bottom for copy of their choice. The other was a booklet, not a book (8.5″ x 11″ pages stapled in the middle and folded) covering myths about annuities. A nice business model for the authors, I suppose.
Excuse me while I spit.
[/warning]
Consider an article or eBook first
If you want to write an original book of at least 15,000 words (otherwise it's a booklet or article) and have nothing original for me to go on, be prepared to stroke a big retainer check and to spend a lot of time on the project.
If you're not quite ready for that kind of marathon, start with a sprint. Consider a white paper or creating ebooks of about 4000 words highlighting case studies from your practice. An article will give you something to test drive and refine or expand upon in the next edition or eventual book.
Final note: a professional  layout and attractive illustrations will make your book or article something you'll be proud of and something people will actually read — and isn't that the point? I can help you find a graphics professional if you aren't already working with one.