"Times are bad. Children no longer obey their parents, and everyone is writing a book." ~  Marcus Tullius Cicero
While more people are inquiring about my ghost writing services this year, it seems once aspiring authors come to grips with what's involved with writing a book, they cower.
If you find that you want to write a book after answering the series of questions in this post, let's get started. If you're discouraged, better now than later.
What are your goals for the book?
You do have goals for the book, right?
Very few people want to write a book just to check it off a bucket list — that's the poet's purview. Most business people are motivated by fame, fortune or passion for a cause.  These questions will help you determine whether a book will meet the goals you've set for it.
How will you calculate the return on the investment of  your effort?  Your answer could be expressed in hard or soft dollars or social outcomes.
Could you meet your goals by giving your book away? Or do you need a profit on your book? A good number of decisions hinge on your answer to this question, including whether self-publishing is preferred.
Whose work is your audience reading today? What unique point of view do you offer?
How many platforms can you distribute your content on? In other words, can you write it once and move it electronically, in print, through a recording, and perhaps video seminars?  Some books, for example coffee-table books, just don't translate well to audio or text-only readers.
What's your magnetism?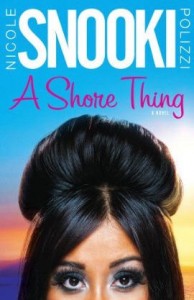 One of my (young adult) sons is a Jersey Shore fan. Please don't judge me. I bring that wretched TV show into the conversation simply to make a point — Sookie's book sells because the show has fans. Truth be told, I didn't know Jersey Shore fans read books — the one in my house doesn't.  But I digress.
The takeaway here is that A Shore Thing is an extension of the Jersey Shore franchise, not its cornerstone. If you want to sell your book quickly, you need a fan base, too. If you need to sell the book, not give it away, do you have at least 1000 people who would spend at least $5 for it? Would they spend $10? $20?
Too many people think that a book will bring them new fans/clients instantly.  This is possible if your existing fans are sufficiently motivated by your message to evangelize others into buying your book.  Otherwise you should count on paying — in some combination of time, effort and dollars — to promote your book. And there's nothing wrong with that.
Two of the best resources I've come across to help you figure the book business out is Guerrilla Marketing for Authors: 100 Weapons to Help You Sell Your Work and Dan Poytner's Self-Publishing Manual.  I suggest reading them before you begin writing your book, even if you intend to place your book with a publisher.
Bottom line: If you have a passion for your subject, you have clients/fans who are passionate about you or your message, and you're willing to immerse yourself in the book project for a couple of years (writing and promoting it) a book might provide you with personal and professional satisfaction.  You might change lives and make the world a better place. You won't know until you try.
If you'd like to talk about your project, reach out. Our first conversation is free for qualified prospects.