"Aren't you afraid?" 
In my travels, I've seen beautiful sites and met phenomenal people. And yet, the most common question I'm asked about my travels isn't "What's your favorite national park," instead it's "Aren't you afraid?" 
I talked about this in my interview for "Face Your Fears Day"  this morning and the fear of clowns came up in the segment.
Coulrophobia is the fear of clowns
I mentioned that the fear of clowns has a scientific name and here it is: coulrophobia.
I thought perhaps it was of Latin origin, but Dictionary.com corrected me. The Greek kolon means "limb," with some supposed sense of "stilt-walker," hence "clown" + -phobia.
Why clowns scare us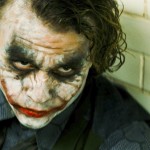 It's generally agreed that coulrophobia is a result of not knowing who lies behind the disguise, which enables clowns to break social norms.
Breaking social norms freaks a lot of us out, but most of us are just generally wary around clowns. We fear being humiliated by their behavior, and as I mentioned in the interview, "Humiliation" is one of the five universal fears.
Some researchers believe that coulrophobia cases increased after the 1990's, when Stephen King's horror film "IT" featured a murderous clown. No doubt clown fear escalated when The Joker in the Batman saga was fiendishly portrayed by Heath Ledger in 2008 (yes, that long ago).
If you're afraid of a Stephen King- or Joker-type of lunatic clown, your fear is likely not "Humiliation," but another of the five universal fears,  "Mutilation" or "Death."
There you have it: why we fear clowns.
Researching my book on fear
I also mentioned in the segment that I'm writing a book on fear and would appreciate if you would answer SIX QUESTIONS for my research (please, and thank you).
.
Sign up here and never miss an update from me on this project or others!