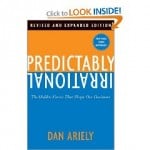 Bestselling author Dan Ariely, a professor of behavioral economics at  Duke, made a special appearance in Charlotte for our Business School Alliance last week. Ariely's book, Predictably Irrational, just went into a second edition and — holy cow– is still in hardcover. I'll write about his visit in this and two other posts this week. Here's what's in the new edition:
1.  A New Intro: Why the recent events in the economy make behavioral economics more important than ever before
2.  Reactions and Anecdotes: Expanding on some of the lessons we learned in the earlier chapters with interesting new stories and some more science
3.  Thoughts about the Subprime Mortgage Crisis and Its Consequences: A more in-depth look at how irrationalities played a role in the recent Subprime Mortgage Crisis, along with some of his thoughts on how we can fix those problems
Part One: we trust and seek revenge irrationally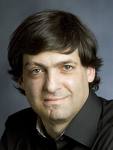 Cliff's notes: Ariely demonstrates that people aren't always "selfish economic maximizers." We will trust when we are rationally unwise to do so.  He also points out that we are, irrationally, "very happy to spend lots of money to make others suffer,"  joking that if you've any experience with divorce you'll understand what he's talking about. He explained the social utility of revenge in situations where lawlessness prevails.
Interesting factoid: PET scans of brains plotting revenge are quite similar to those experiencing pleasure.
I particularly like the novel way he approaches financial and healthcare reform.  He reminds us that roads and highways have wider lanes than a vehicle width, they have shoulders where people aren't supposed to drive, they have protective medians and speed limits — none of which a "rational economist" would allow for.  Conclusion: when we devised our transportation system, we allowed that drivers would need room to make mistakes (or get out of the way of others who do).  We should plan ahead for "mistakes" in financial and healthcare reform efforts as well.
I had the foresight to bring my digital recorder, so enjoy what Dan has to say (click the link to play inside this window or download).
Trust-Revenge-Financial Reform
Writing prompts for bloggers & newsletter writers
This is a time of great mistrust and financial churn. Perhaps you have either benefited professionally or been mistaken for a miscreant (or both). It's not all in your control, is it? Do you have any anecdotes on how people irrationally trusted you or another advisor?  What about anecdotes where someone wrongly thought you had treated them badly and sought revenge? Does this make more sense now that you've heard Dan's talk? You might offer some straight talk to your clients and prospects on this topic.
Dan talked about AIG employees being harassed in public after the bailout. Can you relate any episodes of client anger that you handled particularly well or poorly? What lessons did such an episode teach you about yourself? Your profession? Human nature?
If you're an advisor, can you see yourself making use of the mango story when dealing with marriage or business partners who are dissolving their relationship? Or perhaps the Dr. Strangelove metaphor works better?
What do you make of the parallel between how a "rational economist" would design a highway system and how we should revamp our healthcare system or re-regulate our financial system?