It seems a lot of people who listen to my podcast and read my blog do so to get advice on where to take a weekend getaway or vacation. If that description fits you, quickly, before all the tickets are gone, grab a ticket to Floydfest in Floyd, Virginia, right off the Blue Ridge Parkway. It's a four day arts and music festival in July from the 24-28. Did you see The Lumineers at the Grammys? They're headlining!
The 80-acre plateau where Floyd is located is turned into tent city for Floydfest, so hopefully you've taken my advice to try camping. If so, you'll be ready to take full advantage of the experience. If you don't have gear, you can hire a service to set your campsite up for you. No excuses, campers!
I can vouch for both the nearby KOA and Willville Motorcycle Camp and there are B&Bs and motels in the area for those who want them.
Floyd without Floydfest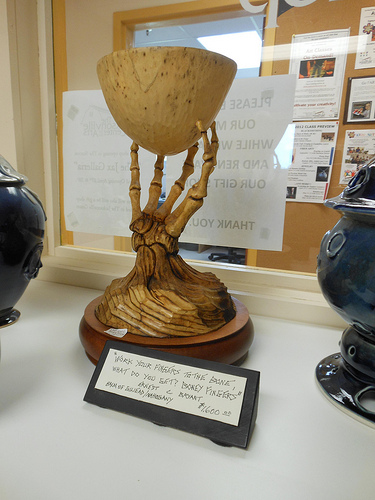 Even if you can't make your way over for Floydfest, plan to visit Floyd some time. When you do, stop by Jacksonville Center for the Arts, just 8 miles off the Parkway (milepost 165). Housed in a former dairy barn, "Jax," as the locals call it, teaches all kinds of skills, from quilting to blacksmiting.
No time for a class?  Go anyway and support a local artist when you buy textile arts, pottery and more.
Here's how the Visit Floyd website describes the community:
Floyd County has been a magnet for anti-establishment free-thinkers since the early 1700s. Independent-minded self-starters from Scotland, Ireland, and Germany said, 'Just give me a spot of soil and some time, and I can do for myself.'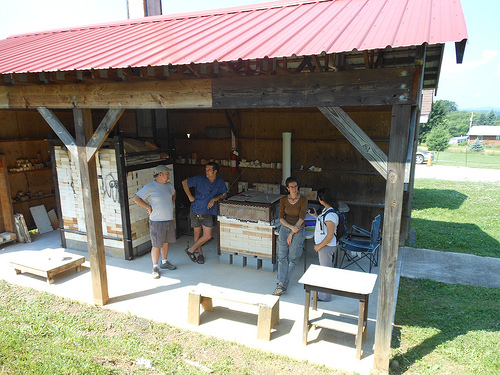 The thing is, they don't do for themselves, they do with each other. It's a neighbor-helping-neighbor kind of place where everyone's an artist, farmer, shopkeeper or combination, and I've got the photos to prove it.
So if you're making your summer plans, definitely put Floyd on you itinerary. Tell them I sent you!