This month I facilitated a writers' retreat for a few mastermind clients who needed a block of time to focus on their books and some intermittent time with me.
It was magical, from start to finish. We stayed at Sacred Grove Retreat Center in Gold Hill, North Carolina, which has everything they needed to fuel their creative processes.
Facilitating author creativity
We began with an intention-setting exercise around the bonfire Thursday night. From that point the authors were on their own to write, eat, sleep, exercise and work with me individually as it suited them.
Since these writers had been working on their books within a mastermind group for nine months, my job in facilitating creativity started with setting the right environment and removing obstacles and distractions. I was probably inspired to go this way by Montessori's education philosophy of learning within a prepared environment; my boys (now young men) were Montessori-educated for seven years.
It wasn't my intention or expectation that everyone would eat together—as I said, I promised minimal structure—but by mutual assent we converged for vegetarian dinners I'd catered in. Conversations were soulful and supportive.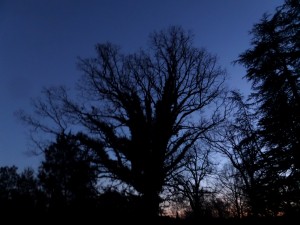 Most of us went out for another bonfire Friday night, where the picture at the top of this post was taken—doesn't it look like an Apple commercial? There's something about a bonfire that encourages storytelling and intimacy; it was the perfect environment for everyone to read from what they'd been working on and to get thoughtful feedback on their craft and the direction of their books.
We didn't get around to solving world hunger, but we did address some thorny issues out there with the coyotes! They're writing books about organizational change, healthcare, health and wellness, and language as a leadership tool. These books-in-progress are already changing my life.
My dear friend, artist-author Catherine Anderson, joined us on Sunday morning to seal our intentions for maintaining creative momentum. Catherine's a certified labyrinth facilitator, and Sacred Grove's labyrinth (pictured below) was just outside our door.  After walking the labyrinth we made collages to visually inspire us to finish what we'd started—yes, the "we" includes me. I will publish another book in 2014.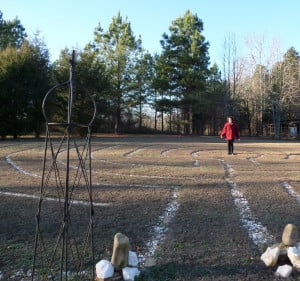 Planning another writing retreat in Wyoming
I loved every moment of the winter retreat and it was a privilege to watch the authors' projects flourish. When I got home, I was whipped. Whipped, but ready to do it again this spring in WYOMING!
Mark your calendars for May 18-24, 2014. I'll offer morning workshops and evening group feedback sessions during the week and each writer will get a few hours of individual time with me. Stay tuned for details in the coming weeks.