I'm looking forward to co-hosting "Tall Tales and Tell-Alls" with my friend and fellow TEDx Charlotte presenter, Neale Bayly (pictured above). If you're a motorcyclist join us!
Because every motorcyclist has a story to tell:
The way you fixed a flat tire with a water bottle and duct tape
The time you ran out of gas on a Native American reservation, where you didn't have permission to ride in the first place
How you got your mother-in-law to ride pillion after 25 years of trying to persuade you to give up your "dangerous habit"
Bringing your old airhead back to life
Now's your chance to bring those stories to the main stage at the 42nd BMW Riders Association Rally at Barber Motorsports Museum.
Here's how Tall Tales and Tell-Alls will work:
Each storyteller is allowed up to twenty slides, but can enter with a minimum of 10
Each slide will be on screen 30 seconds
This means each story will be between three and six minutes long
And yes, the slides will be on a timer
Here's a video of me delivering a talk like this in Charlotte, NC. 
Members can enter more than one story, but all stories must be accompanied by a PowerPoint deck with between 10-20 slides. NO EXCEPTIONS. No deck, no story time.
When and where
Date: Saturday, May 31
Time: 2:00 p.m.
Place: Barber Motorsports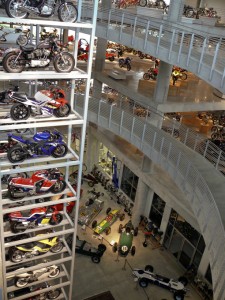 The Barber Motorsports Park is a 740 acres multi-purpose racing facility located on the eastern fringes of Birmingham, Alabama. It was built by George Barber, and includes the Barber Vintage Motorsport Museum, which has over 1200 vintage and modern motorcycles and race cars. The collection is the largest of its kind in the world; bikes range from 1902 to current-year production.
ALL SLIDES AND STORYTELLER BIOS MUST BE SUBMITTED BY May 15 to: speaking(at)tamelarich.com
Tech Specs for your Slides
A single, strong, graphic image or succinct line of text will tell your story better than a crowded collage or packed paragraph. Rather than one complex slide, show several slides, each with one idea, image or data point.
Image size. Please design your presentation to fit within any of the following specs: WIDESCREEN HD (16:9 aspect ratio) : Min. 1920×1080 (hi res).
Title safe. Please keep a 10%-20% margin around your text, much as you would when typing on a piece of paper. This ensures that everyone will be able to read your slides.
Text size. Limit text to TWO lines or 5 bullet points. Text size will take care of itself when you do this. Slide image size Minimum font size: 1920 x 1080 (wide) 36 pts
Text clarity. Sans-serif fonts (like Helvetica) are easier to read at a distance than serif fonts (like Times New Roman).
Background. A simple, elegant background behind your text should be used to complement and enhance the readability of your words. If using a dark or black background, you may want to make the text bold.
Graphics and photos. Use high-resolution pictures and graphics. Full-quality photos from a digital camera will look better than images pulled off the web. If you pull images from the web, be sure they are licensed  under Creative Commons for use.
Font files.To avoid last-minute glitches with your presentation onsite, font files should be embedded in your presentation file.
About Neale Bayly
With thirty-seven years in the saddle, Neale Bayly has ridden motorcycles in 45 different countries. The British-born Bayly works closely with America's top motorcycle magazines and web sites, which send him all over the world to ride, test and report back on the best that a two-wheeled lifestyle offers.
His 2013 reality series "Neale Bayly Rides" made its debut on Speed Channel (now Fox Sports). The TV series showed Neale's philanthropic side to the world. It documented a charity ride that he captained through the wilds of Peru, which culminated at a remote mountain orphanage which his charity, Wellspring International Outreach, supports.
When not traveling the world for assignments, Neale lives in Charlotte, NC, and spends his free time with his two sons, Luke and Patrick, riding and training on dirt bikes.
Twitter: @NealeBayly