Since my involvement with breast cancer causes, I've become acutely aware of the commercialization of the disease. Looks like this filmmaker is ahead of me.
I see that the film will be shown in Richmond, VA on 2/10/12.  My mother-in-law, whose breast cancer metastasized into bone cancer, is buried there. I'm inclined to go up and see the film and the panel discussion afterwards.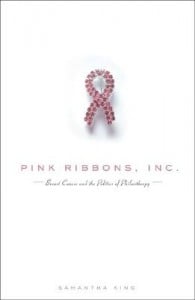 The film draws heavily on the book, Pink Ribbons, Inc. Breast Cancer and the Politics of Philanthropy.
Breast cancer advocacy is being transformed from meaningful civic participation into purchasing products.

The pink ribbon has come to symbolize efforts to find a cure for breast cancer. But it has also become a powerful symbol for corporate philanthropy, boosting the image of corporations, that promote products from yogurt to cars, slicing off a portion of proceeds to support breast cancer research. King, a women's health issues scholar, explores the phenomenal growth of Pink Ribbons Inc.; the annual massing for the Susan G. Komen Foundation's Race for the Cure 5K runs; and other high-profile events with huge corporate sponsorships. However admirable the effort to find a cure, King argues that it overwhelms efforts to learn how and why women get breast cancer and how it can be prevented. Prevention efforts could help more low-income women who lack the means to pay for treatment. King examines the history of philanthropy and how breast cancer became such a prominent cause, garnering far more support and publicity than other diseases, demonstrating the ability of American women to flex their political and economic muscle on behalf of an important cause. ~Vanessa Bush Copyright © American Library Association. All rights reserved