The Prompt: Future Self. Imagine yourself five years from now. What advice would you give your current self for the year ahead? (Bonus: Write a note to yourself 10 years ago. What would you tell your younger self?)
Funny, when I first started thinking about my answer I thought about the probability I'd be a mother-in-law, my work, the places I'd have traveled, the likelihood I'd still be living in this house and what state my health would be in.
And then it struck me that these are not about my SELF. I'm more than my role as mother, writer, traveler, Charlottean, wife, woman. I'm a child of the Divine.  I started looking for pertinent Baha'i Writings and came across a blog post chock full of them. This one sums it up for me:
The more we search for ourselves, the less likely we are to find ourselves; and the more we search for God, and to serve our fellow-men, the more profoundly will we become acquainted with ourselves, and the more inwardly assured. This is one of the great spiritual laws of life.     ~Shoghi Effendi
Focus on humanitarian endeavors
So my future self — no matter her health,  occupation, or family status — will be more involved with humanitarian endeavors.  I need to put this in my mental tea bag. Projects designed to teach literacy and business skills to women are closest to my heart and those designed with Baha'i spiritual and administrative underpinnings abound.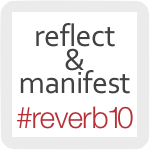 One humanitarian project I'll be working on this year is a coffee table book of Conga riders who've survived or are living with cancer. One thing I've learned over the past year is that a cancer diagnosis is not a death sentence. Flo Fuhr and I have been planning this for a few months and we'll be photographing and interviewing women riders this summer. Our plan is to donate a significant portion of each book sale to the breast cancer foundations in the US and Canada. Stay tuned.
Advice for my current self
Looking back from the future, here's what I'd say to myself in 2010:
Tam, this year has shown you that when you align yourself with the Will of the Universe your dreams come true in ways you couldn't imagine. You need goals, you need a strategy, and then you need to "Let Go, Let God."
Your body is here to serve you. Nurture it, feed and water it as it was designed, and let it work as intended.
When you are frustrated by others, remind yourself how much you've grown and know that God isn't finished with anyone yet. Be gentle with your feelings about the shortcomings you perceive in others, observe them, and then release them.
Tomorrow, you'll either be older or you'll be dead.
Life is not a journey to the grave with the intention of arriving safely in a pretty and well-preserved body, but rather a skid in broadside, thoroughly used up, totally worn out and loudly proclaiming…wow..what a ride!  ~Unknown (to me)