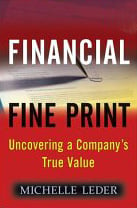 Financial pros and self-directed investors alike appreciate the work that Michelle Leder at footnoted.org does speaking truth about powerful businesses and the people they overpay to run them. Good to know someone's on the job ferreting out the things companies try to bury in their routine SEC filings.
Ms Leder found her calling as a forensic reader of company reports after losing part of her IRA on Qwest Communications. Conducting the post-mortem on that  transaction,Ms Leder realized that "instead of relying on happy talk from corporate executives and over-enthusiastic analysts, she should have spent her time reading the company's SEC filings. In a little over an hour's time, she found several red flags that pointed to overly aggressive accounting."
A seasoned business journalist, she wrote Financial Fine Print: Uncovering a Company's True Value and launched footnoted, which was acquired by Morningstar earlier this month. Proof positive that sometimes those who do good can also do well.
Be sure to bookmark or get a feed from footnoted's blog.
Here's a recent video of Ms Leder who, like me, works out of a home-based International Headquarters and is ably assisted by a canine.