According to Dr. John Medina, "Smell is unusually effective at evoking memory. If you're tested on the details of a movie while the smell of popcorn is wafted into the air, you'll remember 10-50% more."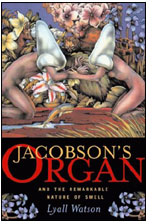 Makes you rethink the food and beverages you offer at presentations, doesn't it?
And how about doing reconnaissance on the meeting room itself? Giving a presentation in a stinky room might associate you with "stinky" content.
That said, kicking the sales team in the pants while they whiff the cafeteria's burnt offerings might subliminally reinforce your point to get going or get burned.
But before you break out the room freshener, do some research.  Men and women prefer different smells and certain smells perk us up while others have a sedating effect.