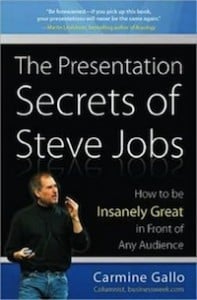 Evidently story-loving is a function of our brain's development. We're biologically wired for them.
In a Washington Post story I learned: "Roughly around age 4, psychologists say, a child develops a 'theory of mind.' The child suddenly grasps that other people have feelings, thoughts, just like the child's own. From this great mental leap comes a secondary, almost accidental talent: We can get inside the heads of people whom we never actually meet except in stories. This is why fiction works. Huck Finn and Harry Potter seem real enough."
Is this why Steve Jobs is the world's greatest keynoter? Because he's a great storyteller? In the new book The Presentation Secrets of Steve Jobs we learn his three-act methodology:
Act1 is to create a story with seven tips (chapters or scenes) in crafting a great story behind the presentation
Act 2, delivery of an experience with six scenes for adding appealing visuals to a presentation.
Act 3, refine and rehearse and rehearse some more with five scenes discussing body language, verbal delivery, and using appropriate dress
I wrote a post on PowerPoint and effective presentations a couple of months ago that got excellent traction with readers. Join the discussion.
Prompts for Professionals
Next time you're trying to deliver a memorable presentation try:
Aesop's Fables

When you want to make a point that appearances may be deceiving try The Cat, the Rooster and the Young Mouse
When you want to illustrate the power of positive versus negative influence, try The Wind and the Sun
You've probably heard the phrase "Pigs get fat and hogs get slaughtered"– here's a fresh approach: The Dog and His Reflection

In this economy, many CEOs and companies could be compared to Icarus
And when talking about messes that need a dramatic approach, refer to Heracles and the Augean Stables or The Gordian Knot