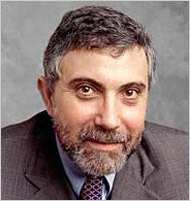 In today's NYT, Nobel Laureate Paul Krugman weighs in on climate change with the terse observation that "just as denials that climate change is happening are junk science, predictions of economic disaster if we try to do anything about climate change are junk economics."
"Right now, the biggest problem facing our economy is plunging business investment. Businesses see no reason to invest, since they're awash in excess capacity, thanks to the housing bust and weak consumer demand."  Krugman outlines how a commitment to greenhouse gas reduction would give businesses a reason to invest in new equipment and facilities even in the face of excess capacity.
He concludes, "given the current state of the economy, that's just what the doctor ordered."

On the other side, reporter, author and Washington Post columnist Robert Samuelson says "The trouble is that these models embody wildly unrealistic assumptions: There are no business cycles; the economy is always at "full employment"; strong growth is assumed, based on past growth rates; the economy automatically accommodates major changes — if fossil fuel prices rise (as they would under anti-global-warming laws), consumers quickly use less and new supplies of "clean energy" magically materialize."
Writing Prompts:  Financial Services, Environmental
What's more important, getting started on a global climate change or getting the right global environmental policy in place?
Krugman admits "Yes, limiting emissions would have its costs. As a card-carrying economist, I cringe when "green economy" enthusiasts insist that protecting the environment would be all gain, no pain."  Do green enthusiasts over-state their case?
What about Krugman's claims on overcapacity?